This post may contain affiliate links that at no additional cost to you, I may earn a small commission.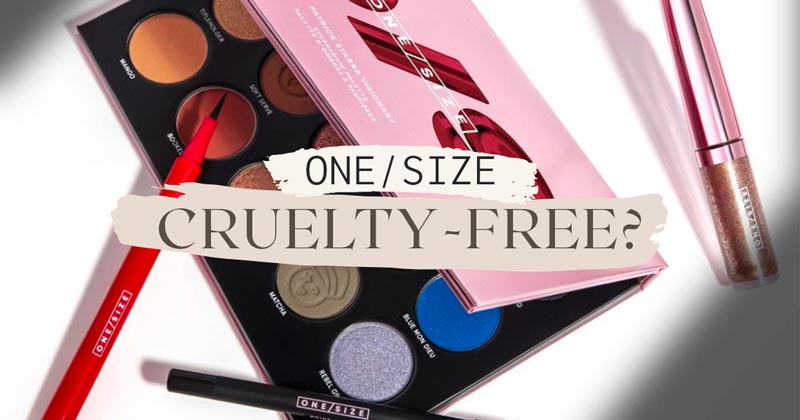 ONE/SIZE is the new makeup line created by Youtuber and makeup artist, Patrick Starrr but is ONE/SIZE cruelty-free, vegan, or sustainable? I've got the answers here!
Is ONE/SIZE Cruelty-Free?
ONE/SIZE by Patrick Starrr is Cruelty-free! None of ONE/SIZE's ingredients, formulations, or finished products are tested on animals, anywhere in the world.
ONE/SIZE Animal Testing Policy
ONE/SIZE by Patrick Starrr has confirmed they do not test its products or ingredients on animals, they do not allow others to test on its behalf. Its suppliers also do not test on animals and they do not allow its products to be tested on animals when required by law. As well as, its products are not sold in stores in mainland China or any other country that may require animal testing.
The following is a snippet of the response I received from ONE/SIZE when I emailed the brand to verify its cruelty-free status:
"Hi Vy! Welcome to O/S Beauty. Thanks for reaching out. So happy to help answer these great questions. We do not do any testing of either or raw ingredients or products on animals. We also do not allow third parties or have third parties that are doing any testing of any sorts on animals. We also have documentation from our filler that our laboratories and suppliers do not test on animals. We are not sold in China or in any market that requires animal testing by law. Our products are vegan!"
Also, below is a screenshot of what's currently stated on ONE/SIZE's website:

Is ONE/SIZE Sold in China?
Most imported cosmetics sold in mainland China are required by law to be tested on animals in 2021. However, ONE/SIZE has confirmed they do not sell their products in retail stores in mainland China and therefore they are not required to test on animals.
ONE/SIZE by Patrick Starrr has met all of our criteria in our Cruelty-Free Checklist and is included on our List of Cruelty-Free Brands.
You can find ONE/SIZE by Patrick Starrr cruelty-free products at Sephora.
Is ONE/SIZE by Patrick Starrr Vegan?
All of ONE/SIZE by Patrick Starrr products are 100% vegan and do not contain any animal products or by-products.

Is ONE/SIZE Sustainable?
ONE/SIZE's headquarters is based in: USA
ONE/SIZE's products are manufactured in: USA
ONE/SIZE does not claim to be a sustainable company.
Additionally, I wasn't able to find any available information on ONE/SIZE's sustainability, environmental, and social initiatives.
Ingredients and Formulations Claims: ONE/SIZE claims all of its cosmetics are vegan, paraben-free, and gluten-free.
Ethical Mica Sourcing Policy
I asked ONE/SIZE if their mica is ethically sourced without forced or child labor and they responded by stating,
"Hi Vy, welcome back to O/S. I believe we've spoken before so that you for all of the product questions regarding how we handle this. Yes we do ethically source all of our Mica as well as always do routine audits with each and every supplier to ensure they are compliant."
Their response came off like they were annoyed I was inquiring about their mica sourcing policy. And it's interesting because that was the very first time I had reached out to them asking about their mica. But I'm glad to know others are also doing their due diligence and asking ONE/SIZE about their ethical ingredient sourcing.
---
I hope this article helped you to understand ONE/SIZE's cruelty-free and vegan status and by choosing cruelty-free together, we can help end animal testing for cosmetics once and for all!