This post may contain affiliate links that at no additional cost to you, I may earn a small commission.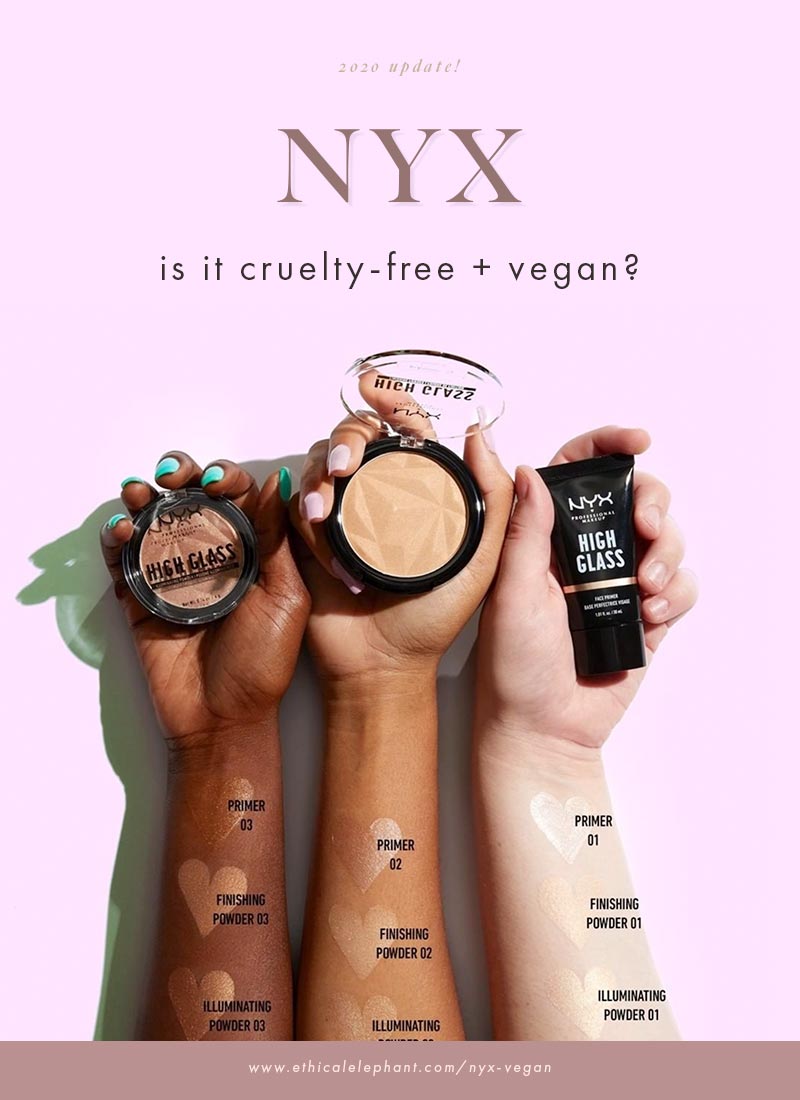 NYX Cosmetics is an American affordable makeup brand sold at most drugstores in the US, Canada, and the UK. But is NYX cruelty-free, vegan, or sustainable? I've got the answers here!
Is NYX Cruelty-Free?
NYX is Cruelty-free! None of NYX's ingredients, formulations, or finished products are tested on animals, anywhere in the world.

However, it should be noted that NYX is owned by L'Oreal, a parent corporation that does test on animals when required by law.
NYX's Animal Testing Policy
NYX has confirmed they do not test their products or ingredients on animals or ask others to test on their behalf. Their suppliers also do not test on animals nor do they allow their products to be tested on animals when required by law. And finally, their products are not sold in stores in mainland China or any other country that may require animal testing.
Below is what's currently stated on NYX's website: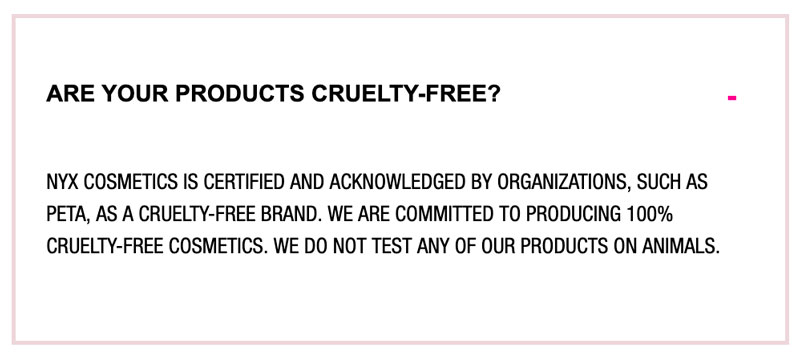 NYX Acquired by L'Oreal
In 2014, NYX was acquired by L'Oreal, a corporation that does test on animals when required by law.
Although NYX is owned by L'Oreal, the brand has remained committed to being a cruelty-free brand.
NYX has met all of the criteria in our Cruelty-Free Checklist and is included on our List of Cruelty-Free Brands.
You can find NYX products at nyxcosmetics.com, at most drugstores like Walmart, CVS, Target, London Drugs, Shoppers Drug Mart, as well as on Amazon.
Is NYX Vegan?
Not all of NYX's products are vegan as some of their products contain beeswax, lanolin, carmine, or animal-derived ingredients or by-products. However, NYX does have some vegan options.
Please reference below for a list of NYX vegan products.
You can find out which of their products are vegan on this page of NYX's website. Additionally, all of their vegan prodcuts are marked accordingly on their website in the product description. See below for an example.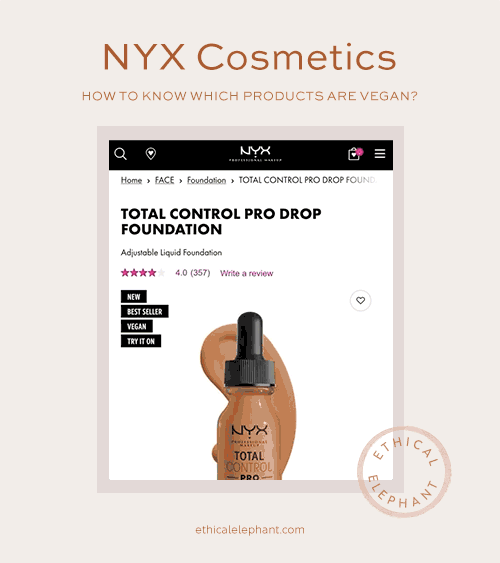 NYX Vegan Product List
As of 2021, I will no longer be regularly updating this list of NYX's vegan products as all of their vegan products are now clearly marked. Check their website for the most up-to-date and accurate information on which products are vegan or not.
Below is a list of NYX products that are suitable for vegans and do not contain any animal-derived ingredients or by-products.
Face – NYX Vegan
Face Primer & Setting
Foundation
Concealer
Bronze, Contour & Highlight
Blush
---
Eye Makeup – NYX Vegan
Eyeliner
Mascara
Eye Primer
Eyeshadow & Palettes
Eyebrows
---
Lips – NYX Vegan
---
Makeup Remover
---
Is NYX Sustainable?
NYX' headquarters is based in: US
NYX's products are manufactured in: NYX Cosmetics won't disclose where their products are made, stating "Please be advised that our products are created all over the globe, making it difficult to know where exactly a certain product is manufactured."
NYX Cosmetics does not claim to be a sustainable company.
Additionally, I wasn't able to find any available information on NYX's sustainability, environmental, and social initiatives.
Is NYX Cosmetics' Mica Ethically-Sourced? NYX referenced their parent company, L'Oreal's Sustainable Purchasing Policy when I asked if their mica is ethically-sourced without the use of child labor.
"Regarding your question on which Mica we use in our cruelty free makeup products, please look at the link we have provided down below regarding our sustainable sourcing for mica:

https://www.loreal.com/en/articles/audiences/a-sustainable-purchasing-policy/"
---
I hope this article helped you to understand NYX's cruelty-free and vegan status and by choosing cruelty-free together, we can help end animal testing for cosmetics once and for all!