This post may contain affiliate links.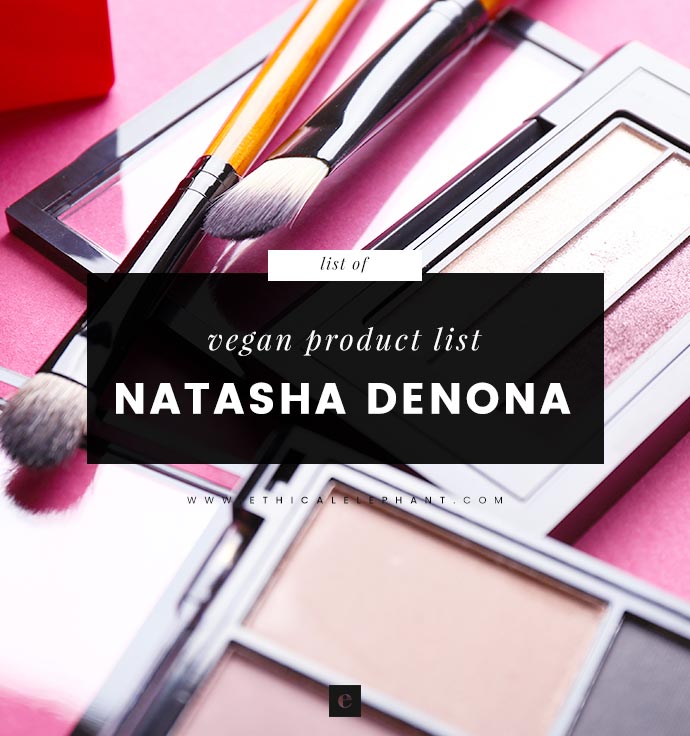 Natasha Denona is a cruelty-free makeup brand.
They have informed me that none of their finished products or ingredients are tested on animals by themselves or commissioned to a third party on their behalf. None of their ingredient suppliers tested on animals and they do not sell any of their products in China.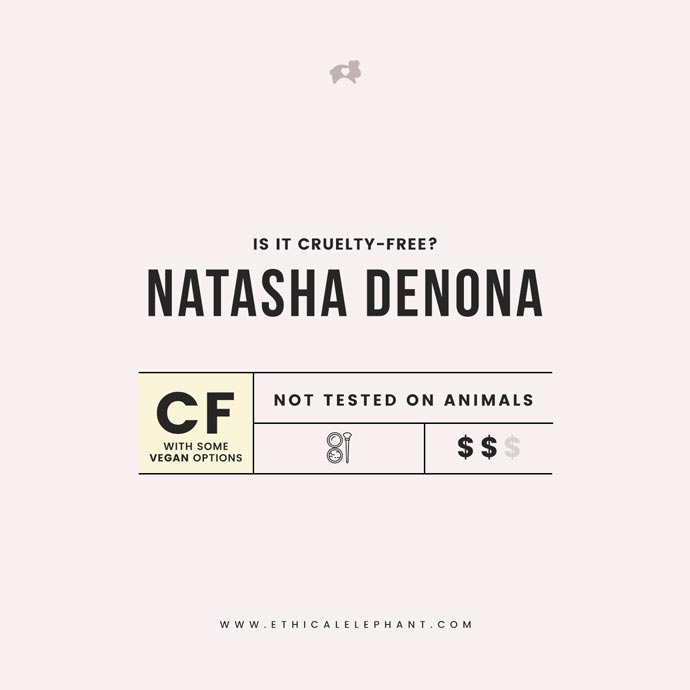 Although not all of Natasha Denona makeup is considered vegan (as they do use carmine,  beeswax, lanolin, and other animal ingredients in some of their products), but they have kindly provided me with a list of their eyeshadows that are vegan and do not contain any animal ingredients.
Hopefully we can see this list of options for Natasha Denona vegan makeup grow! Be sure to let them know the reason you are choosing to buy from their vegan shade range is because they are in fact VEGAN!
Natasha Denona Vegan Products:
Blackest Black Eyeshadow Matte
Blackest Black Gold Rush Eyeshadow
Mono Eyeshadow Metallic 02M Blue Space
Mono Eyeshadow Metallic 03V Deep Pacific
Mono Eyeshadow Metallic 04M Chromatic
Mono Eyeshadow Metallic 07M Graphite
Mono Eyeshadow Metallic 09M Quick Silver
Mono Eyeshadow Metallic 11M Metallic Steel Blue
Mono Eyeshadow Metallic 12M Glaze
Mono Eyeshadow Metallic 13M Raw Gold
Mono Eyeshadow Metallic 15M Bottle Green
Mono Eyeshadow Metallic 16M Emerald Green
Mono Eyeshadow Metallic 19M Deep Teal
Mono Eyeshadow Metallic 22M Maroon
Mono Eyeshadow Metallic 25 Aura
Mono Eyeshadow Metallic 27M Slate
Mono Eyeshadow Metallic 31M Cool Bronze
Mono Eyeshadow Metallic 38M Gray Brown
Mono Eyeshadow Metallic 40M Lavender Gray
Mono Eyeshadow Metallic 44M Indian Gold
Mono Eyeshadow Metallic 51M Rosewood
Mono Eyeshadow Metallic 59M Moonstone
Mono Eyeshadow Metallic 63M Oxide
Mono Eyeshadow Metallic 68M Golden Flesh
Mono Eyeshadow Metallic 78M Umber
Mono Eyeshadow Metallic 80M Piggy
Mono Eyeshadow Metallic 87 Light Coral
Mono Eyeshadow Metallic 06P Anthrazit
Mono Eyeshadow Metallic 23P Smoky Plum
Mono Eyeshadow Metallic 32P Deep Slate Grey
Mono Eyeshadow Metallic 43P Smoky Quartz
Mono Eyeshadow Metallic 47P Dark Sepia
Mono Eyeshadow Metallic 56P Pearl
Mono Eyeshadow Metallic 58P Satin Tan
Mono Eyeshadow Metallic 61P Ochre
Mono Eyeshadow Metallic 70P Cool Plum
Mono Eyeshadow Metallic 75P Satin Skin
Mono Eyeshadow Matte 84V Powder Blue
Mono Eyeshadow Duochrome 05M Calypso Blue
Mono Eyeshadow Duochrome 14M Antique Olive
Mono Eyeshadow Duochrome 17M Cloudy Blue
Mono Eyeshadow Duochrome 49M Vintage
Mono Eyeshadow Duochrome 50M Sienna
Mono Eyeshadow Duochrome 52M Golden Beige
Mono Eyeshadow Duochrome 60M Golden Rose
Mono Eyeshadow Duochrome 86P Golden Aquamarine
Mono Eyeshadow Sparkling 10M Aluminum
Mono Eyeshadow Sparkling 18M Glam Green
Mono Eyeshadow Sparkling 20M True Gold
Mono Eyeshadow Sparkling 45M Industrial