This post may contain affiliate links that at no additional cost to you, I may earn a small commission.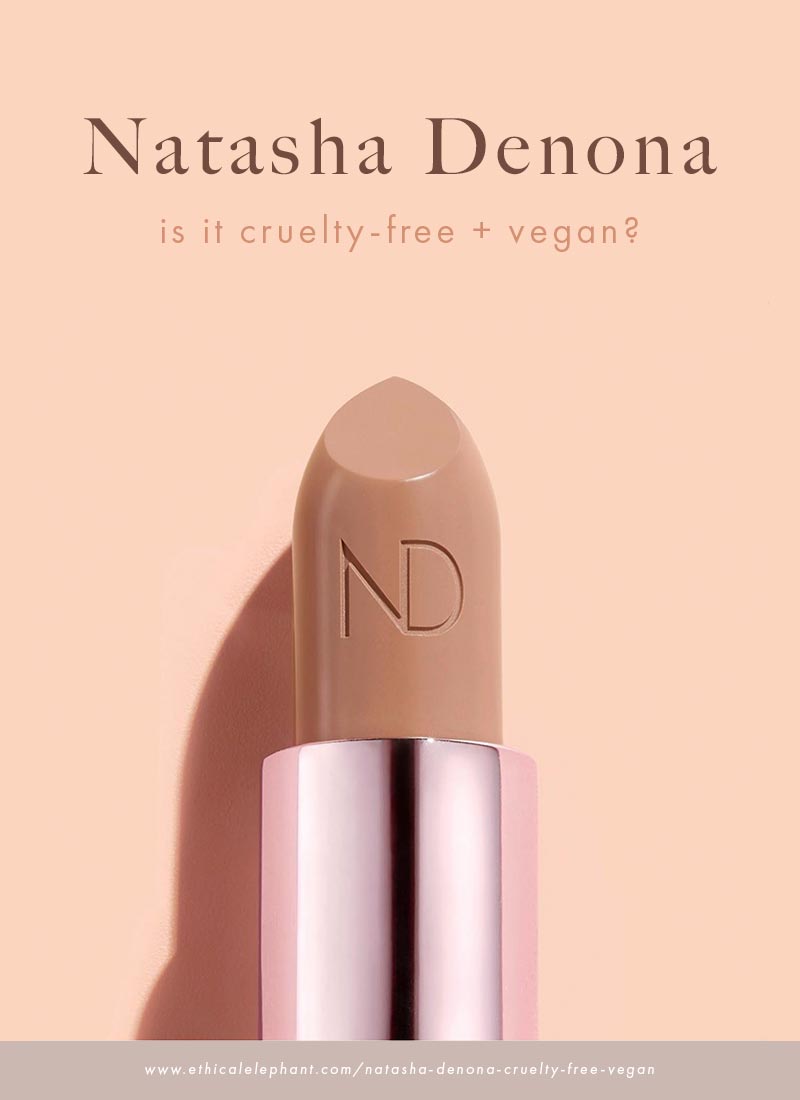 Natasha Denona is an internationally renowned makeup artist with her own line of professional makeup products, but is Natasha Denona cruelty-free and vegan?
Is Natasha Denona Cruelty-Free?
Natasha Denona does not test any of their products, ingredients, for formulations on animals, anywhere in the world. However, Natasha Denona sells makeup brushes made with natural animal hair.
Natasha Denona Animal Testing Policy
Natasha Denona has confirmed they do not test their products or ingredients on animals or ask others to test on their behalf. Their suppliers also do not test on animals nor do they allow their products to be tested on animals when required by law. And finally, their products are not sold in stores in mainland China or any other country that may require animal testing.
Below is a screenshot of Natasha Denona's official animal testing statement: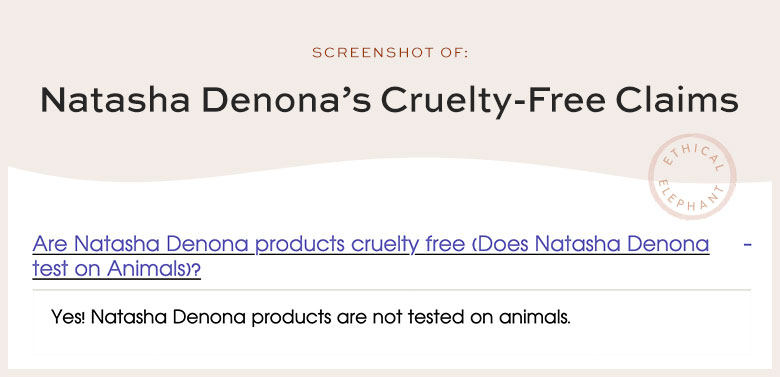 Is Natasha Denona Sold in China?
Most imported cosmetics sold in mainland China are required by law to be tested on animals in 2022. However, Natashsa Denona has confirmed they only ship their products to China but they don't sell in stores in China.
"We currently are not sold in stores in China, but we do ship to China."
As long as Natasha Denona does not sell their products in retail stores in mainland China, they will not be required to test on animals per China's animal testing laws.
You can find Natasha Denona cruelty-free products at Sephora and Beautylish.
See Also: List of Vegan Makeup Products at Sephora
Is Natasha Denona Vegan?
Not all of Natasha Denona's products are vegan as some of their products contain carmine, beeswax, lanolin, and/or other animal-derived ingredients or by-products. Also, Natasha Denona sells makeup brushes made with natural animal hair.
Natasha Denona does have some vegan options. Please reference below for a list of Natasha Denona vegan products.
The following is a screenshot of what's currently stated on Natasha Denona's official website about its vegan products: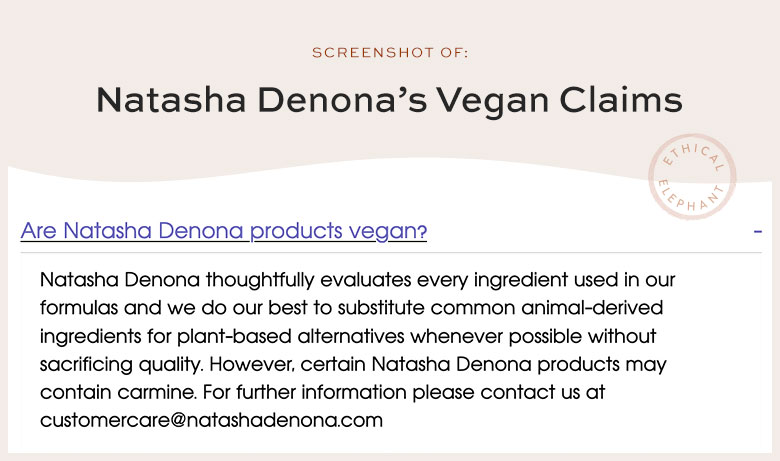 You can also find out which of their products are vegan as they're all marked accordingly on their website under each product description. See below for an example.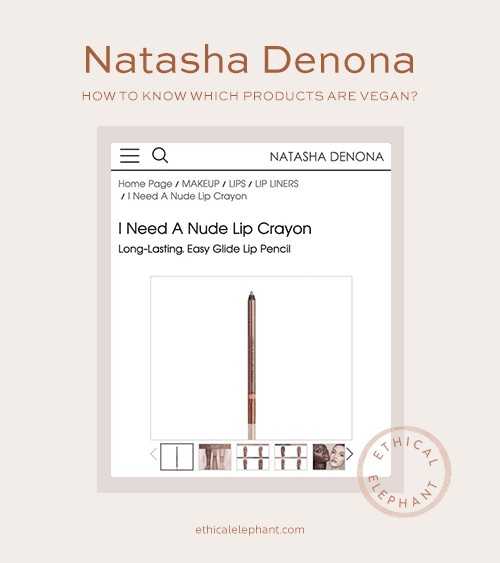 Natasha Denona Vegan Product List
As of 2021, I will no longer be regularly updating this list of Natasha Denona vegan products as all of their vegan products are now clearly marked. Check their website for the most up-to-date and accurate information on which products are vegan or not.
Below is a list of Natasha Denona products that were marked as "Vegan" on their website.
Base
Body Glow
Eyeshadow Base
Face Glow Foundation
Foundation X+ Full Coverage Fruit Complex
Invisible HD Face Powder
Transfix – Matte Concealer
Transformatte – Pore Vanishing Matte Foundation
Eyes
Blackest Black – Matte
Blackest Black – Gold Rush
Eyeshadow Base
Eyeshadow Palette #3
Eyeshadow Palette #9
Lips
I Need A Nude Lip Crayon
I Need A Nude Lipstick
Lip Glaze – check to see if carmine is listed.

#16 wooden rose and #17 Cherry Wood doesn't have carmine

Lip Oh-Phoria
Mark Your Liquid Lipstick Matte
Mark Your Liquid Lipstick Metallic
Note: They previously told me none of their palettes are vegan because they all contain carmine. However, I recently noticed Natasha Denona's Eyeshadow Palette #3 and #9 are now marked as "Vegan". I checked the ingredients of these two palettes and I didn't see carmine listed.
"Unfortunately our palettes are not vegan due to the inclusion of Carmine, a natural pigment derived from the cochineal insect. This is a very commonly used pigment in most cosmetics, foods, and skincare with alternative names such as "crimson lake" or "natural red 4″; but in order to adhere to the strictest standard of veganism and maintain utmost transparency with our valued customers, we cannot call our products vegan for this reason."
---
Is Natasha Denona Sustainable?
Natasha Denona's products are manufactured in: Italy
Natasha Denona does not claim to be a sustainable company.
Additionally, I wasn't able to find any available information on Natasha Denona's sustainability, environmental, and social initiatives.
Is Natasha Denona's Mica Ethically-Sourced? Natasha Denona claims their mica is ethically-sourced without the use of child labor.
"We are always striving to make the best products with the highest quality ingredients. That being said, the majority of our products do contain natural mica. We can also confirm that the mica and mica based pigments we use in our products are ethically sourced. According to our raw materials suppliers declarations, no children are involved in the supply chain of this kind of pigments, including the mining, packing and transportation of mica."
I hope this article helped you to understand Natasha Denona's cruelty-free and vegan status and by choosing cruelty-free together, we can help end animal testing for cosmetics once and for all!