This post may contain affiliate links.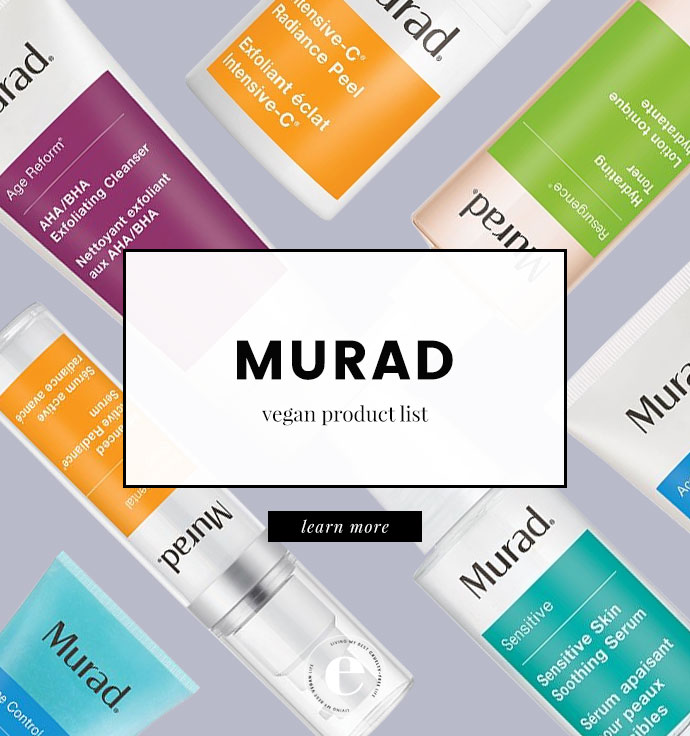 Is Murad Cruelty-Free?
Answer:
Yes. Murad is cruelty-free; not tested on animals. However please note that Murad is owned by Unilever, a corporation that is still testing on animals.
Decide for yourself if you want to support a cruelty-free brand owned by a parent company that is not cruelty-free, find more information about this issue here.
Murad's Animal Testing Policy (2018)
On Murad's website, they state that "Murad never tests any products on animals & uses only ingredients that have not been animal tested. We only test on humans. We do sell our products in Hong Kong but not mainland China so we are not required to test on animals."

Is Murad Vegan?
Answer:
Some of Murad products are considered vegan, but not all, as they do use beeswax, honey, and some other marine-derived compounds in some of their products. Please reference the list below for Murad's vegan products.
Murad Vegan Product List (2018)
Below is a list of Murad's vegan products that don't contain any animal-derived ingredients or by-products. This vegan product list was provided by Murad.
Acne Line – Murad Vegan
Resurgance Line – Murad Vegan
Age Reform Line – Murad Vegan
Environmental Shield Line – Murad Vegan
Redness Therapy Line – Murad Vegan
Body Care Line – Murad Vegan
Please note: This vegan product list is updated as frequently as possible, please be aware that formulations may have changed since the publication of this post. If you have new information to suggest one of the above products isn't vegan, please email me at info@ethicalelephant.com to let me know. 
---