This post may contain affiliate links.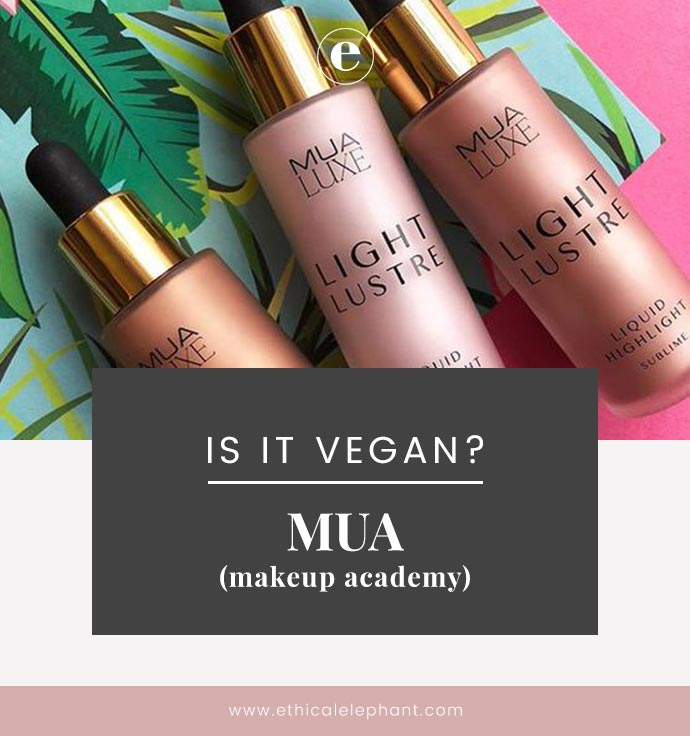 Makeup Academy (MUA) is an affordable makeup drugstore brand that is exclusively available at Superdrug stores in the UK.
MUA is cruelty-free and does not test their products on animals and MUA now offers a range of vegan products. Below is a list of MUA vegan products:
MUA Vegan Product List (2019)
Face – MUA Vegan
Foundations
Custom Colour Foundation Mixer – Lightening: Cool Undertones, Warm Undertones, Deepening: Dark, Medium
Concealers & Color Corrector
Hide and Conceal Cover Up Stick – Beige, Sand
Pro-Base CC Cream – Peach, Yellow, Green
Pro-Base Correcting Powder – Green, Lilac, Peach, Yellow
Pro-Base Correcting Wheel
Pro-Base Full Coverage Concealer
Pro-Base Prime & Conceal Correcting Cream
Pro-Base Prime & Conceal Palette
Pro-Base Prime & Conceal Powder
Powders – Pressed & Loose Powder
Pro-Base Full Coverage Matte Pressed Powder
Skin Define Matte Perfect Loose Powder
Translucent Pressed Powder
Transparent Pressed Setting Powder
Ultra-fine Loose Setting Powder – Banana Bake, Mattifying Translucent, Balancing Green, Neutralising Apricot, Illuminating Lilac, Invisible Silk
Primers
Pro-Base Banana Blur Primer
Pro-Base Makeup Remover Stick
Pro-Base Moisturising Primer
Pro-Base Oil Free Primer
Pro-Base Primer Spray
Pro-Base Smooth Set & Prime
Pro-Base Softening Facial Oil Stick
Pro-Base Soothe & Cool Primer Stick
Skin Define Matte Perfect Primer
Wonder Vanishing Cream Primer
Blushes
Bashful Trio Blush – #1, #2
Blushed Powder
Pixel Perfect Multi Blush
Bronzers
Highlighters
Highlight Perfection Matte – Natural Light
Light Lustre Highlight Duo – Lavish, Majesty, Splendour
Light Lustre Liquid Highlight – Opulence, Marvel, Sublime
Prism Highlighter – Aquatic Shine, Polarised Green, Rose Tinte, Solar Flare, Ultra Violet
Prism Jelly Highlight – Crystal Cut, Light Spark, Optical
Prism Loose Powder Highlighter – Emerald Marvel, Oceanic Wonder, Star Illusion
Prism Shimmer Stick – Moonstone Shine
Sprays
Pro-Base Cooling Spray
Pro-Base Fixing Spray
Pro-Base Mattifying Fixing Spray
---
Eyes – MUA Vegan
Eyeliner
Eye Define Felt Liner
Eyeliner – Matte
Eyeliner – Wet Look
Gel Eyeliner – Underground
Intense Colour Eyeliner
Intense Colour Metallic Eyeliner
Precision Liner Black
Shadow Liner – Black Noir, Deep Brown, Ocean Blue
Waterproof Eyeliner Black
Winged Wonder Felt Liner
Mascara
Amplify Volume Mascara – Black, Black/Brown
Curl Mascara
Eye Define Mascara – Black
Eye Define Waterproof Mascara
Lash & Brow Clear Mascara
Volume Mascara
Brows
Brow Define Eyebrow Pencil with Blending Brush
Brow Define Mico Eyebrow Pencil
Brow Professional Complete Kit – Fair/Mid, Mid/Dark
Power Brow Sculpting Gel – Mid Brown
Eyeshadow & Pigments
6 Shade Eyeshadow Palette – Dusty Curiosities, Glamour Golds, Natural Essentials, Rusted Wonders, Scorched Marvels, Smokey Shadows, Soft Suedes
12 Shade Eyeshadow Palette – Silent Disco
15 Shade Eyeshadow Palette – Au Naturel, Colour Burst, Cosmic Vixen, Feather Light, Fire Vixen, Frosted Gleam, Green Goddess, Heavenly Neutral, Shadow Mysteries, Spiced Charm, Twilight Delight
25 Shade Eyeshadow Palette – Burning Embers,Cashmere Collective, Matte Supreme, Natural Obsession, Tropical Oceana, Ultimate Undressed
Elysium Desire Eyeshadow Palette
Elysium Eyeshadow Palette
Glitter Glue
Gradient Light Palette – Bronzed Delights, Glimmering Gemstones, Golden Glow
Prism Eyegloss Kit – Fascination, Entrance
Ultra Sparkle Duo Glitter Pigments – Bang Bang, Chinese Lantern, Explosive, Fiesta
Undressed Eyeshadow Palette
Undress Me Too Eyeshadow Palette
---
Lips – MUA Vegan
Intense Colour Lip Liner
Super Stylo Satin Finish Lipstick
Unique Lip Gloss
Velvet Matte Lipstick
---
This vegan product list is updated as frequently as possible, please be aware that formulations may have changed since the publication of this post. If you have new information to suggest one of the above products isn't vegan, please email me at info@ethicalelephant.com to let me know.