This post may contain affiliate links.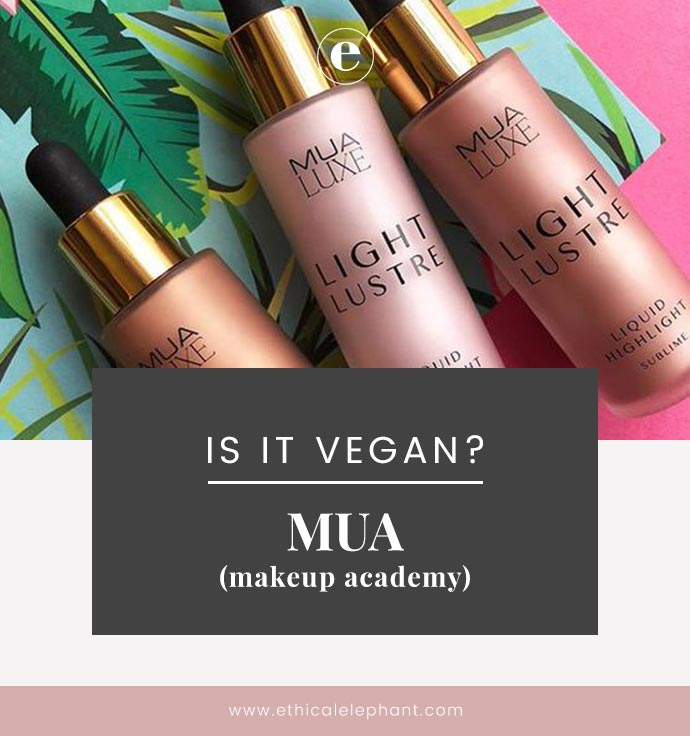 Makeup Academy (MUA) is an affordable makeup drugstore brand that is exclusively available at Superdrug stores in the UK.
Is MUA Cruelty-Free?
Makeup Academy (MUA) is cruelty-free; none of their products or ingredients are tested on animals, anywhere in the world.
Is MUA Vegan?
MUA is not entirely vegan brand (yet!). MUA recently announced their entire makeup range will be reformulated to be 100% vegan starting November 1, 2019.

At this time, MUA still has a small number of non-vegan products in their collection.

Please reference below for a current list of MUA vegan products.
MUA Vegan Product List (2019)
Below is a list of MUA products that are suitable for vegans and don't contain any animal-derived ingredients or by-products.
Face – MUA Vegan
Foundations
Concealers & Color Corrector
Powders – Pressed & Loose Powder
Primers
Pro-Base Primer Oil
Pro-Base Primer Oil With Tea Tree
Pro-Base Primer Spray
Blushes
Bronzers
Highlighters
Sprays
Pro-Base Cooling Spray
Pro-Base Primer Spray
---
Eyes – MUA Vegan
Eyeliner
Intense Colour Metallic Eyeliner
Shadow Liner – Black Noir, Deep Brown, Ocean Blue
Waterproof Eyeliner Black
Mascara
Brows
Eyeshadow & Pigments
6 Shade Eyeshadow Palette – Coral Delights, Dusty Curiosities, Glamour Golds, Natural Essentials, Rusted Wonders, Scorched Marvels, Smokey Shadows, Soft Suedes
12 Shade Eyeshadow Palette – Silent Disco
15 Shade Eyeshadow Palette – Au Naturel, Colour Burst, Cosmic Vixen, Feather Light, Fire Vixen, Frosted Gleam, Green Goddess, Heavenly Neutral, Shadow Mysteries, Spiced Charm, Twilight Delight
25 Shade Eyeshadow Palette – Burning Embers, Cashmere Collective, Matte Supreme, Natural Obsession, Tropical Oceana, Ultimate Undressed
Elysium Desire Eyeshadow Palette
Flora Fantasy Eyeshadow Palette
Glitter Glue
Ultra Sparkle Duo Glitter Pigments – Bang Bang, Chinese Lantern, Explosive, Fiesta
Undress Me Too Eyeshadow Palette
---
Lips – MUA Vegan
GLOW x MUA Aurora Shine Lipgloss
Luxe Velvet Matte Lipstick
Unique Lip Gloss
---
This vegan product list is updated as frequently as possible, please be aware that formulations may have changed since the publication of this post. If you have new information to suggest one of the above products isn't vegan, please email me at info@ethicalelephant.com to let me know.