This post may contain affiliate links.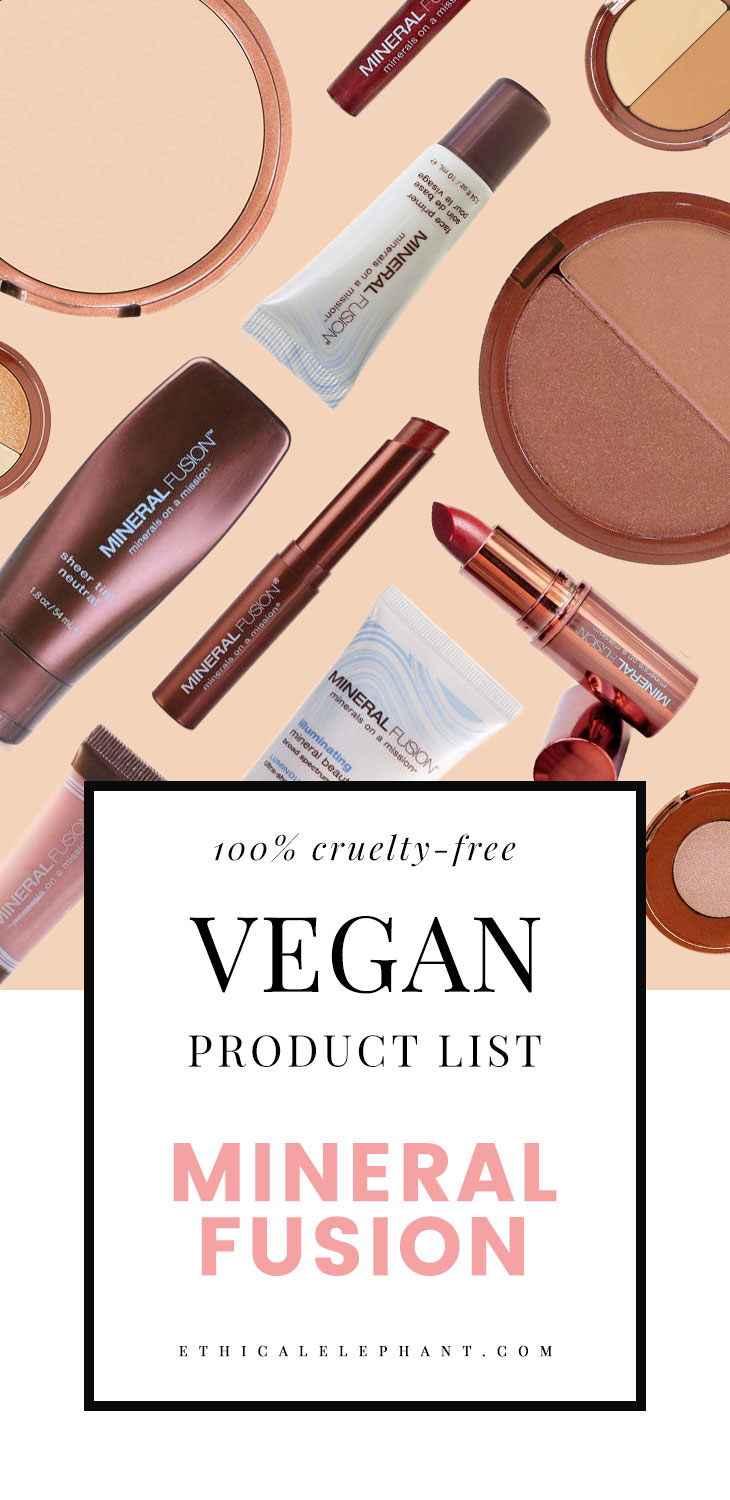 Mineral Fusion is an affordable drugstore mineral makeup, skin care, and hair care brand. Their products are hypoallergenic and free of parabens. Best of all, Mineral Fusion is 100% cruelty-free and certified by the Leaping Bunny program!
Not all of Mineral Fusion products are vegan but the majority of them are
and they have a handy list on their
website's FAQ
indicating which of Mineral Fusion products are considered vegan and are free of any animal-derived ingredients. You can also filter their products on their website to see only vegan options however if you're like me and tend to buy Mineral Fusion vegan products at the drugstore, then this list may be of use to you!
COSMETICS
FACE
All Beauty Balms
All Concealer Duos
All Pressed Base Foundations
All Sheer Tint Foundations
Face Primer
Hydration Mist
Setting Powder
Luster Bronzer
Sparkle Bronzer
LIPS
All Lip Gloss
All Lipsticks
All Lipstick Butters
All Liquid Lip Gloss
Lip Pencil – Graceful
EYES
All Eye Pencils
Eye Makeup Remover
Eye Primer
Eye Shadow Single – Buff, Prism, Rare, Raw
Eye Shadow Trio – Riviera, Stunning
Liquid Eyeliner
MISC.
Blotting Papers
Brush Cleaner
NAIL CARE
All Nail Polish and Nail Polish Remover
BODY & HAIR CARE
All Body Washes
All Beauty Balms for Hair
Anti-dandruff Shampoo
Curl Care Shampoo & Conditioner
Fortifying Shampoo & Conditioner
Hair Repair Shampoo & Conditioner
Lasting Color Shampoo & Conditioner
Smoothing Shampoo & Conditioner
Vibrant Shine Shampoo & Conditioner
Volumizing Shampoo & Conditioner
SKIN CARE
CLEANSERS & TONERS
Charcoal Gel Cleanser
Creamy Brightening Cleanser
Makeup Removing Oil Cleanser
Purifying Gel Facial Cleanser
Skin-Renewing Facial Scrub
Skin-Soothing Facial Toner
Ultimate Moisture Facial Cleanser
MOISTURIZERS & SERUMS
Intense Hydration Face Cream
Line-Smoothing Nighttime Treatment
Mineral SPF 40 Facial Moisturizer
Nighttime Recovery Face Cream
Skin Balancing Moisturizer
SPF 15 Brightening Moisturizer
SPF 16 Age-Defying Treatment Serum
PRIMERS
Color Correcting Primer
Hydrating Primer
Illuminating Primer
Mattifying Primer
EYES
Revitalizing Eye Cream
SPF 16 Brightening Eye Cream
---
Disclaimer: This post contains affiliate links.