This post may contain affiliate links that at no additional cost to you, I may earn a small commission.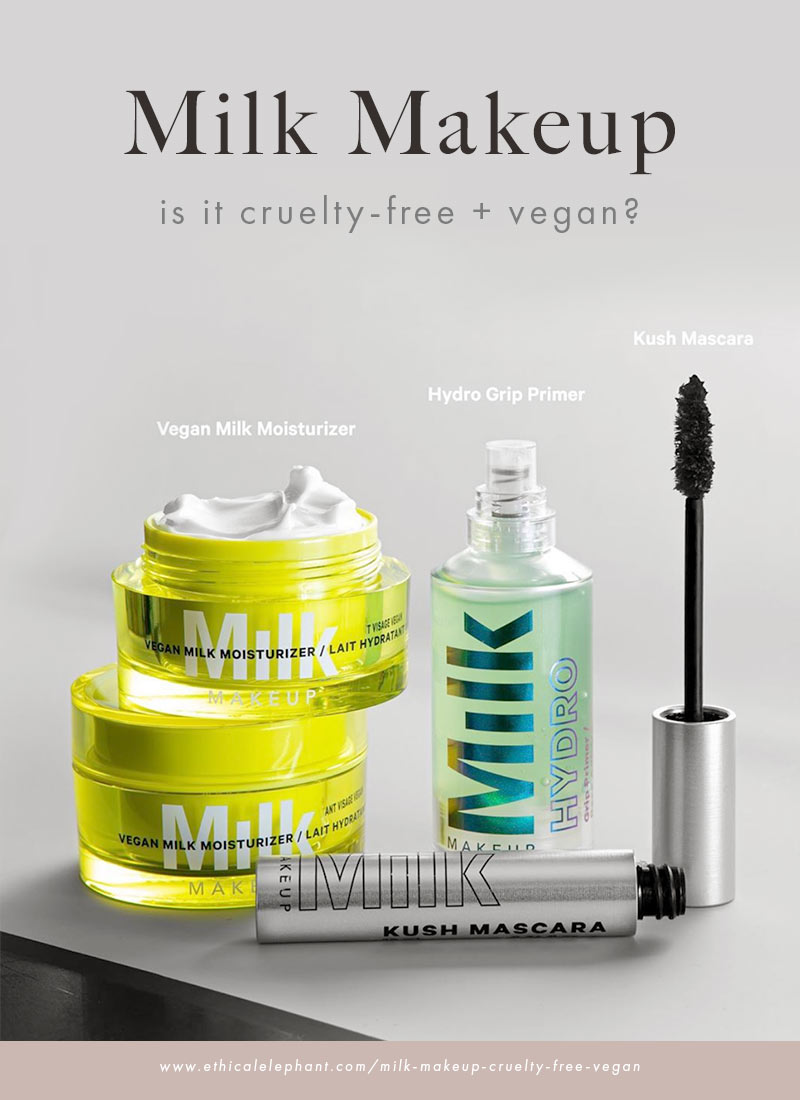 At Milk Makeup, their belief is it's not just about how you create your look; it's what you do in it that matters. But is Milk Makeup cruelty-free, vegan, or sustainable in 2021? I've got the answers here!
Is Milk Makeup Cruelty-Free?
Milk Makeup is Cruelty-free! None of Milk Makeup's ingredients, formulations, or finished products are tested on animals, anywhere in the world.
Milk Makeup is also certified cruelty-free by Leaping Bunny.
Milk Makeup's Animal Testing Policy
Milk Makeup has confirmed they do not test their products or ingredients on animals or ask others to test on their behalf. Their suppliers also do not test on animals nor do they allow their products to be tested on animals when required by law. And finally, their products are not sold in stores in mainland China or any other country that may require animal testing.
Below is a screenshot of what is currently stated on Milk Makeup's website: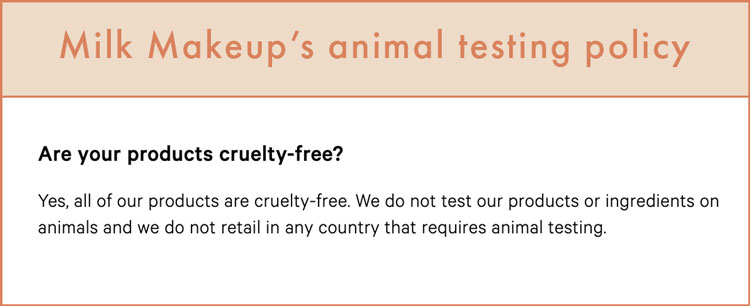 Is Milk Makeup Sold in China?
Most imported cosmetics sold in mainland China are required by law to be tested on animals in 2021. However, has confirmed they do not sell their products in retail stores in mainland China and therefore they are not required to test on animals.
Milk Makeup has met all of the criteria in our Cruelty-Free Checklist and is included on our List of Cruelty-Free Brands.
You can find Milk Makeup products at Sephora, Cult Beauty, and Amazon.
Is Milk Makeup Vegan?
Milk Makeup is a 100% Vegan brand! All of Milk Makeup's products are vegan and do not contain any animal-derived ingredients or by-products.
Does Milk Makeup Have Milk In It?
Despite their name, Milk Makeup products do not contain animal milk. All of Milk Makeup products are free of animal-derived ingredients and by-products, including milk.
Milk Makeup Products We Recommend:
---
Is Milk Makeup's Mica Ethically-Sourced? Milk Makeup claims their mica is ethically-sourced without the use of child labor.
"The mica in our highlighter is sourced from India. We are in close communication with our filler and can confirm that we do not use child labor at any stage in the process of obtaining our mica.
The filler we work with abides by the codes of the Ethical Trade Initiative and their supply chain is regularly audited to ensure they're meeting these guidelines."
---
I hope this article helped you to understand Milk Makeup's cruelty-free and vegan status and by choosing cruelty-free together, we can help end animal testing for cosmetics once and for all!