This post may contain affiliate links that at no additional cost to you, I may earn a small commission.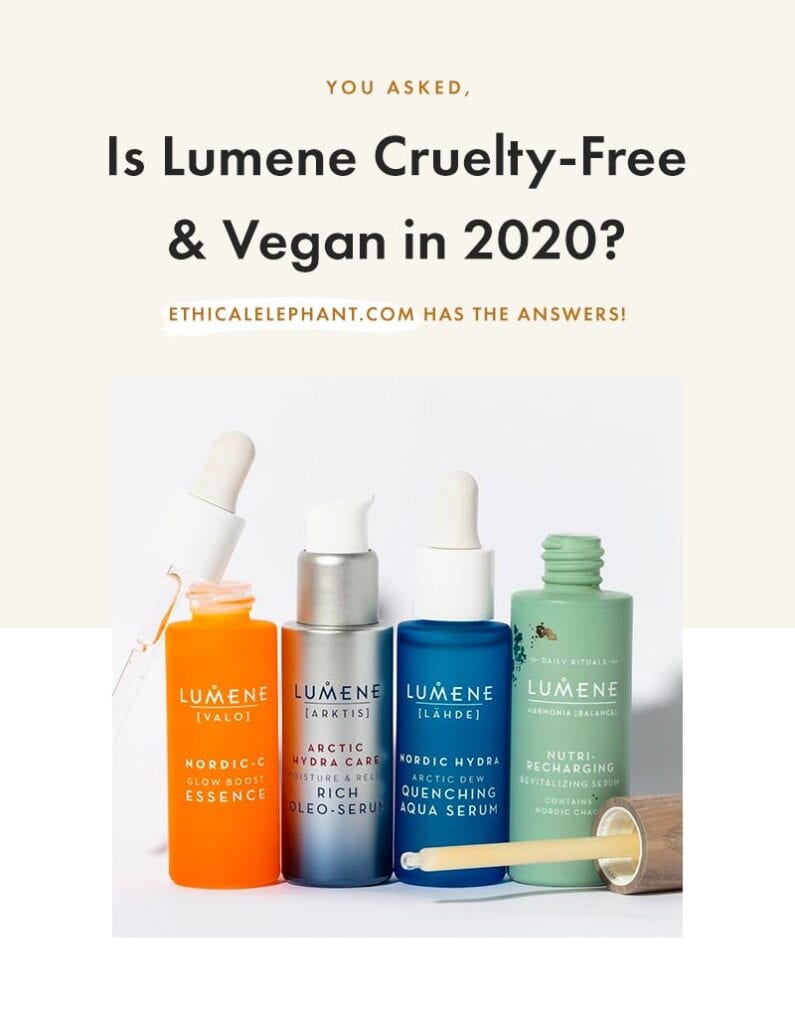 Lumene products are inspired by the natural beauty of the Finnish landscape and the purity and authenticity of the Nordic way of life Lumene. But is Lumene cruelty-free, vegan, or sustainable? I've got the answers here!
Is Lumene Cruelty-Free?
Lumene is Cruelty-free! None of Lumene's ingredients, formulations, or finished products are tested on animals, anywhere in the world.
Lumene Animal Testing Policy
Lumene has confirmed they do not test their products or ingredients on animals or ask others to test on their behalf. Their suppliers also do not test on animals nor do they allow their products to be tested on animals when required by law. And finally, their products are not sold in stores in mainland China or any other country that may require animal testing.
Below is a screenshot of Lumene's official animal testing statement: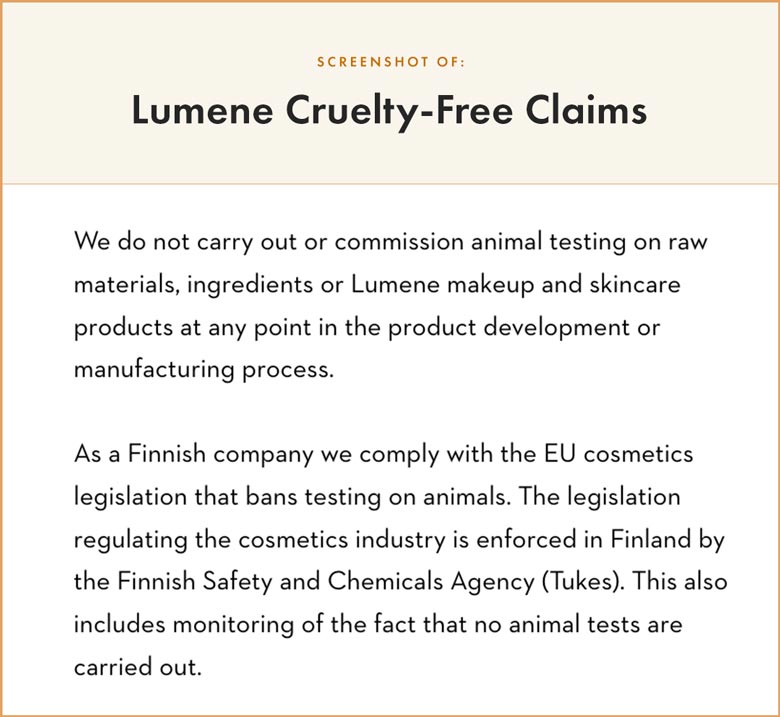 I also emailed Lumene to ask for more information about their animal testing policy. The following is a snippet of the response I received from them:
"We do not carry out or commission animal testing on our products or ingredients at any point in the product development or manufacturing process. As a Finnish company we comply with the EU cosmetics legislation that bans testing on animals. The legislation regulating the cosmetics industry (including the ban on animal testing) is enforced in Finland by the Finnish Safety and Chemicals Agency (Tukes).

We only use suppliers that don't use animal testing. It's against the EU cosmetics legislation for suppliers in EU to use animal testing and for suppliers outside of EU to sell ingredients for cosmetic purposes that have been tested on animals. This is being made sure with different audits and Code of Conduct commitments.

At the moment Lumene products are not available in China and we are not planning to enter the Chinese market so that we would need to give up on our position on animal testing."
Is Lumene Sold in China?
Most imported cosmetics sold in mainland China are required by law to be tested on animals in 2021. However, Lumene has confirmed they do not sell their products in retail stores in mainland China and therefore they are not required to test on animals.
Lumene has met all of our criteria in our Cruelty-Free Checklist and is included on our List of Cruelty-Free Brands.
You can find Lumene cruelty-free products on Amazon and in select CVS and Target stores.
Is Lumene Vegan?
Not all of Lumene's products are vegan as some of their products contain animal-derived ingredients or by-products. However, Lumene does have some vegan options.
Below is a list of Lumene vegan products.
The following is a screenshot of what's currently stated on Lumene's official website about its vegan products: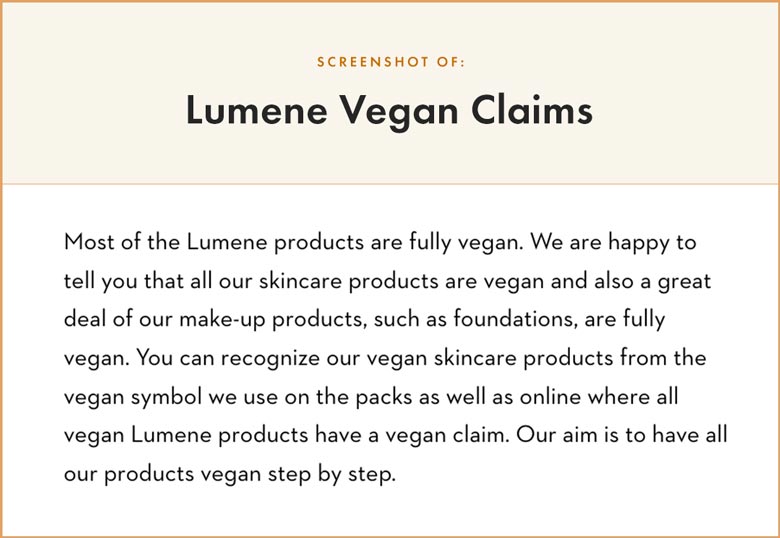 You can also find out which of their products are vegan as they're all marked accordingly on their website under each product description. See below for an example.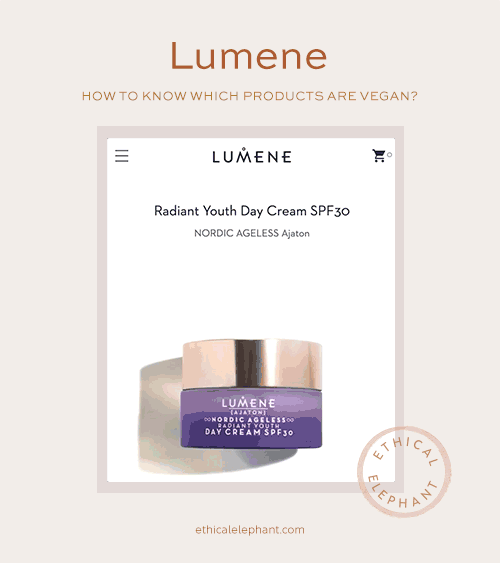 Lumene Vegan Product List
As of 2021, I will no longer be regularly updating this list of Lumene vegan products as all of their vegan products are now clearly marked. Check their website for the most up-to-date and accurate information on which products are vegan or not.
The following Lumene products are suitable for vegans and do not contain any animal-derived ingredients or by-products.
Skincare – Lumene Vegan
All of Lumene skincare products are vegan.
Makeup – Lumene Vegan
Air-Light Loose Powder
BEST MAT(T)E FOREVER Mattifying Primer
Blur Longwear Foundation SPF 15
Bright Boost BB Cream SPF20 Light/Medium
Bright Boost BB Cream SPF20 Medium/Dark
Brightening Flawless Concealer
CC Color Correcting & Blurring Primer
CC Color Correcting Pen
CC Color Correcting Powder
CC Concealer
Extra Stay Eyebrow Palette
Extreme Eye Marker
Eyebrow Fixing Gel
Eyebrow Shaping Wax
Eyeshadow Primer
Highlighter
Instant Glow Beauty Serum
Instant Glow Fresh Skin Tint
Instant Glow UV Primer SPF30
Lip Balm – Invisible Illumination
Longwear Blur Powder Foundation SPF 15
Matte Oil-Free Foundation
Mattifying & Pore Smoothing Primer
Moisturizing & Illuminating Primer
Natural Correction Concealer Palette
Natural Glow Bronzer
Natural Glow Fluid Foundation
Natural Perfection CC Cream
Nordic Glow Palette
Northern Lights Blush
Precision Eyeliner
Professional Brow Definer Eyebrow Duo
Sheer Finish Loose Powder
Soft-Matte Pressed Powder
Under Eye Concealer
Watercolor Blush
---
---
Is Lumene Sustainable?
Lumene's headquarters is based in: Finland
Lumene's products are manufactured in: Mostly in Finland, the rest in the EU
Lumene is a sustainable company, learn more about their sustainability initiatives and policies here. Or continue reading for a quick summary.
Sustainability & Environmental Initiatives: Lumene is committed to using active ingredients derived from Nordic ingredients, many of which are developed from byproducts of the food and forest industries. In addition, Lumene is committed to using sustainably and responsibly sourced ingredients with a focus on using wild-crafted plants and berries. As well as, sourcing "raw materials and ingredients from companies located in rural areas, many of which are in areas with high regional unemployment, and in doing so support generating work and economic growth in Finland."
Lumene aims to become carbon-neutral by 2025. Currently, they use waste heat and bio-based fuels, they launched their WaterSmart program aimed to reduce water consumption, and they're working on efficient waste management to re-use or recycle any waste generated in their production.
Eco-Friendly Packaging Initiatives: Lumene is committed to labeling all of their product packaging to state what material they're made from, as well as, providing recycling instructions on each product page. They also aim to use 80% recycled plastic or plastic made from renewable resources by 2025.
"Our aim is to improve recyclability and decrease the amount of multiple materials used in our packaging. We are going to increase the usage of recycled plastics and evaluate usage of materials made out of renewable raw materials, which can be either bio-based or biodegradable material. We are also going to increase the usage of fibre based FSC® or PEFC™ certified carton board."
Is Lumene's Mica Ethically-Sourced? Lumene claims their mica is ethically-sourced without the use of child labor. They also use synthetic mica that's made in a lab and therefore not associated with child labor.
"Mica is a very common mineral which is produced in many different countries. We always respect the local and international legislation in all our actions. Responsibility is a very important factor in raw material acquisition as well and we expect transparency from our suppliers.
The mica we use comes for example from the USA and India. In addition we also use synthetic mica in our products. Our suppliers are committed to the Lumene Code of Conduct business principles. Our goal is to reduce the use of Mica and use either synthetic or US-based mica in all new launches. Over the past 5 years, we have also reduced Mica usage by a third compared to 2014."
---
I hope this article helped you to understand Lumene's cruelty-free and vegan status and by choosing cruelty-free together, we can help end animal testing for cosmetics once and for all!