This post may contain affiliate links.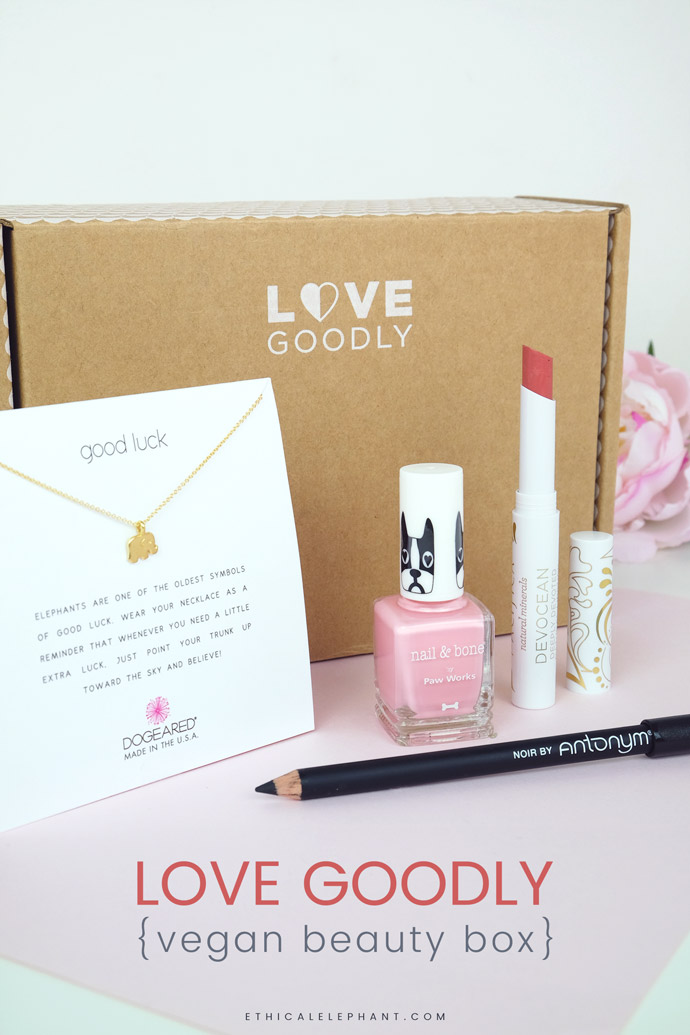 If you're interested in trying out new cruelty-free, vegan, and eco-friendly beauty products without doing any work and having it delivered right to your doorstep, then LOVE GOODLY's bi-monthly vegan beauty box is for you!
LOVE GOODLY does all the work for you of finding what's hot in vegan beauty right now and they package it all up for you so that you can easily and comfortably enjoy new products every other month without leaving your house!
See what was included in the LOVE GOODLY June/July 2018 box below!
About LOVE GOODLY Box
Bi-monthly subscription box
$29.95 per box
Use coupon code: ETHICALBOX to receive $8 off your first box
Value of box is always over $80
Includes cruelty-free, vegan, non-toxic beauty and lifestyle products
LOVE GOODLY June/July Box
This LOVE GOODLY June/July edition box was inspired by actress and activist, Kaley Cuoco in support of PawWorks, a non-profit animal rescue organization.
This month's box contents are valued at $97 and included 4 full-size products. Like all of LOVE GOODLY's box, all of the products are cruelty-free (never tested on animals) and vegan (no animal-derived ingredients).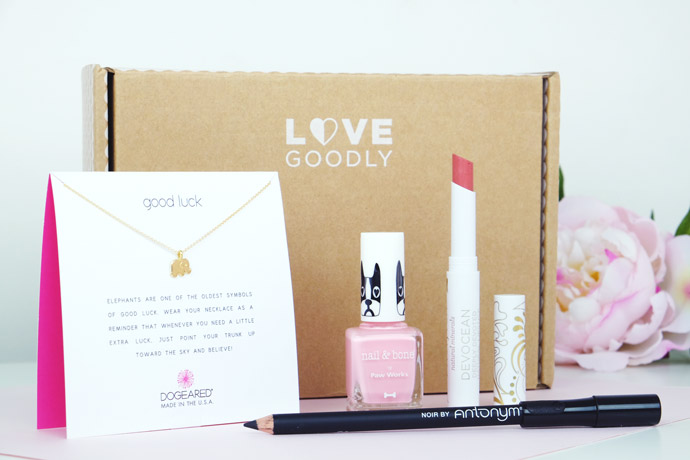 Natural Lipstick by Pacifica ($10)
I have used and tried this vegan lipstick from Pacifica before and love it! It's a very creamy and pigmented lipstick.
Natural Eye Liner Pencil by Antonym ($19)
I love it when beauty boxes include eyeliners, because your girl can never have too many eyeliner pencils! This eyeliner from Antonym is made with 100% natural, vegan, and organic ingredients. The formula glides on smoothly and is incredibly pigmented, there's also a detachable sharpener on the other end!
Nail Polish by Nail & Bone ($10)
A non-toxic, 8-free, vegan nail polish in the color Shirley which is a stunning baby pink, perfect for Summertime!
Charm Necklace by Dogeared ($58)
I've been trying to get into buying ethically-made jewelry so I was excited when LOVE GOODLY's non-beauty related item in the June/July box was this adorable and elegant elephant gold-dipped charm necklace. YES, an elephant!! How fitting for ethical elephant!
Final Thoughts
I adored all 4 products included in the June/July LOVE GOODLY box. I got to restock on one of my favorite lipsticks from Pacifica and tried out a new natural eyeliner and new nail polish brand, and received the cutest charm necklace! All kinds of winning in this edition of LOVE GOODLY's vegan box!!
If you want to try out the LOVE GOODLY cruelty-free and vegan box and want to save $8 off your first box, use coupon code: ETHICALBOX