This post may contain affiliate links.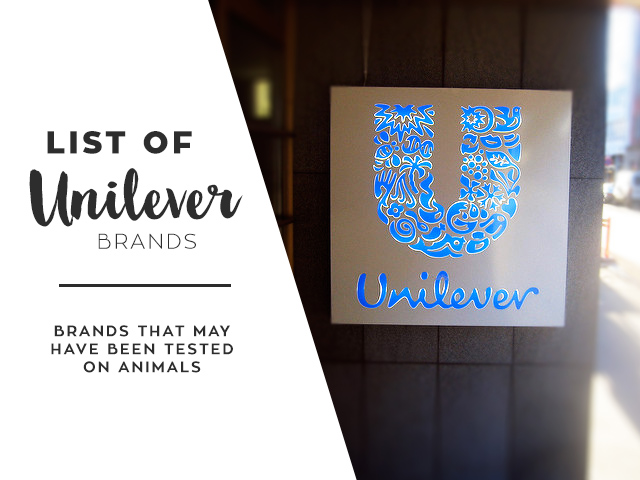 Unilever claims they do not test their own products on animals "but occasionally some ingredients [Unilever] use have been tested to meet government requirements."
Therefore Unilever sadly is not a cruelty-free brand. It is ultimately the company's decision if they wish to sell their products in countries that require animal testing by law (like China) and in doing so, they should be held responsible for the repercussions of their decisions.
In this case, Unilever is putting profits before the welfare of thousands of animals used to test their ingredients.
Unilever's Animal Testing Statement
We do not test our products on animals, but occasionally some ingredients we use have been tested to meet government requirements. A few governments still test our products on animals in their own laboratories, and we are working with these authorities to help them adopt non-animal approaches. ~Unilever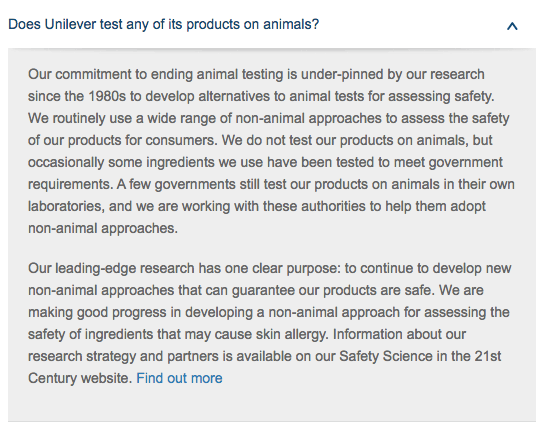 Unilever's Alternative Approaches to Animal Testing
In Unilever's animal testing statement, they try and push the notion that the company is committed to developing and using non-animal approaches to test the safety of their products. You can find more information about Unilever's position on developing alternative approaches to animal testing on their website and below.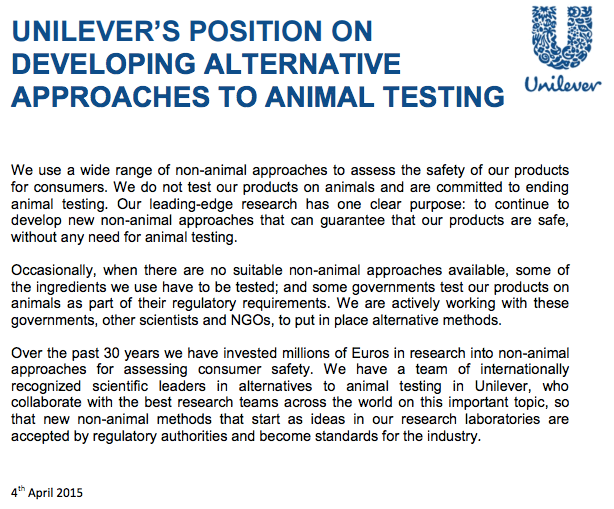 It's great to hear that Unilever is putting their resources and money (€3 million!) to good use in developing non-animal testing approaches however I personally do not feel comfortable supporting a company that continues to test on animals in this day and age. Many companies are already using from nearly 50 different and validated alternative testing methods, why can't Unilever get by doing the same?
List of Unilever Brands
Unilever has over 400 brands, you can find the full list on their website. I've decided to list only brands that are available in the U.S, Canada, UK, and Australia. I've also indicated which brands are sold in China as well as which ones are certified cruelty-free by Leaping Bunny or PETA's Beauty Without Bunnies Program.
Many caring consumers choose to avoid buying all subsidiary brands from a parent company that chooses to continue to test on animals. If you wish to avoid all of Unilever brands, use this list as a resource.
---
Sold in China – This brand distributes its products in China when animal testing is required by law
PETA Certified – This brand is PETA Certified Cruelty-Free
Leaping Bunny Certified – This brand is Leaping Bunny Certified Cruelty-Free
Hair
Alberto Balsam
Bioexpert
Clear –

Sold in China

Nexxus
Sunsilk
TIGI
Timotei
Toni & Guy
TRESemmé
VO5
Personal Care
AXE
Brut
Degree
Impulse
Lever 2000
Lux –

Sold in China

Lynx –

Sold in China

Rexona –

Sold in China

Sure
Skincare
Aviance
Badedas
Breeze (soap)
Caress
Citra
Dermalogica –

Leaping Bunny Certified

PETA Certified

Dove –

Sold in China

Dove Men+Care
Lifebuoy –

Sold in China

Murad – 

PETA Certified

Noxzema
Pond's –

Sold in China

Radox
REN –

PETA Certified

Simple
St. Ives
Suave
Vaseline –

Sold in China
Makeup
Hourglass – Cruelty-free! *acquired in 2017
Oral Care
Close Up
Pepsodent
Signal
Household/Cleaning
Cif –

Sold in China

Comfort –

Sold in China

Coral
Domestos
Drive
Jif
Sun
Sunlight –

Sold in China

Surf
Photo by seamusiv, used under CC BY-SA 2.0 / Added Text