This post may contain affiliate links.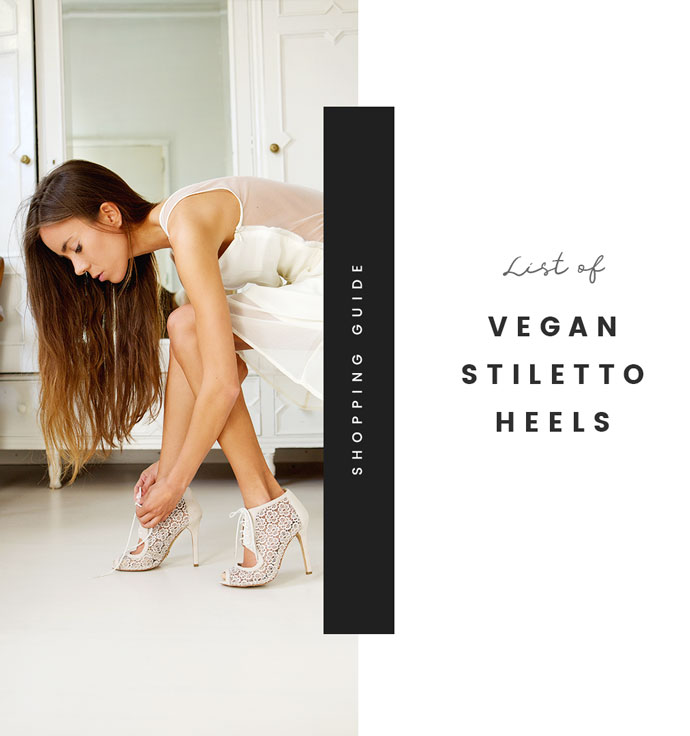 No wardrobe is complete without a pair of stilettos and if you're on the hunt for an ethically-made, cruelty-free, and earth-friendly option, then this list of 10 ethical and vegan stiletto heels is for you!
Below is a list of vegan-friendly brands with a selection of beautiful animal-free stilettos. None of the shoes or brands mentioned in this list manufacture shoes made from leather derived from animal skins. I also made sure to find brands that also care about their factory workers and responsibly sourcing the materials and fabrics of their products.
Ready to level up your shoe game with some next level vegan stiletto heels?
Vegan Stiletto Shoe Brands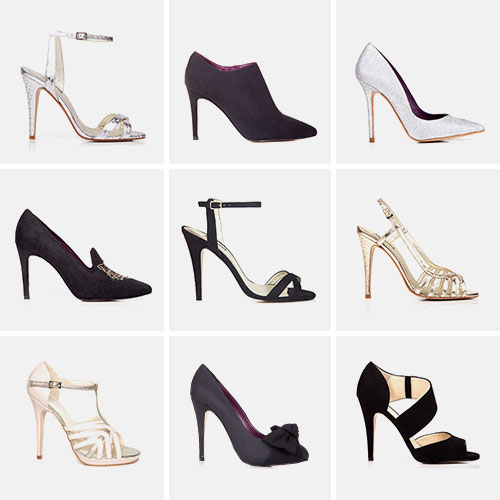 Beyond Skin
Based in: England
Price: $119-$210
Beyond Skin
has an endless selection of 100% vegan and ethically made shoes.
Beyond Skin's vegan stiletto shoes
are made using 100% recycled PU lining materials and synthetic leather made from cotton-backed polyurethane, sourced from Italy. All of Beyond Skin vegan shoes are responsibly made in Spain, they also source their materials and fabrics as locally to their factories as possibly to reduce their carbon footprint.
---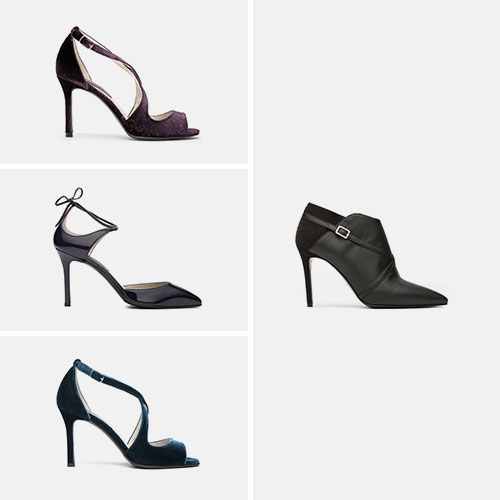 Nemanti
Based in: Italy
Nemanti's
Italian luxury vegan shoes are what dreams are made of!
Nemanti
vegan stiletto heels are elegant, chic, and versatile to wear for everyday or for special occasions.
Nemanti
shoes are made from high-quality vegan leather made from bio-polyoils from cereals to avoid the use of fossil fuels and luxurious faux suede, Alcantara.
---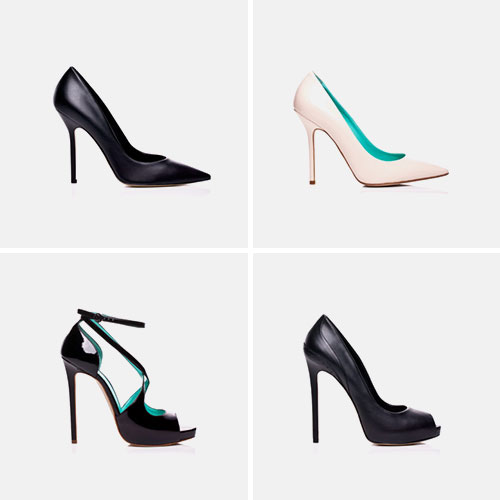 NAK Fashion
Based in: London
Price: £260-£360
NAK (No Animal Killed) Fashion's
mission is to make beautiful shoes without killing animals. And they have done just that with their exquisite and stylish vegan Italian shoes. NAK partners with artisans in Italy to design and craft their shoe collection and all materials used in making their products are sourced close to their Northern Italian workshop to minimize impact on the environment. NAK shoes are made from microfibre, an alternative to leather that is breathable, waterproof, and lightweight.
---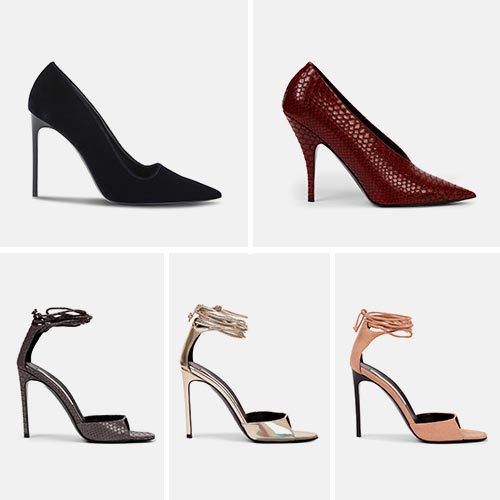 Stella McCartney
Based in: USA
Price: $450-$750
Stella McCartney
, a lifelong vegetarian does not use any leather or fur in her designs and that includes her designer vegan stilettos.
Stella McCartney shoes
are made using non-leather, cruelty-free materials like 100% polyester Alter-Nappa, made from polyester and polyurethane and has a recycled polyester backing. This reduces the amount of petroleum they use in their products. And the alter-nappa coating is made with over 50% vegetable oil, a renewable, natural resource.
---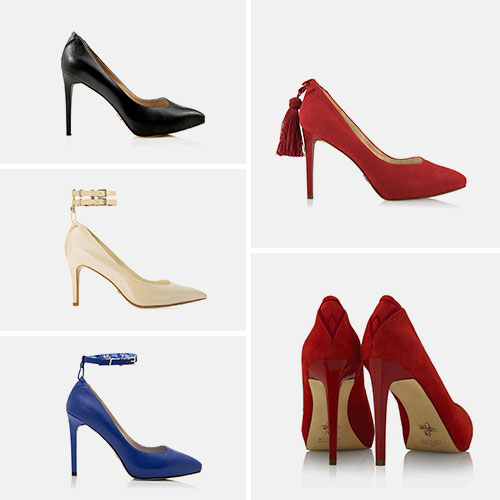 Veerah
Based in: New York, USA
Price: $258-$348
Veerah
is founded and inspired by women.
Veerah vegan stiletto heels
are made form responsibly sourced and cruelty-free materials including organic cotton, cork, apple peel skin, vegan calfskin, vegan suede, vegan patent, and recycled plastic bottles. The coolest part of
Veerah
shoes is that they come with removable and interchangeable accessories so that you can get multiple styles and looks while reducing your fashion footprint.
---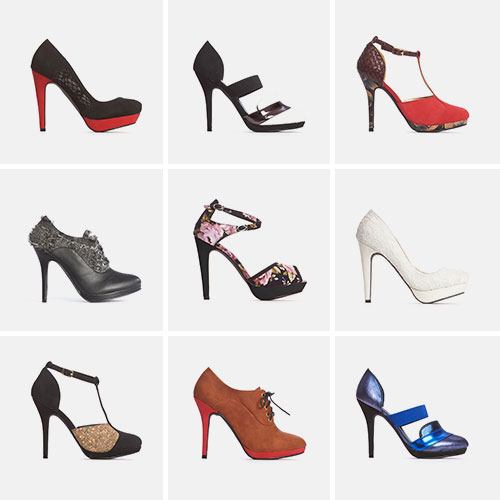 Cri de Coeur
Based in: New York, USA
Price: $50-$75
Cri de Coeur
is 100% vegan, eco-friendly, and ethically made.
Cri de Coeur vegan stiletto heels
comes in a variety of styles and unique color blocks. Cri de Coeur shoes are made using ultrasuede from recycled plastics, eco-PU, organic cotton, hemp and reclaimed wood.
Cri de Coeur
is also committed to working with vendors who abide by their ideals of earth-friendly manufacturing processes and fair treatment of workers.
---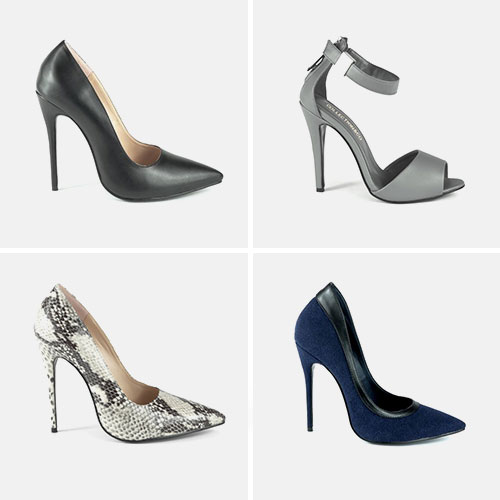 Collection & Co
Based in: Bristol, England
Price: £55-£160
Collection & Co
is 100% vegan and all their shoes are made with the use of non-animal leathers and non-animal glues. Collection & Co is making efforts towards becoming more sustainable by sourcing a variety of up-cycled and eco-friendly materials including pineapple leaf fibres, recycled plastics and hemp. Their vegan shoes are also manufactured responsibly and produced in limited quantities in a small Greek factory.
---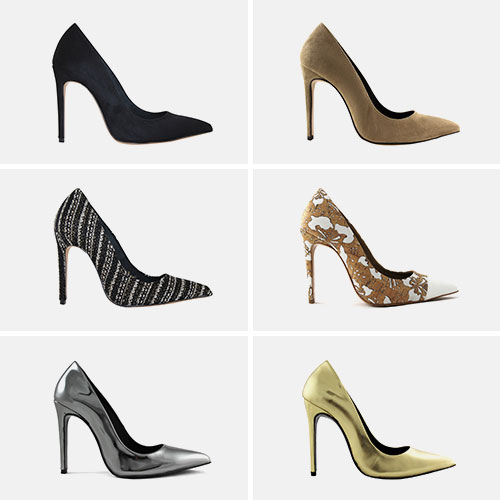 FAIR
Based in: Portugal
FAIR
(For All Its Rights) collections are 100% vegan and animal-free. FAIR vegan stiletto heels come in various heights, colors, finishes including metallic vegan leather, vegan tweed, vegan suede, and cork. All of FAIR shoes are produced in Portugal under worker-friendly conditions and they're always striving to use the most sustainable materials.
---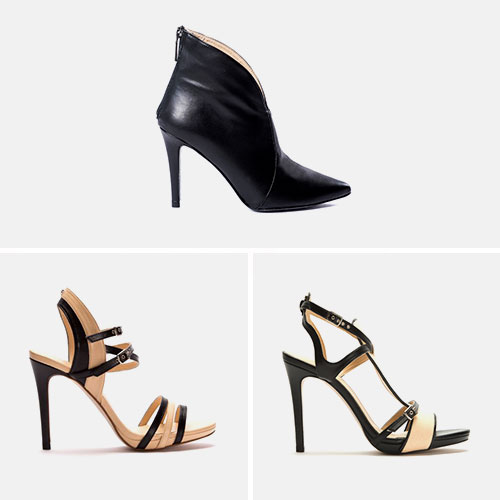 Love Sofie
Based in: Sweden
Price: 1,580 kr – 1,600 kr (USD$180)
Love Sofie
shoes are completely animal-free, designed consciously and sourced responsibly. Love Sofie's vegan stiletto heels are made from plant leather which is derived by mixing PU with palm, corn, soybean, and other plant oils then laminated together in layers to create a material that feels and acts like animal leather. In addition, Love Sofie also uses organic cotton, recycled polyester, and post-consumer recycled denim to make their designer and unique vegan shoes. Love Sofie shoes are produced in Spain and compliant with European Union manufacturing and safety standards.
---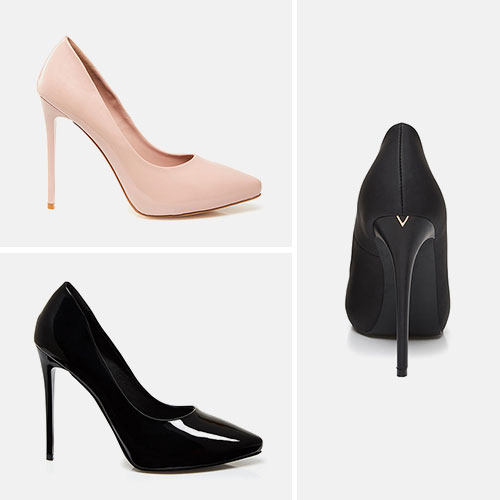 huntd
Based in: Australia
Price: $169
Huntd
offers designer and luxurious 100% vegan stiletto heels that are timeless and a staple for every compassionista's wardrobe. Huntd manufacture their shoes as environmentally friendly as possible by using water-based polyurethane instead of traditional solvents that contains harmful chemicals. Huntd is also committed to ensuring their factory workers are paid a fair wage and provided a safe working condition.
---
I'd love to know, what are some of your favourite vegan & ethical shoe brands?