This post may contain affiliate links that at no additional cost to you, I may earn a small commission.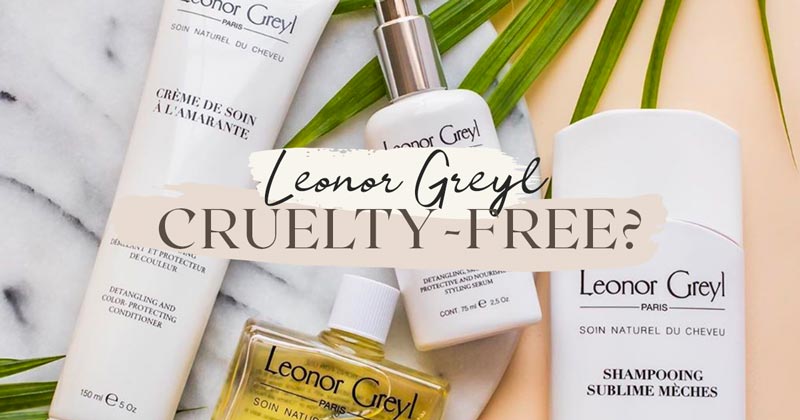 Leonor Greyl is an award-winning natural hair care brand founded in Paris, but is Leonor Greyl cruelty-free and 100% vegan in 2021? We've got the answers here!
Is Leonor Greyl Cruelty-Free?
Leonor Greyl is Cruelty-free! None of Leonor Greyl's ingredients, formulations, or finished products are tested on animals, anywhere in the world.

In addition, Leonor Greyl is certified cruelty-free by Leaping Bunny.
Leonor Greyl Animal Testing Policy
Leonor Greyl has confirmed they do not test their products or ingredients on animals nor they do not allow others to test on their behalf. They have verified with their suppliers that they also do not test on animals. As well as, they do not allow their products to be tested on animals when required by law, and their products are not sold in stores in mainland China or any other country that may require animal testing.
Below is a screenshot of what's currently stated on Leonor Greyl's website:

In addition, I emailed the French hair care brand asking for more information about its animal testing policy. The following is a snippet of the response I received from the company:
"We do not test our products on animals. It is illegal to test raw materials or final products on animals in Europe for the last 10 years or so. Since all of our products are released in Europe first, none of our products or ingredients have been tested on animals. Our suppliers are also controlled by the European Union and must follow their guidelines.

Our products are sold in China via a cross-border program with our distributor in Hong Kong. We won't sell directly to China unless they change their guidelines on animal testing."
Is Leonor Greyl Sold in China?
All imported cosmetics sold in mainland China are required by law to be tested on animals. However, Leonor Greyl has confirmed they do not sell its products in retail stores in mainland China and therefore they are not required to test on animals.
Leonor Greyl has met all of our criteria in our Cruelty-Free Checklist and is included on our List of Cruelty-Free Brands.
You can find Leonor Greyl cruelty-free products at Nordstrom, Saks Fifth Ave, Cult Beauty, and on Amazon.
Is Leonor Greyl Vegan?
Not all of Leonor Greyl's products are vegan as some of their products contain animal-derived ingredients or by-products. However, Leonor Greyl does have some vegan options.
Leonor Greyl Vegan Product List
The following Leonor Greyl products are suitable for vegans and do not contain any animal-derived ingredients or by-products. This vegan product list was provided by Leonor Greyl.
Note that this vegan list was provided by Leonor Greyl but we always encourage you to check and read the ingredients and labels before buying. We take these vegan lists provided by brands at face value and this is not a complete list. I'm merely sharing what brands told me specifically, so continue to do your research and always check the ingredients.
Is Leonor Greyl Ethical?
Based in: France
Products made in: France
Sustainability & Environmental Initiatives: Leonor Greyl states, "We are committed to developing products safe for our environment. All of our suppliers have strict rules on not only the quality of their products but also the way it is harvested. There is no deforestation involved in the process. We always will seek sustainably-sourced, organically-farmed ingredients."
Eco-Friendly Packaging Initiatives: Leonor Greyl claims its products are recyclable.
Giving Back Initiatives: Leonor Greyl makes regular donations to several organizations and causes. For example, during Breast Cancer Awareness month this October, Leonor Greyl will be donating 5% of sales generated from their shop to the Centres de Beauté CEW. An organization that develops, equips, and fund cosmetic care programs for cancer patients in a hospital setting.
Ingredients and Formulations Claims: Leonor Greyl claims its products are eco-friendly and free of SLS, Sodium Chloride, Silicone, Coal Tar, and Parabens.
---
I hope this article helped you to understand Leonor Greyl's cruelty-free and vegan status and by choosing cruelty-free together, we can help end animal testing for cosmetics once and for all!