This post may contain affiliate links.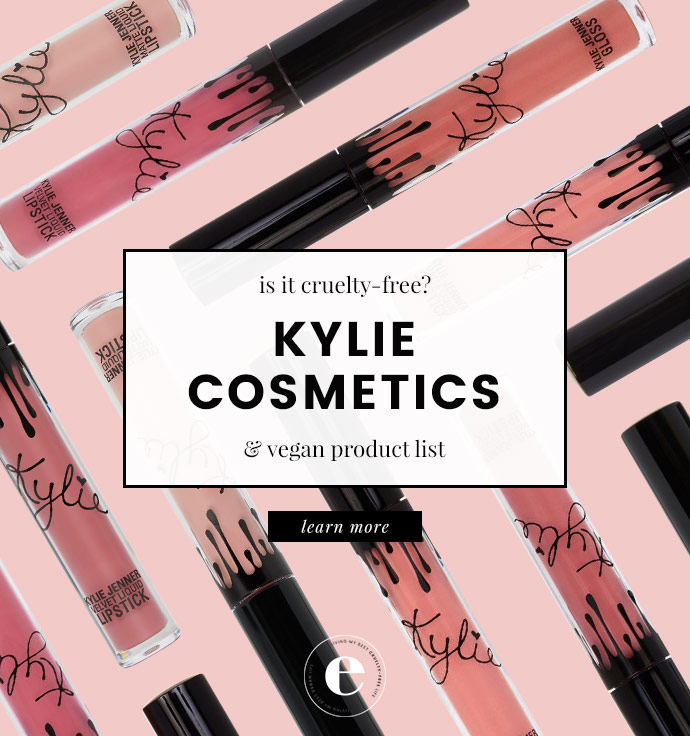 Is Kylie Cosmetics Cruelty-Free?
Answer:
Yes. Kylie Cosmetics is cruelty-free and none of their products or ingredients are tested on animals.
There is no official statement on Kylie Cosmetics' website about their animal testing policy except for this very underwhelming claim: "Kylie CosmeticsSM by Kylie Jenner products are not tested on animals."
I reached out to inquire about Kylie Cosmetics' animal testing policy and received confirmation that Kylie Cosmetics does not test on animals and that they work closely with their suppliers to ensure their ingredients are not tested on animals. Kylie Cosmetics has also confirmed to me that they do not sell in-stores in Mainland China, and therefore they are not required to test on animals as per China's laws.
I am happy to claim Kylie Cosmetics as being cruelty-free!
---
Is Kylie Cosmetics Vegan?
Answer:
Some of Kylie Cosmetics are considered vegan. Please find a list of Kylie Cosmetics vegan products below.
Kylie Cosmetics Vegan Product List (2018)
Although not all of Kylie Cosmetics is considered vegan as they do use carmine in some of their products but I was kindly provided with a list of Kylie Cosmetics that are vegan and don't contain any animal-derived ingredients or by-products.
"Any products that are new or not listed are either not vegan or will be added to our list as soon as we receive confirmation!" – Kylie Cosmetics

LIP KIT PRODUCTS:
All shades of The Kylie Lip Kit℠ are vegan.
METALS:
Reign
GLOSS:
So Cute, Literally, Like
LIP LINER SINGLES:
All Lip Liner Singles
KYLINERS:
Black, Brown, Deep Bronze
KYLIGHTERS:
French Vanilla, Banana Split, Salted Caramel, Strawberry Shortcake
BLUSHES:
Virginity, Hot and Bothered, Hopeless Romantic, Barely Legal
KOKO PRODUCTS:
In Love with the Koko Lip Set, Okurrr, Gorg, Khlo$
2017 FALL COLLECTION PRODUCTS:
Autumn, Hazel, Butternut, Libra, Wicked, Fiji, Santorini, Tahiti
VELVET SINGLES:
Birthday Suit, Punk, Surprise Me, Basic, Boy Bye, Brat, Karma, Goals, Commando, Low Key, Savage, Charm, Dazzle, Mood, Vibe, Heat, Shook, Posie K,
2017 SILVER SERIES PRODUCTS:
All Creme Lipstick Singles
All Concealers
2018 WEATHER COLLECTION:
All Glitter Eyes
All Matte Lipsticks
Yellow Eyeliner
Eye of the Storm Palette
Calm Before the Storm Palette
KOURT x KYLIE:
RAD Velvet Single
Minnie Velvet Single
French Kiss Velvet Single
Green Palette
KRIS KOLLECTION:
Give Me A Kiss Creme Lipstick
Give Me A Kiss Lip Liner
Momager Mini Lip Set
2018 SUMMER COLLECTION:
All Lip Kits
All Matte Lipsticks
All Glosses
2018 BIRTHDAY COLLECTION:
All Lip Kits
All Glitter Eyes
All Matte Lipsticks
The Birthday Lip Trio
6 PC Birthday Mini Lip Set
KYSHADOW SINGLES:
Jack Frost
Jasper
Light Year
Pyrite
New Year, New Me
Matcha
Quartz
Hematite
Starfish
Sandy
Ma$e
Sunshine
Topaz
Goddess
Buzz Off
Slay
Sweet Like Honey
Party Time
Island Girl
Frosty
JORDYN x KYLIE:
All High Glosses
Woods Matte Lipstick
2018 HALLOWEEN COLLECTION:
Bite Me Lip Kit
Go Ghost Kylighter
All Glitter Eyes
All Matte Lipsticks
All Metallic Lipsticks
HIGH GLOSS COLLECTION:
All High Glosses
---