This post may contain affiliate links that at no additional cost to you, I may earn a small commission.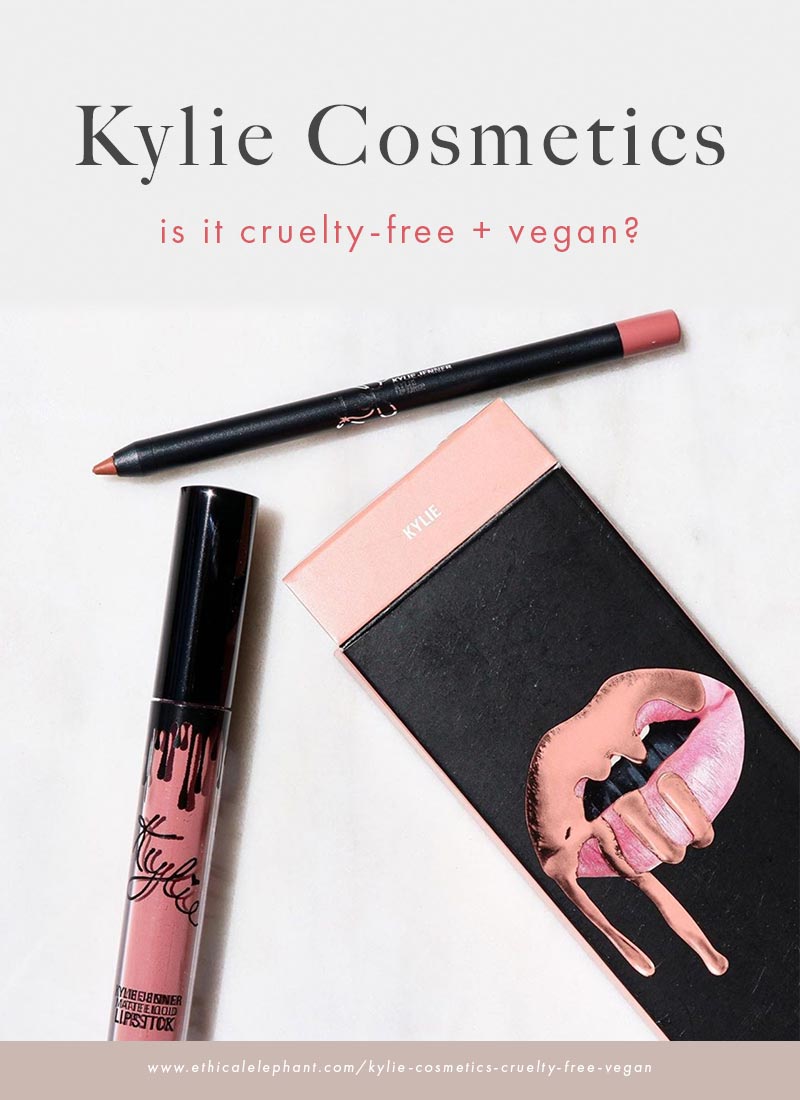 Kylie Cosmetics is a wildly popular makeup brand created by Kylie Jenner but is Kylie Cosmetics cruelty-free, vegan, or sustainable in 2021? I've got the answers here!
Is Kylie Cosmetics Cruelty-Free?
Kylie Cosmetics is Cruelty-free! None of Kylie Cosmetics' ingredients, formulations, or finished products are tested on animals, anywhere in the world.
However, it should be noted that Coty owns a majority stake in Kylie Cosmetics. Coty is a corporation that does test on animals when required by law.
Kylie Cosmetics Animal Testing Policy
There is no official statement on Kylie Cosmetics' website about their animal testing policy except for this short proclamation: "Kylie CosmeticsSM by Kylie Jenner products are not tested on animals."
So I emailed the brand asking for more information about their animal testing policy. They responded and confirmed Kylie Cosmetics does not test their products or ingredients on animals or ask others to test on their behalf. Their suppliers also do not test on animals nor do they allow their products to be tested on animals when required by law. And finally, their products are not sold in stores in mainland China or any other country that may require animal testing.
Below is a snippet of the email response I received from Kylie Cosmetics:
"Kylie Cosmetics does not test on animals. We also work closely with our suppliers to ensure our ingredients are not tested on animals."
Is Kylie Cosmetics Sold in China?
Most imported cosmetics sold in mainland China are required by law to be tested on animals in 2021. However, Kylie Cosmetics has confirmed they do not sell their products in retail stores in mainland China and therefore they are not required to test on animals.
Coty Owns 51% Stake in Kylie Cosmetics
In 2019, Coty acquired a 51% stake in Kylie Cosmetics. But Coty and some of their other subsidiary brands test on animals when required by law.
Although Kylie Cosmetics is partly owned by Coty, the brand has remained committed to being a cruelty-free brand.
See Also: Why Coty is Not Cruelty-Free and List of Coty Brands
Kylie Cosmetics has met all of the criteria in our Cruelty-Free Checklist and is included on our List of Cruelty-Free Brands.
You can find Kylie Cosmetics' cruelty-free products at Ulta.
---
Is Kylie Cosmetics Vegan?
Not all of Kylie Cosmetics' products are vegan as some of their products contain beeswax, carmine, or other animal-derived ingredients or by-products. However, Kylie Cosmetics does have some vegan options.
Please reference below for a list of Kylie Cosmetics vegan products.
Kylie Cosmetics Vegan Product List
Below is a list of Kylie Cosmetics products that are suitable for vegans and do not contain any animal-derived ingredients or by-products. This vegan product list was provided by Kylie Cosmetics.
"Any products that are new or not listed are either not vegan or will be added to our list as soon as we receive confirmation!" – Kylie Cosmetics
LIP KIT PRODUCTS
All shades of The Kylie Lip Kit℠ are vegan.
GLOSS
So Cute, Literally, Like, Poppin', Glitz, Posie K, Koko K, Cupid, Glamour, Candy K
LIP LINER SINGLES
All Lip Liner Singles
KYLINERS
Black, Brown, Deep Bronze
KYLIGHTERS
French Vanilla, Banana Split, Salted Caramel, Strawberry Shortcake, Ice Me Out, Dreamin' Of Diamonds, Quartz, Sunday Brunch
BLUSHES
Virginity, Hot and Bothered, Hopeless Romantic, Barely Legal, Kitten Baby, Baddie On The Block, We're Going Shopping, Rosy, Pink Power, Crush, Close To Perfect, Kitten Baby, Pink Dreams
BRONZERS
ALL
HIGH GLOSS
Sweet
Story of Us
Blow Me Away
Crystal
Always Shining
Yesss Girl
Daddy's Girl
Snatched
Diva
Oh You Fancy?
Klear
Partner In Crime
23
Wish Come True
VELVET SINGLES
Birthday Suit, Punk, Surprise Me, Basic, Boy Bye, Brat, Karma, Goals, Commando, Low Key, Savage, Charm, Dazzle, Mood, Vibe, Heat, Shook, Posie K,
LIP BLUSHES
Bikini Bod
Cherry On Top
I'm Blushing
Butterfly
CREME LIPSTICKS
All Creme Lipstick Singles
MATTE LIPSTICKS
All Matte Lipstick Singles
CONCEALERS
All Concealers
GLITTER EYES
All Glitter Eyes
MATTE LIPSTICK KITS
All Matte Lipstick Kits
LIQUID EYELINER
All Liquid eyeliners
KYSHADOW SINGLES
| | |
| --- | --- |
| Be Mine | Model Type |
| Buzz Off | New Year, New Me |
| City of Love | Nightmare |
| Dreams Come True | Party Time |
| First Date | PFW |
| Freak On | Pink Problems |
| Frosty | Princess |
| Goddess | Pyrite |
| Heartthrob | Quartz |
| Hematite | Sandy |
| Howl-O-Ween | Slay |
| Island Girl | Starfish |
| Jack Frost | Sunshine |
| Jasper | Sweet Like Honey |
| Kandy Heart | Sweet Poison |
| Kinda Classy | Top Model |
| Light Year | Topaz |
| Love Bug | True Faith |
| Ma$e | True Meaning |
| Main Boo | True's Mom |
| Main Event | Truezeldorf |
| Matcha | |
KOKO COLLECTION PRODUCTS
Okurrr, Gorg, Khlo$, Sugar Plum, Allergic to Bullsh*t, Baby Girl, Doll, Bunny, The Bigger the Hoops,
KRIS KOLLECTION
Give Me A Kiss Creme Lipstick
Give Me A Kiss Lip Liner
KYBROW COLLECTION
All Pomades
All Pencils
All Powder Duos
UNDER THE SEA COLLECTION
Ocean Child Shimmer Eye Glaze
Aqua Mama Shimmer Eye Glaze
Paradise Please Matte Lipstick
Under The Sea Palette
2019 BIRTHDAY COLLECTION
Kylie Velvet Lip Kit
Face Primer
Money Mindset Matte Lipstick
Hustle Honey Matte Lipstick
Mama Boss Matte Lipstick
Money Ain't Everything Shimmer Eye Glaze
Dime Piece Shimmer Eye Glaze
Loose Illuminating Powder
Birthday Pressed Body Glow
2019 HOLIDAY COLLECTION
Holiday Red Liquid Liner Pen
Holiday Illuminating Face Spray
KENDALL COLLECTION
Everything Everywhere Gloss
Can I Borrow That? High Gloss
Sister Sister Lip Blush Kit
Runway Blush Stick
Act Natural Bronzer Stick
Spotlight Kylight Stick
Blotting Powder Perfecting Balm
SAILOR COLLECTION

Sailor Palette
NEW COLLECTION (FALL 2020)

4-Piece High Gloss Set
Can't Be Tamed Matte Lip Kit
Hear Me Roar Kylighter
Catch Me If You Can Shadow Stick
Born To Be Wild Shadow Stick
Individual Lash Trios
KYLIE X THE GRINCH

The Grinch Palette
6 Piece Lipstick Set
Snow Capped High Gloss
Sweet Like Candy Cane
Stealing Christmas Shimmer Eye Glaze
Max the Reindeer Blush
Littlest of Whos Kylighter
How the Grinch Stole Christmas Matte Lip Kit
Grinch Shadow Stick
Welcome to Who-Ville Shadow Stick
---
Is Kylie Cosmetics Sustainable?
Kylie Cosmetics' headquarters is based in: USA
Kylie Cosmetics' products are manufactured in: USA
Kylie Cosmetics does not claim to be a sustainable company.
Additionally, I wasn't able to find any available information on Kylie Cosmetics' sustainability, environmental, and social initiatives.
Is Kylie Cosmetics' Mica Ethically-Sourced? I emailed Kylie Cosmetics to ask if their mica is ethically-sourced without the use of child labor. They responded saying they'll reached out to their lab to verify and will get back to me. But I never heard back from the brand again.
---
I hope this article helped you to understand Kylie Cosmetics' cruelty-free and vegan status and by choosing cruelty-free together, we can help end animal testing for cosmetics once and for all!