This post may contain affiliate links.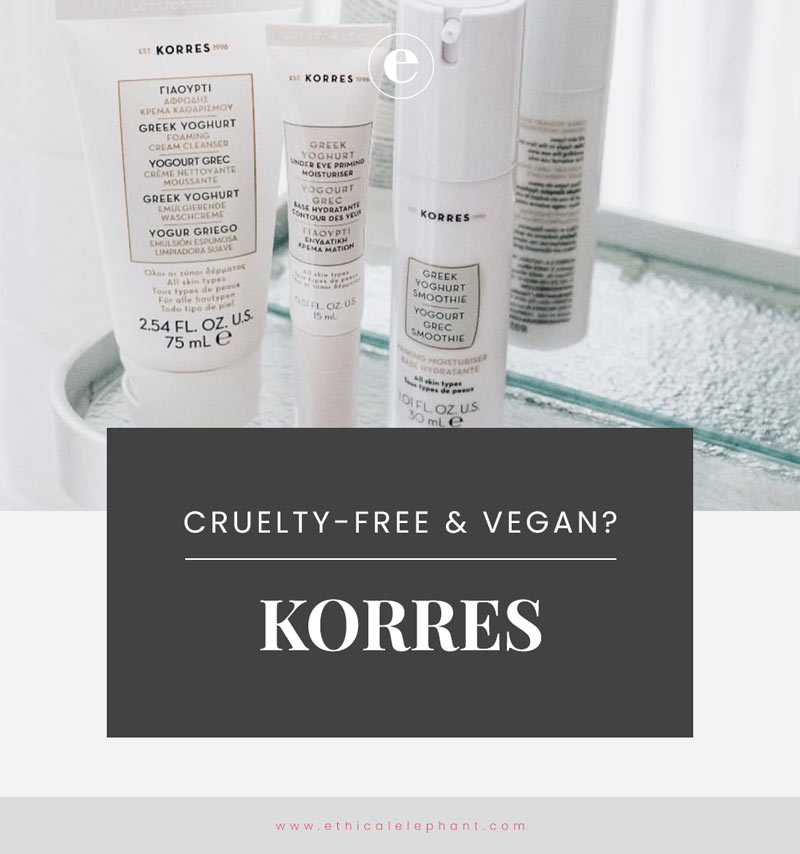 Korres is a modern Greek apothecary brand specializing in natural skin, bath & body, and color cosmetics but is Korres cruelty-free?
Is KORRES Cruelty-Free?
KORRES is cruelty-free; none of KORRES' products or ingredients are tested on animals, anywhere in the world.
KORRES' Animal Testing Statement
Let's start by asking what is Korres' animal testing policy? Below is the response I receive after inquiring about their stance on animal testing:
"We are strictly against animal testing, and do not test any ingredients or products on animals, nor do we hire outside companies to do so for us at any stage in production. All our tests are performed in the lab either in vitro (using synthetic skin cells) or on human volunteers under the surveillance of a dermatologist or specialty doctor, i.e. an ophthalmologist. We do not sell to any countries that require animal testing, and we follow the European Union's strict legislation that bans animal testing on finished cosmetic products and their ingredients."
Based on KORRES' response, we are happy to add KORRES to our list of cruelty-free brands!
Is KORRES Vegan?
Not all of KORRES products are vegan as some contain animal-derived ingredients or by-products, however, KORRES does offer some vegan products.

Please reference below for a list of KORRES vegan product list.
KORRES Vegan Product List
Below is a list of KORRES products that were labelled as 'vegan' on their website and do not contain any animal-derived ingredients or by-products.
If a product you're interested in is not included in this list, please check "KORRES – not vegan" list at the bottom of this post.
Skincare
Face Makeup
Black Pine Concealer
Black Pine Foundation
Eyes Makeup
Lips Makeup
Nails
This vegan product list is updated as frequently as possible, please be aware that formulations may have changed since the publication of this post. If you have new information to suggest one of the above products isn't vegan, please email me at info@ethicalelephant.com to let me know.
Not Vegan – KORRES
The following KORRES products contain some animal-derived ingredients or by-products and are not considered suitable for vegans:
Face – Not Vegan
Milk Proteins 3-in-1 Emulsion – not vegan
Milk Proteins Cleansing Wipes – not vegan
Milk Proteins Foaming Cream – not vegan
Greek Yoghurt 3-in-1 Cleansing Emulsion – not vegan
Greek Yoghurt Cleansing Wipes – not vegan
Greek Yoghurt Foaming Cream – not vegan
Greek Yoghurt Mask – not vegan
Greek Yoghurt Cream – not vegan
Greek Yoghurt Eye Cream – not vegan
Greek Yoghurt Sleeping Facial – not vegan
Greek Yoghurt After-Sun Cooling Gel – not vegan
Yoghurt Fluid Veil SPF 30 – not vegan
Yoghurt Smoothie – not vegan
Wild Rose Mask Instant Brightening & Illuminating Mask – not vegan
Milk Soap – not vegan
Magnolia Night Cream – not vegan
Castanea Night Cream – not vegan
Castanea Night Cream – not vegan
Castanea Foaming Cream – not vegan
Olive Night Cream – not vegan
Cranberry Lifting Mask – not vegan
Watermelon Mask – not vegan
Grapefruit Mask – not vegan
Avocado Mask – not vegan
Nectarine Face Mask – not vegan
Hair – Not Vegan
Laurel and Echinacea Shampoo Against Dandruff and Dry Scalp – not vegan
Sunflower & Mountain Tea Shampoo for Coloured Hair – not vegan
Almond & Linseed Shampoo for Dry Hair – not vegan
Shampoo Aloe & Dictamus for Normal Hair – not vegan
Shampoo Urtica & Liquorice for Oily Hair – not vegan
Shampoo Rice & Linden for Thin/Sensitive Hair – not vegan
Rice Proteins & Linden Toning Shampoo for Fine and Fragile Hair – not vegan
Lime Styling Gel Strong & Long-Lasting hold – not vegan
Body – Not Vegan
Yoghurt Shower Gel – not vegan
Yoghurt Body Milk – not vegan
Yoghurt Body Butter – not vegan
Yoghurt Hand Cream – not vegan
Lily Bouquet Hand Cream – not vegan
Guava Hand Cream – not vegan
Bergamot Pear Hand Cream – not vegan
Japanese Rose Hand Cream – not vegan
Almond & Calendula Hand Cream – not vegan
Almond & Shea Butter Hand Cream – not vegan
Sun Care – Not Vegan
Yoghurt Face Cream SPF 50 – not vegan
Yoghurt Face Cream SPF 30 – not vegan
Yoghurt Face Cream SPF 50 Tinted – not vegan
Yoghurt Face Cream SPF 30 Tinted – not vegan
Yoghurt Body Emulsion SPF 50 – not vegan
Yoghurt Body Emulsion SPF 30 – not vegan
Yoghurt Body Emulsion SPF 20 – not vegan
Yoghurt Cooling Gel – not vegan
Red Grape SPF 30 Tinted – not vegan
---