This post may contain affiliate links.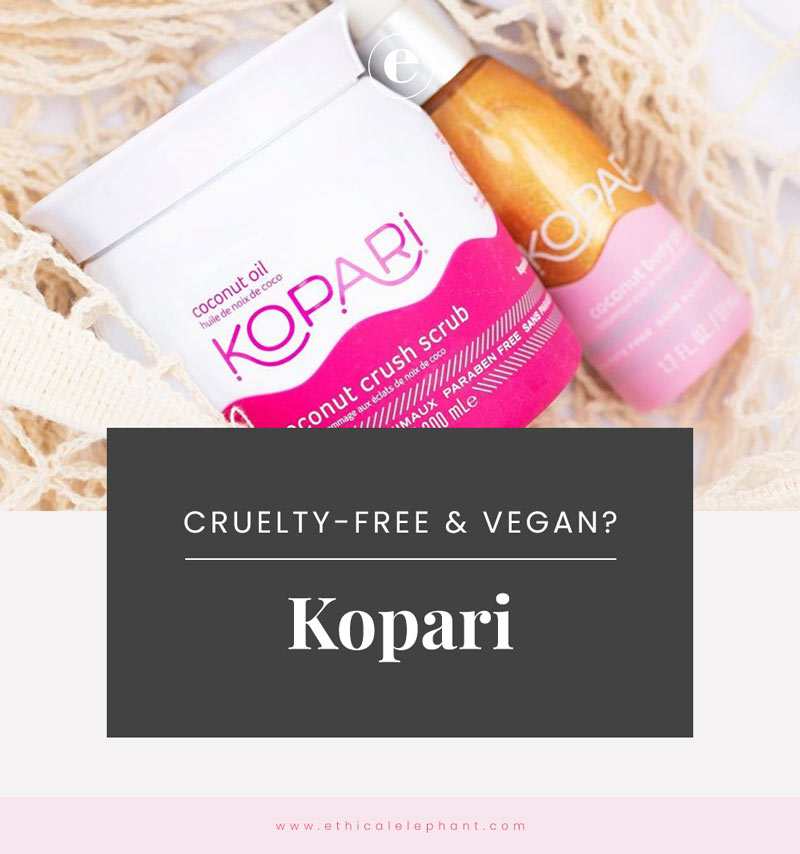 Is Kopari Cruelty-Free in 2019?
Kopari is cruelty-free in 2019. None of Kopari's products or ingredients are tested on animals, anywhere in the world.
Is Kopari Vegan?
Not all of Kopari products are vegan as they do use beeswax in some of their products. But Kopari does offer some vegan products that do not contain any animal-derived ingredients or by-products.

Please reference below for a list of Kopari vegan products.
Kopari is available online, at Sephora, and on Amazon.
Kopari Vegan Product List (2019)
Below is a list of Kopari products that are considered vegan and don't contain any animal-derived ingredients:
Kopari Vegan Skin and Bodycare
Kopari Vegan Personal Care
Kopari Vegan Sets & Bundles
This vegan product list is updated as frequently as possible, please be aware that formulations may have changed since the publication of this post. If you have new information to suggest one of the above products isn't vegan, please email me at info@ethicalelephant.com to let me know.
Not Vegan – Kopari
The following products from Kopari are not suitable for vegans as they contain beeswax:
Beauty Besties – not vegan
Bodycare Dream Team Kit – not vegan
Coconut Balm (contains beeswax) – not vegan
Coconut Crush Scrub (contains beeswax) – not vegan
Coconut Face Cream (contains beeswax) – not vegan
Coconut Skincare Essentials – not vegan
Coconut Your Bod Kit – not vegan
Coconut Your Selfie Kit – not vegan
Flawless Face Kit – not vegan