This post may contain affiliate links that at no additional cost to you, I may earn a small commission.
Now that Kat Von D sold her popular makeup brand to Kendo and is no longer part of the brand in any capacity, is KVD Beauty still cruelty-free, 100% vegan, or sustainable in 2021? I've got the answers here!
Is Kat Von D Makeup Cruelty-Free?
KVD Beauty is Cruelty-free! None of KVD Beauty's ingredients, formulations, or finished products are tested on animals, anywhere in the world.
However, it should be noted that KVD Beauty is owned by Kendo, a subsidiary of the LVMH corporation. LVMH engages in animal testing when required by law and is not a cruelty-free corporation.
KVD Beauty Animal Testing Policy
KVD Beauty has confirmed they do not test their products or ingredients on animals or ask others to test on their behalf. Their suppliers also do not test on animals nor do they allow their products to be tested on animals when required by law. And finally, their products are not sold in stores in mainland China or any other country that may require animal testing.
Below is a screenshot of KVD Vegan Beauty's official animal testing statement: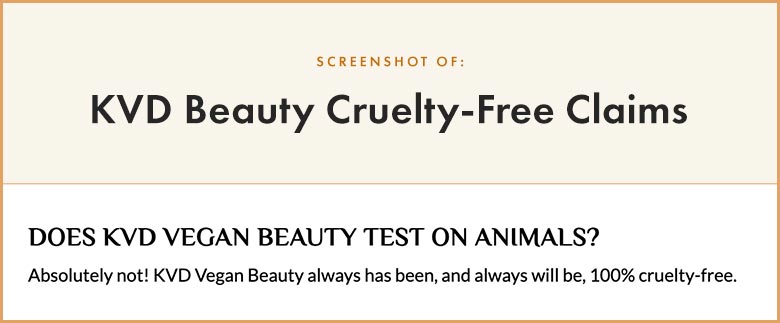 Is Kat Von D Makeup Sold in China?
Most imported cosmetics sold in mainland China are required by law to be tested on animals in 2021. However, KVD Beauty has confirmed they do not sell their products in retail stores in mainland China and therefore they are not required to test on animals.
KVD Beauty has met all of our criteria in our Cruelty-Free Checklist and is included on our List of Cruelty-Free Brands.
You can find KVD cruelty-free products at kvdveganbeauty.com, Sephora, and Ulta.
Is Kat Von D Makeup Vegan?
KVD Beauty is a 100% vegan brand. None of their products are formulated with any animal-derived ingredients or by-products like beeswax, honey, lanolin, carmine.
In 2016, Kat Von D announced she was working on reformulating her makeup line to be completely vegan. Their popular Shade + Light Contour Palette was the first to be reformulated and carmine was removed as an ingredient, making the contour palette vegan.
"I've been working hard this past year in reformulating the few products in my makeup line to be 100 percent vegan."

Kat Von D
Now all of KVD Beauty products are officially 100% vegan and no longer contain carmine or any other animal-derived ingredient and by-product.
---
Is KVD Beauty Sustainable?
KVD Beauty's headquarters is based in: USA
KVD Beauty's products are manufactured in: They won't disclose to me where their products are made
Is KVD Beauty's Mica Ethically-Sourced? KVD Beauty claims their natural mica is sourced from mines that comply with human rights and labor standards.
"KVD Vegan Beauty is committed to only use natural mica from mines that comply with human rights and labor standards. We make every effort to ensure the traceability and transparency of our supply chains for the natural mica used in our products."
---
I hope this article helped you to understand KVD's cruelty-free and vegan status and by choosing cruelty-free together, we can help end animal testing for cosmetics once and for all!