This post may contain affiliate links.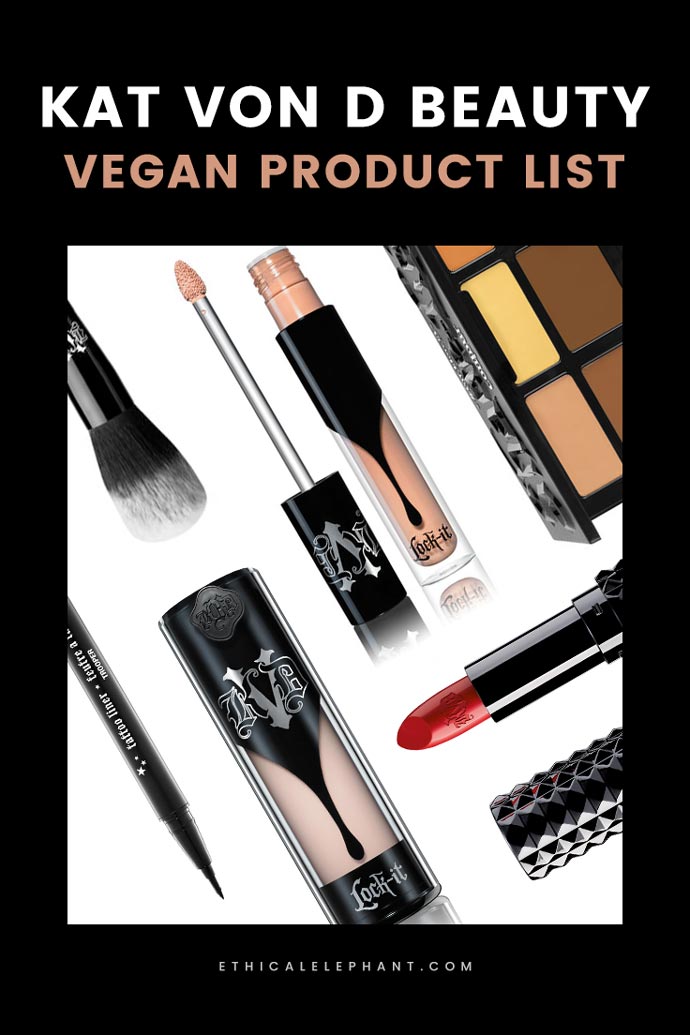 Kat Von D makeup is cruelty-free and not tested on animals however Kat Von D Beauty is not a 100% vegan brand (yet!).
I've been getting comments and emails from some of my readers disappointed to learn that the Kat Von D makeup they bought turned out to contain carmine in the ingredient list.
So I wanted to clear up any confusion you may have and help to make it easier to navigate through Kat Von D's spectacular and growing options for vegan makeup!
Is Kat Von D Beauty 100% Vegan?
No, Kat Von D Beauty is not all 100% vegan. Some of Kat Von D's makeup contains carmine.
However in 2016, Kat Von D announced plans to reformulate her makeup line to be completely vegan. Since this announcement, the brand has been slowly releasing their reformulated vegan makeup. Their popular Shade + Light Contour Palette was the first to be reformulated and carmine was removed as an ingredient, making the contour palette vegan.
"I've been working hard this past year in reformulating the few products in my makeup line to be 100 percent vegan." – Kat Von D
Slowly but surely, Kat Von D Beauty is turning into a 100% vegan brand! But as of the date of this post, some of Kat Von D makeup is not vegan.
Which of Kat Von D Makeup is Vegan?
You'll be happy to hear that most of Kat Von D makeup is already vegan! To know which of Kat Von D makeup is vegan, it is clearly labeled in each product description and says '#VeganAlert' or 'Vegan & Cruelty Free'. You can also find a page on their website that lists all of their vegan makeup and makeup brushes here.
Below is a list of Kat Von D makeup and makeup brushes that are considered vegan:
Face
Lips
Eyes
Makeup Brushes
Fragrances
NOT VEGAN – Kat Von D Beauty
Below is a list of Kat Von D makeup products that contain carmine and therefore not vegan:
Metal Crush Eyeshadow

These shades are not vegan: Black No. 1, Danzig, Iggy, Raw Power, Static Age, Synergy

Too Faced x Kat Von D – Better Together Ultimate Eye Collection
I'd love to know, what are some of your favourite Kat Von D makeup?
---