This post may contain affiliate links.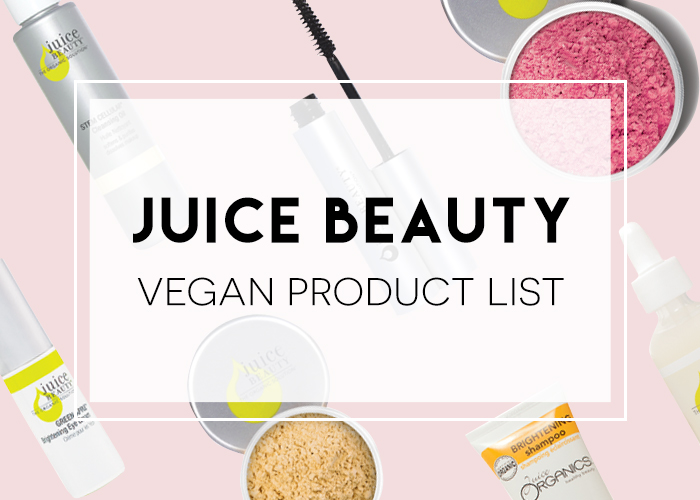 Juice Beauty is certified cruelty-free by Leaping Bunny and PETA and Juice Beauty is mostly vegan with a few select vegetarian products that contain honey and beeswax.
Is Juice Beauty Cruelty-Free?
There were some online rumours floating around that Juice Beauty may sell their products in China so to put that to an end, I've received confirmation that Juice Beauty is not retailed in China.
"In regards to your inquiry, to support animal rights, Juice Beauty does not ship to China.
Apparently the Chinese government reserves the right to conduct animal testing with cosmetic products before they are approved for use by the people of China." (August 18, 2015) 
You can also read more about Juice Beauty's animal testing policy on their website.
Is Juice Beauty Vegan?
The most recent Juice Beauty vegan product list I could find was dated back in 2011 so I wasn't sure if it was updated and decided to reach out to them to get the scoop on which of their products are vegan-friendly. It turns out that most of their products are indeed vegan so it's a shorter (and quicker) list to just name the select few that are not vegan. (*List updated March 5, 2016)
"Most of Juice Beauty products are vegan, however some do contain sustainably sourced honey or beeswax. Please see below for a list of these products." 
Products that contain sustainably sourced honey:
Products that contain sustainably sourced beeswax:
USDA Lip Moisturizer
SPF 8 Mineral Lip Moisturizer
Correcting Concealer
Perfecting Foundation
Reflecting Gloss
Conditioning Lip Color
I'm stoked to try some of their organic skincare products, especially the masks and peels!
Have you tried any of Juice Beauty's products before? 
This post contains affiliate links which, while they don't change the cost for you, earn me a small commission.