This post may contain affiliate links that at no additional cost to you, I may earn a small commission.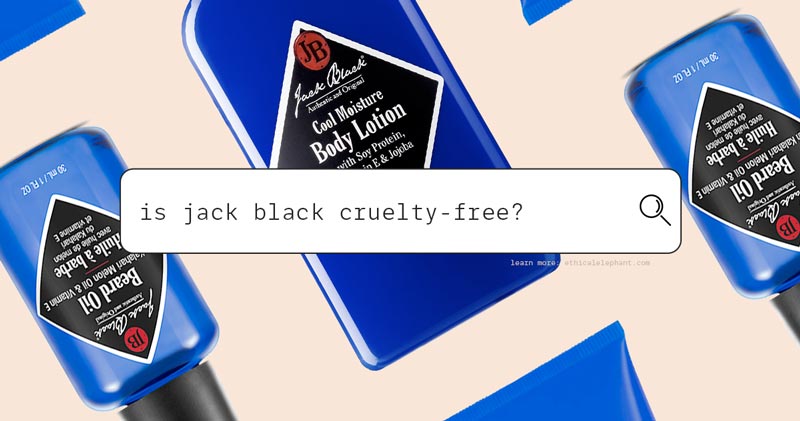 Jack Black offers a range of skincare and shaving products for men but is Jack Black cruelty-free in 2022?
Is Jack Black Cruelty-Free?
Unfortunately, Jack Black is now selling its products in mainland China stores and those products may be tested on animals.
Jack Black Animal Testing Policy
Below is what's currently stated on Jack Black's website in regards to their animal testing policy:

Is Jack Black Sold in China?
All imported cosmetics sold in stores in mainland China are required by law to be tested on animals. This is why we ask all brands if they sell in China when verifying their cruelty-free status.
In March 2020, when I emailed the brand asking if they sell their products in stores in mainland China, they told me,
"Presently, our products are only available in mainland China via Tmall International cross border site. https://jackblack.tmall.hk/shop/view_shop.htm"
Cosmetic brands can sell their products online and remain to be cruelty-free. It only becomes an issue when companies sell their cosmetics in physical retail stores in mainland China.
I recently noticed on Sephora's China website, Jack Black was listed as one of the brands they sell.
Below is a screenshot I took from Sephora's Chinese website clearly showing they stock Jack Black products: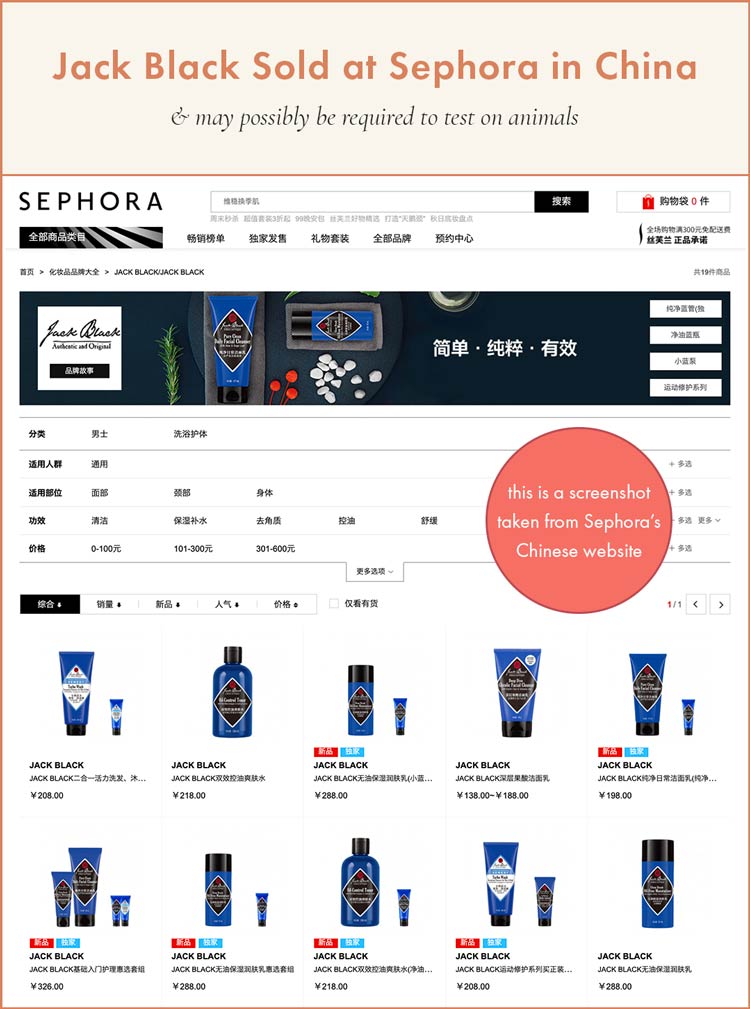 I emailed the brand asking for clarifications and was told,
"As with our products produced in the United States, our products produced in China for the Chinese market are not tested on animals."
Here, they're implying that since Jack Black makes their cosmetics in China then those locally-manufactured cosmetics are not required to be tested on animals.
Jack Black is correct where those products that are made in China and sold in China can now bypass China's pre-market animal testing requirements.
However, China may still conduct post-market testing of cosmetics on animals. Post-market testing is where Chinese officials will pull products off store shelves and possibly test them on animals, this is often done without the company's knowledge or consent.
Sources say that this rarely happens and the chances of post-market testing on animals in China is unlikely, but it can happen.
Since there is still a chance that some imported cosmetics sold on store shelves in mainland China may be tested on animals, I no longer feel comfortable classifying Jack Black as a 100% cruelty-free brand and can no longer suggest their products as being 100% cruelty-free.
Summary: Jack Black No Longer 100% Cruelty-Free!
Until we know more about China's post-market animal testing laws or they eliminate this practice altogether, I have decided to move Jack Black to our List of Grey Area Brands.
Is Jack Black Vegan?
Since we would no longer consider Jack Black to be cruelty-free as their products may be tested on animals in China, we also wouldn't consider anything sold or manufactured by Jack Black to be vegan, at this time.
Cruelty-Free Alternatives to Jack Black:
Looking to switch to cruelty-free brands? Here are some cruelty-free and vegan-friendly options that are similar to Jack Black:
---