This post may contain affiliate links.

You guys!! It's finally here. My new website + a totally new feature I added!
So, What's new?
Aside from a brand new look and design, everything else is the same where you're still getting all the same great content but now I've also added an Online Cruelty-Free & Vegan Catalogue!!
Cruelty-Free & Vegan Online Catalogue
Whether you're just starting to transition to vegan products or you're a cruelty-free veteran, I've created a place where you can easily browse and view countless animal-free beauty products!
This will save you a ton of time from having to reference multiple resources or waiting for a brand to get back to you with a vegan product list.
And also, you get to discover among a growing number of vegan-friendly brands that you've probably never even heard of before!
It's always been a mission of mine to make cruelty-free and vegan accessible to everyone. No matter your skin type, budget, or where you're located!
So let's get talking about what you'll find in ethical elephant's vegan online catalogue!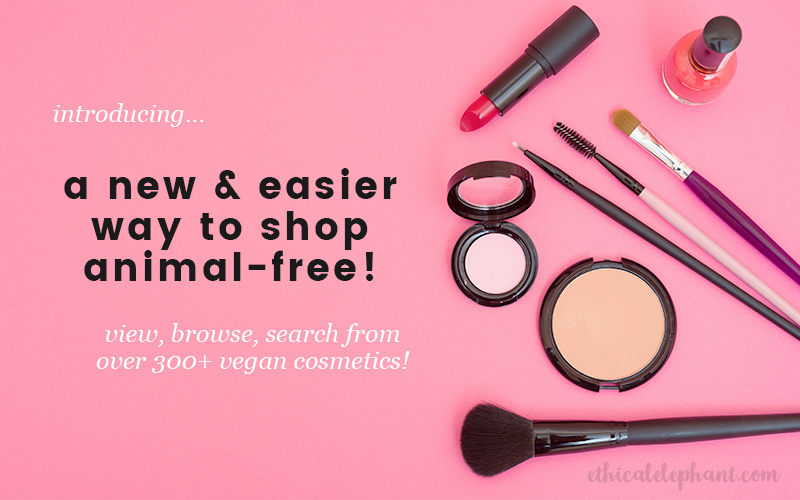 Features of Online Catalogue
If you were one of the 150+ people who took my survey on building a cruelty-free list.. This online catalogue was created and inspired by all of your answers!!
A quick note here, this is NOT the Ultimate Cruelty-Free Brand Directory List that I've been working on. It's taking me a bit of time and resources to create something that is at the level I want it to be. So if you haven't taken the survey yet, it's still open and you can help me build a comprehensive cruelty-free brand directory list! Take the survey, here.

ONLY 100% VEGAN & CRUELTY-FREE
All of the products showcased in the catalogue are all 100% cruelty-free and vegan, this means they're from brands that do not test on animals during all stages of product development and all the products featured do not contain any animal-derived ingredients or by-products.
In the survey, 40% of you stated that you choose NOT to buy from cruelty-free brands that are owned by a parent company that tests on animals meanwhile 35% said it depends on the brand.
In this catalogue, I've decided to not include any products that are from brands owned by a parent company that tests on animals. So you're not going to see products from Tarte, Urban Decay, NYX, etc. for that reason.
What's Important To You!

When I asked what's the top 3 attributes that are of MOST importance to YOU when deciding to buy cosmetics,
All of you thankfully said Cruelty-Free, 75% said that you look for vegetarian or vegan products, and 30% of you checked affordability as one of your top 3 attributes.
In order to create a catalogue that just about anyone can use, deciding what was considered "affordable" was a little tricky. Because what I would consider affordable is very different from what you and others may consider to be affordable, and let's be honest, there are some products we're willing to splurge on a little more than others! hehe For me, that's a good liquid foundation and an eyeliner!
To solve this issue, I've included a "price filter" option on the sidebar where you can adjust the price range to only view cruelty-free and vegan products that are within your own personal budget.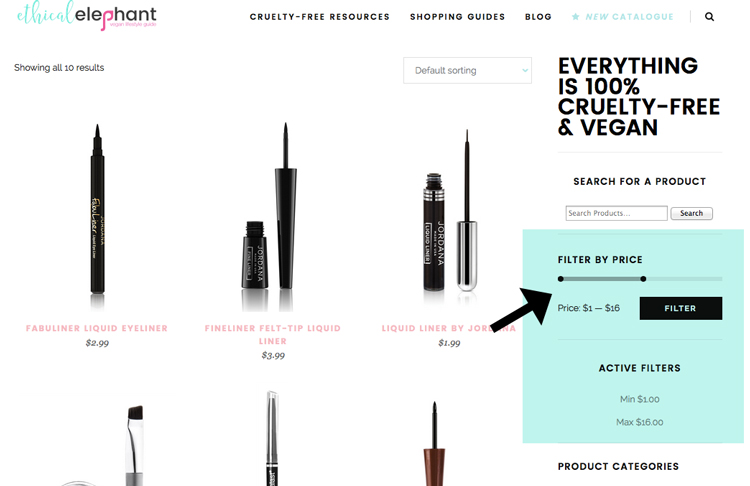 The other product attributes that some of you said were important to you included toxic-free (23%), ethically sourced ingredients (19%). all-natural (17%), convenience (13%), organic (11%).
I am working on expanding the filter options to include these attributes, so stay tuned!
Where do you shop cruelty-free?
Over 50% of you said that you buy directly from a company's website,
So in this catalogue, when you see a product you're interested in, all you gotta do is just click the button "GET IT HERE" and you'll be redirected to the company's website. But not just on their homepage, but on the very specific page of the product you were just looking at!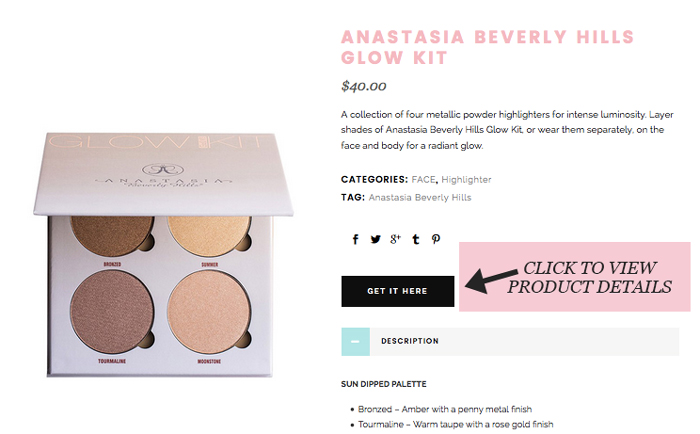 Wait, there's more?!
I will be adding new products daily and working to expand the catalogue. I would love to eventually include cruelty-free and vegan skincare, hair products, oral care, household cleaning products, you name it!
I would love to hear from you guys and get your feedback on what you think of the catalogue so far! This is a very early version so please be patient with me as I refine things but feel free to submit any feedback (good or bad) to info@ethicalelephant.com
Happy cruelty-free shopping peeps!