This post may contain affiliate links that at no additional cost to you, I may earn a small commission.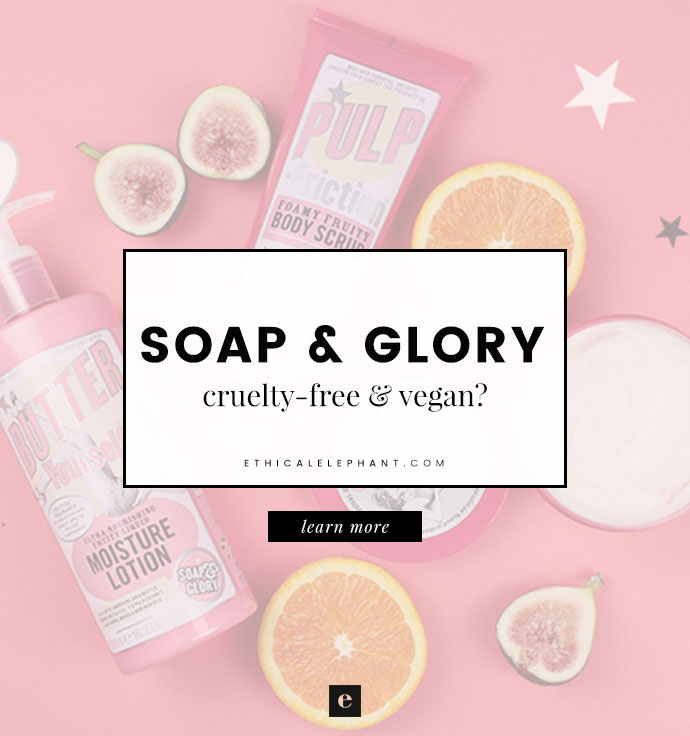 Is Soap & Glory cruelty-free?
It is currently unclear whether Soap & Glory is truly cruelty-free.
Soap & Glory's Animal Testing Policy (2018)
On Soap & Glory's website, they state that they test their formulations on people, not animals. And that Soap & Glory regularly audits their manufacturing partners to ensure they are following a no animal testing policy as well.
But if you keep reading, they state that they "can't say that each and every ingredient that goes into [their formulations] has not, at some point historically, been cleared for human use, by animal testing"

This is the part that caused me to raise an eyebrow.
I understand that most ingredients used in cosmetics have been, at some point in the past, tested on animals. That isn't something Soap & Glory has control over, unless they have a time machine to prevent those animal tests from happening in the first place.
What is in Soap & Glory's control is the assurance that none of their products or ingredients are currently being tested on animals. And so, the statement on their website seems a little shady to me and doesn't give me confidence to believe Soap & Glory is doing everything they can possibly do to ensure none of their ingredients are currently being tested on animals.
I reached out to Soap & Glory to ask for further clarifications and received the following response:

I appreciate Soap & Glory is being as transparent as possible but as I read their response about how they can't truly say that none of the ingredients they've used in a product have been historically tested on animals, is a little concerning to me.
Historically can mean 10 years ago, a month ago, or just yesterday. When I pressed and asked if they require documentations from all of their raw material suppliers that they aren't testing on animals after a certain cut-off date, I never received a response back.
It should also be noted that Soap & Glory is not certified cruelty-free by any organization like PETA or Leaping Bunny so there is no one else verifying Soap & Glory's animal testing policy.
Soap & Glory is unfortunately on ethical elephant's Grey-Area Brand List as it is inconclusive whether their ingredient suppliers are testing on animals.
I am sharing my correspondence from Soap & Glory to give you as much information as possible, in order for you to decide for yourself if you would like to support or boycott Soap & Glory.