This post may contain affiliate links that at no additional cost to you, I may earn a small commission.
Rimmel is NOT Cruelty-Free!
Rimmel allows its products or ingredients to be tested on animals when required by law including when selling in stores in mainland China.
In addition, Rimmel is owned by Coty, a parent corporation that is NOT cruelty-free.
Rimmel's Animal Testing Policy
On Rimmel's website, it appears they have the same animal testing policy as Coty which states,"At Coty, we do not test our products on animals and are committed to ending animal testing across our industry… Some governments or agencies stipulate the testing of finished products on animals in accordance with local legal and regulatory requirements."
Below is a screenshot of what is currently stated on Rimmel's website: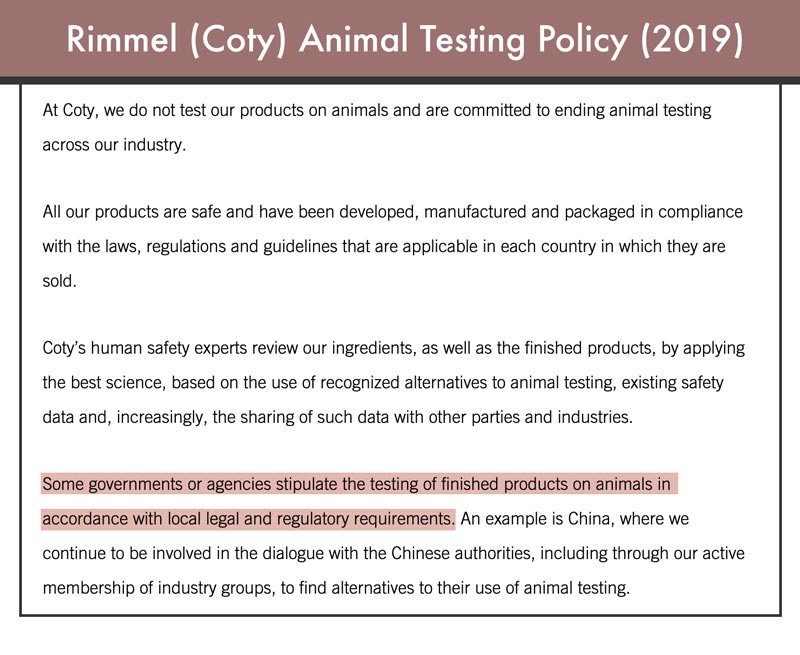 Then they go on to state that they continue to be involved in a dialogue with the Chinese authorities to find alternatives to their use of animal testing. This implies that Coty (and Rimmel) have some sort of stake in China's profitable and growing consumer market in order for them to be in a dialogue or have any influence to China's animal testing laws.
Rimmel Sold in China?
In 2015, I received confirmation that Rimmel products are indeed sold in China and are required by law to test on animals.
"Chinese consumers have made it clear they want Rimmel London. It would not be right to deprive them of the products they want to use and enjoy. Our industry continues to work together in encouraging the Chinese authorities to accept more modernized non-animal safety testing methods."
I also noticed since the original publication of this article in 2015, Coty has changed the wording of their animal testing policy and has removed the following from their statement:
"We do not perform, nor do we ever commission any third parties on our behalf to perform, testing of our products or ingredients on animals. The only exceptions are the very few countries where, by law, the regulatory authorities require us to submit our products or ingredients to them for testing on animals as a mandatory part of their regulatory protocols in compliance with their local regulations"
Below is a screenshot taken from Rimmel's website back in 2015: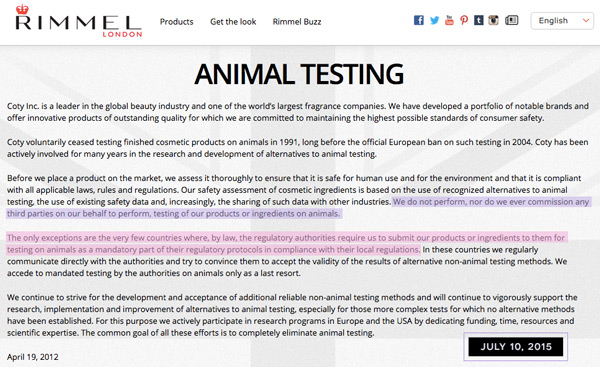 Although the wording is different, Coty's animal testing policy remains the same: Coty continues to sell some of their brand's products in China where animal testing is required for all imported cosmetics. Although Coty may not be conducting these animal tests themselves, but they are knowingly allowing the Chinese authorities to test their products on animals before they're allowed to sell in their country.
Is Rimmel Certified Cruelty-Free?
Rimmel is not certified cruelty-free by any third-party cruelty-free certifications like Leaping Bunny or PETA.
Because Rimmel is not certified cruelty-free by a third party, no one is looking into or substantiating Rimmel's cruelty-free commitments and claims.
Is Rimmel Owned By A Non-Cruelty-Free Parent Company?
Yes. Rimmel is owned by Coty, a parent corporation that still engages in animal testing in 2022.
Some cruelty-free consumers may choose to purchase and support cruelty-free brands owned by animal-tested parent corporations as they hope it will convince the parent company to become cruelty-free.
But in this case, Rimmel is NOT cruelty-free and neither is its parent corporation, Coty.
Is Rimmel Cruelty-Free?
To sum up, by choosing to sell in mainland China, Rimmel must have its products tested on animals. Therefore, we would NOT consider Rimmel to be a cruelty-free brand.
Currently, Rimmel is on our List of Brands to Avoid – Animal Tested.
Is Rimmel Vegan?
Rimmel claims their 'Kind & Free' collection is "100% vegan" and free from animal-derived ingredients, but because Rimmel engages in animal testing, we wouldn't classify anything sold or produced by Rimmel to be vegan.
In order for products to be considered vegan by ethical elephant's standards, the products and their ingredients must not be tested on animals anywhere in the world. Also, they must not contain any animal-derived ingredients or by-products.
Cruelty-Free Alternatives to Rimmel:
Looking for cruelty-free alternatives to Rimmel? We recommend the following cruelty-free drugstore makeup brands: