This post may contain affiliate links that at no additional cost to you, I may earn a small commission.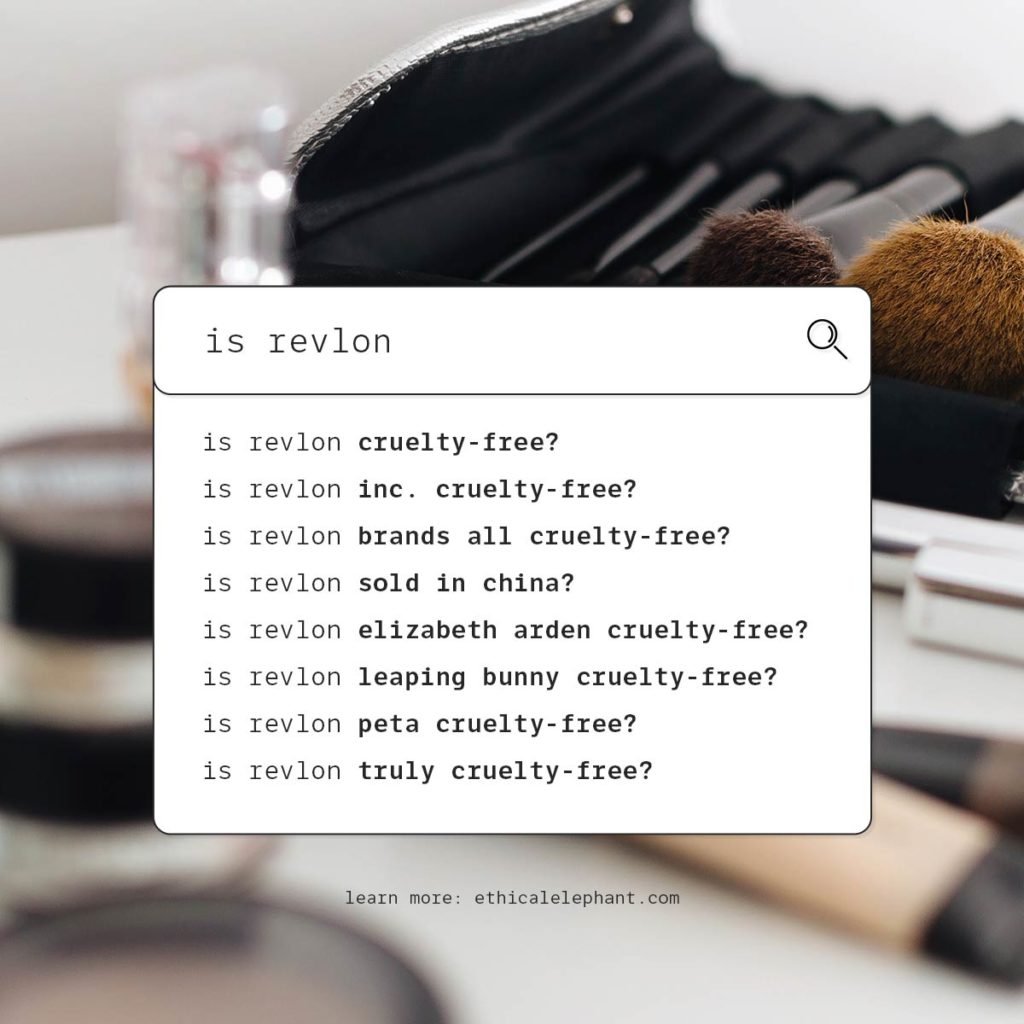 Is Revlon Cruelty-Free?
Revlon is not a cruelty-free brand or corporation. None of Revlon's makeup, haircare, bath & body care, or licensed fragrances brands are cruelty-free.

The corporation sells many of its subsidiary brands, like Elizabeth Arden's products in stores in mainland China and are required by law to submit their products to be tested on animals by Chinese officials.
Revlon's Animal Testing Policy
Revlon's website states they do not conduct animal testing, however, they will allow their products to be tested on animals in countries where the law requires it.
Below is a screenshot of what's currently stated on Revlon's website: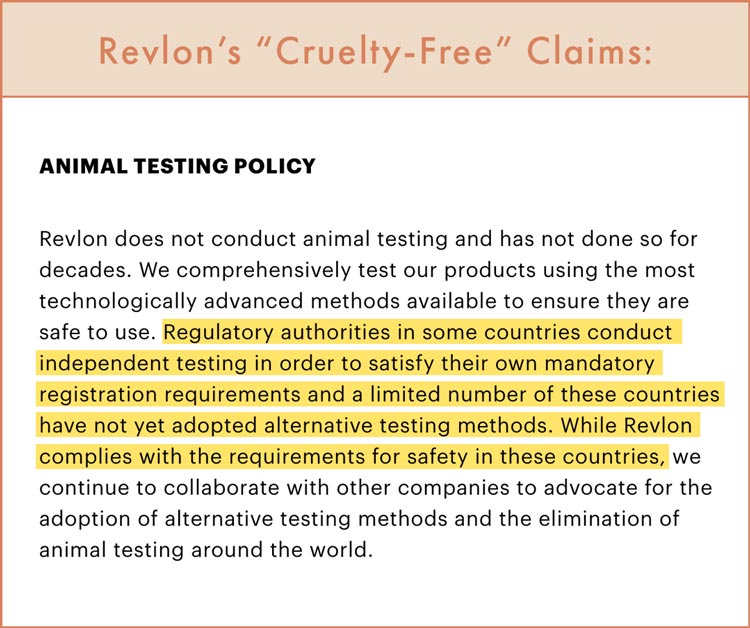 The animal testing laws that Revlon is referring to is China's mandatory animal testing requirements for all imported cosmetics. All beauty brands wanting to import and sell their cosmetics in stores in mainland China must submit a sample of their products to be tested on animals by Chinese officials.
Revlon Inc. currently owns several brands where they are selling their products in stores in mainland China.
Some of those Revlon Inc. brands that are sold in China include Elizabeth Arden, Sinful Colors, Gatineau, Mitchum Deodorant, and Almay.
Although Revlon or their subsidiary brands may not be conducting these animal tests themselves, they are consenting and paying the Chinese government to do it for them, in order to sell within their country.
Truly cruelty-free brands have chosen not to sell in China for this very reason or until China changes their animal testing requirements for imported cosmetics. So, why can't Revlon and/or their subsidiary brands do the same?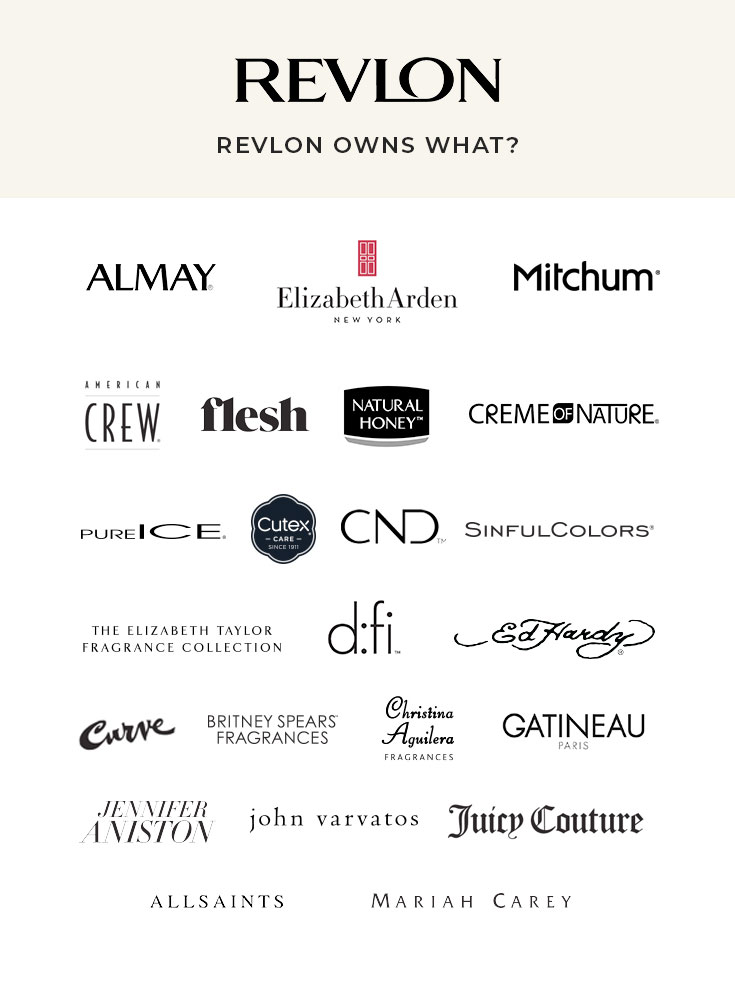 Is Revlon Makeup Sold in China?
What about Revlon's own makeup brand? Is Revlon makeup sold in China?
Due to low sales volume, Revlon Cosmetics exited the Chinese market in 2014 but as of this year, the makeup brand is planning to re-enter the Chinese market. Revlon Cosmetics has already started selling its makeup products online through China's popular e-commerce platform, TMall.
Cosmetics sold online to Chinese customers are not required to be tested on animals but I don't think Revlon Cosmetics' decision to sell online is because they care about animals and don't want to test on them. I think Revlon's decision to currently only sell online is merely a business strategy and that they will jump at the opportunity to sell in Chinese stores again if online sales perform well.
Is Revlon Certified Cruelty-Free?
Note that none of Revlon or Revlon Inc.'s brands are certified cruelty-free by a third party organization like PETA or Leaping Bunny.
In fact, Revlon and some of their brands are listed on PETA's Blacklist of brands that DO test on animals.
But get this —
Revlon Inc. claims they're "cruelty-free" despite not being eligible to be certified by PETA or Leaping Bunny.
They try to blame it on the qualifications of these third party certifications for the fact that they aren't eligible. Revlon refuses to just own up to the fact that they're NOT cruelty-free because they allow their products to be tested on animals when required by law.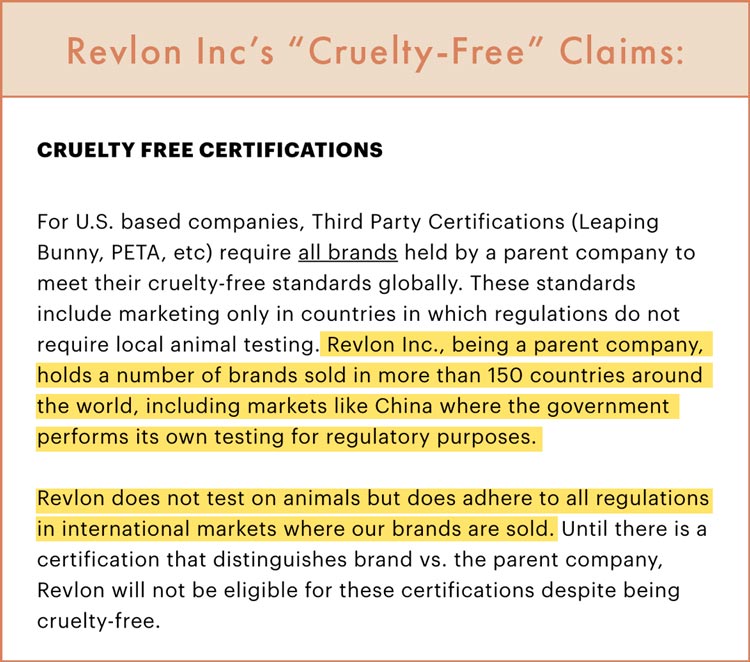 Summary: Revlon is NOT Cruelty-Free!
I would not consider Revlon or any of Revlon's brands to be cruelty-free because they're allowing their products to be tested on animals in order to sell in countries that require animal testing by law.
List of Revlon Brands
This list is to help you identify:
Which of Revlon's brands are cruelty-free (Short answer: None!)
Which of Revlon's brands has been confirmed selling in mainland China and are not cruelty-free
If you don't want to support anything associated with Revlon, then use this list as a reference as you should avoid all the brands on this list
---
LEGEND:
Sold in China – This brand distributes its products in China where animal testing is required by law
No notes – It has not been confirmed whether this brand sells in China, buy or boycott at your own discretion.

If you wish to boycott all of Revlon's brands, the list below showcases all of Revlon brands:
Color Cosmetics
Hair Care Brands
American Crew
Colorsilk
Creme of Nature
DFI
Intercosmo
Orofluido
Revlon Professional –

Sold in China
Body Care Brands
Eksperience
Gatineau –

Sold in China

Mitchum –

Sold in China

Natural Honey
Nail Brands
CND, Creative Nail Design
Cutex
Pure Ice
Sinful Colors –

Sold in China
Fragrances
Revlon Inc. licenses and partners with many established brands in creating and selling a line of fragrances. Revlon currently works with the following fragrance brands:
Alfred Sung
AllSaints Fragrance
Britney Spears Fragrances
Charlie
Christina Aguilera Fragrances
Curve
Ed Hardy
Elizabeth Taylor Fragrance Collection
Grey Flannel
Giorgio Beverly Hills
Halston
Jean Nate
Jennifer Aniston
John Varvatos –

Sold in China

Juicy Couture
Lucky You Lucky Brand
Mariah Carey
Wildfox
---
Is Revlon Vegan-Friendly?
Since we would not consider any of Revlon Inc.'s brands to be cruelty-free, we would also not consider anything sold or manufactured by Revlon and Revlon Inc. to be vegan-friendly.
If you're looking for a cruelty-free & vegan swap for Revlon ColorStay Foundation, we recommend trying out some drugstore vegan foundations from ELF Cosmetics, ColourPop, or NYX.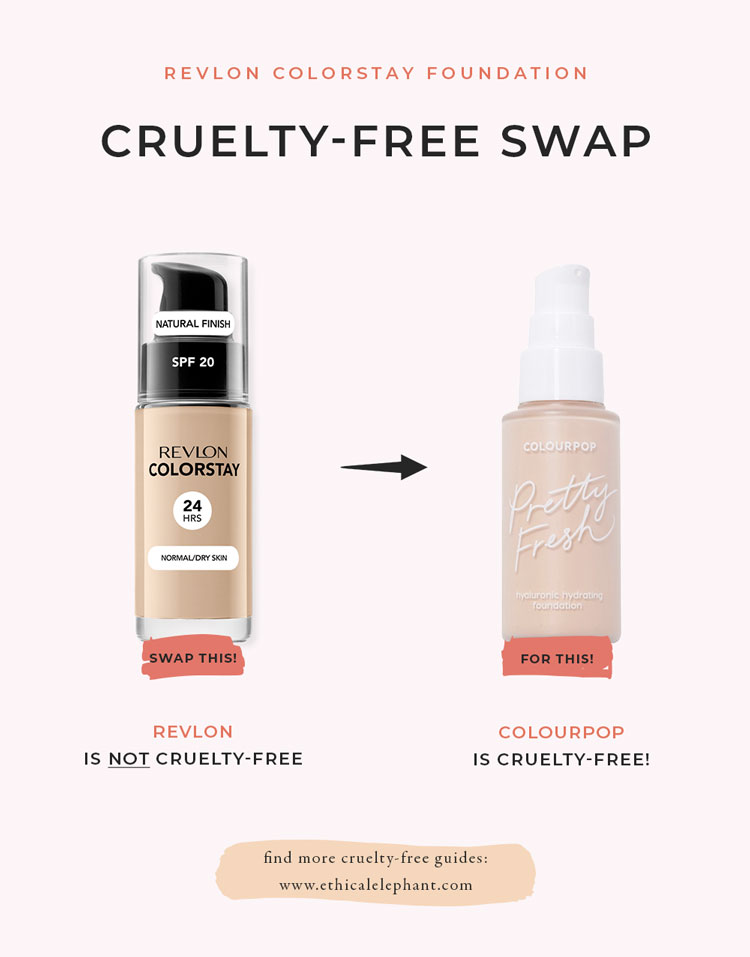 ---