This post may contain affiliate links that at no additional cost to you, I may earn a small commission.
Rare Beauty Cruelty-Free Status is Unclear
For a while now, I haven't been able to receive information from Rare Beauty to classify the brand as being truly cruelty-free or animal-tested. As a result, Rare Beauty is listed as Grey Area – Brands with Unclear Policies.
Rare Beauty's Animal Testing Policy
Below is a screenshot of what's currently stated on Rare Beauty's FAQ page,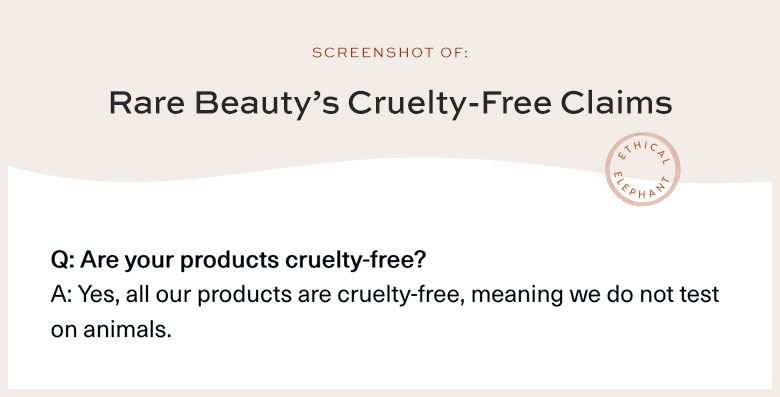 Unfortunately, this is not enough information for us to consider any brand as cruelty-free. So I emailed Rare Beauty to ask for specifics about their animal testing policy.
And I received a response that was similar to what's written on their Sustainability page:
"Rare Beauty is: Cruelty Free and Vegan, certified by PETA's Global Beauty Without Bunnies. Made with love for animals, we are free of animal-derived ingredients or animal byproducts, and never test on animals (nor do we ask others to test on our behalf)."
Rare Beauty claims they are cruelty-free and certified by PETA. More specifically, they mentioned they never test on animals nor do they ask others to test on their behalf.
This is a great start. But animal testing for cosmetics can happen at various stages of product formulation and manufacturing.
And when trying to substantiate Rare Beauty's cruelty-free claims, the company did not address whether they verify with all of their ingredient suppliers and manufacturers to ensure they don't test on animals. Or if Rare Beauty allows its products to be tested on animals if the law requires it.
Is Rare Beauty Sold in China?
Rare Beauty told me their products are not available in China. Therefore Rare Beauty is not required to test on animals according to China's current regulations.
Isn't Rare Beauty Certified by PETA?
Yes, Rare Beauty is PETA-Certified cruelty-free. But PETA's cruelty-free standards are not as strict as Leaping Bunny and Cruelty Free International.
For example, PETA does not conduct audits to ensure compliance or require brands to submit documents to prove no animal tests were conducted throughout their supply chain. Leaping Bunny, on the other hand, has an extensive and thorough Supplier Monitoring System which includes conducting audits and requiring signed documents from all suppliers.
Learn More: What's the Difference Between PETA and Leaping Bunny? →
That's why I always like to verify company's cruelty-free claims myself, even when they are PETA-Certified.
Cruelty-Free Policies
Note that there is no legal definition for the label 'Cruelty-Free.' It can mean different things to different people. But Cruelty-Free is generally used to imply no animal testing. More specifically, the ingredients, formulation, or finished product are not tested on animals at any stage of product development.
At ethical elephant, we always assess a company's cruelty-free policy using our Cruelty-Free Checklist. This ensures no animal testing was performed by the brand itself, its suppliers, and by any third parties.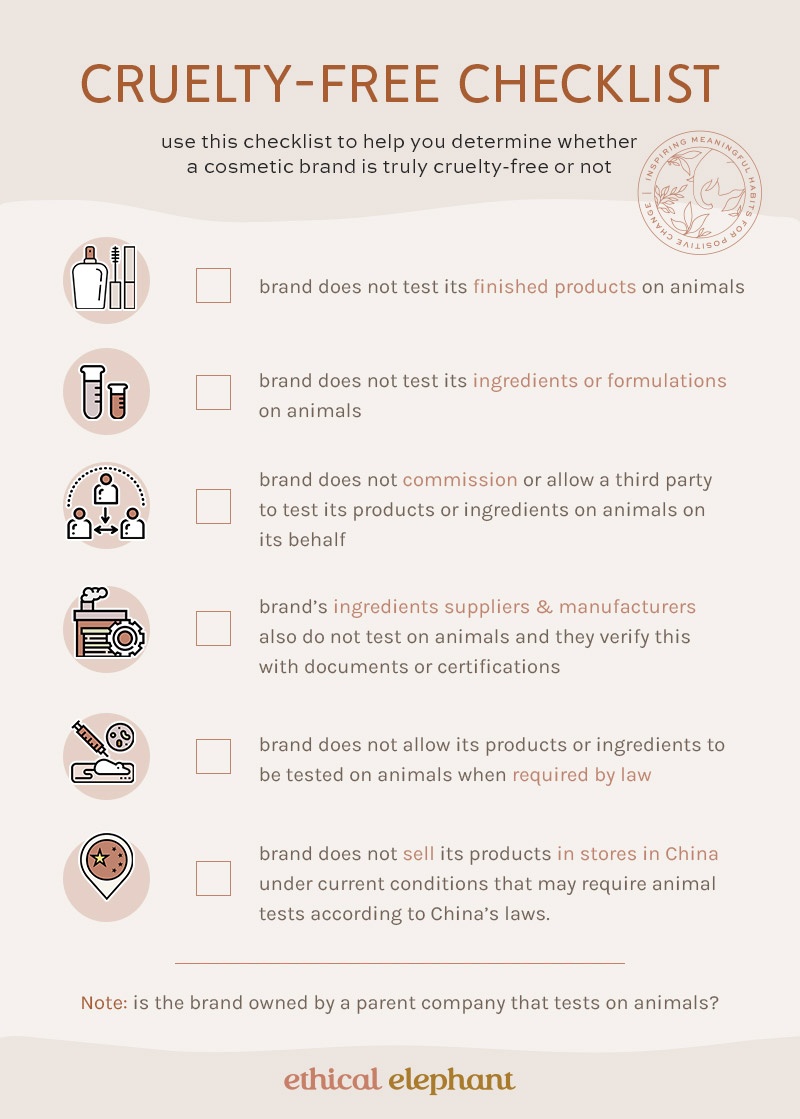 With Rare Beauty, the company was only able to confirm 3 out of 6 of our cruelty-free criteria.
It's great to hear that Rare Beauty themselves don't test their finished products on animals or ask others to test on their behalf. And that Rare Beauty is not sold in China.
But the remaining cruelty-free criteria that Rare Beauty failed to address are:
The brand does not test its ingredients or formulations on animals.
All of the brand's ingredient suppliers & manufacturers also do not test on animals, and they verify this with documents or certifications.
The brand does not allow its products or ingredients to be tested on animals when required by law.
Until we are able to receive more information from Rare Beauty about the above conditions, Rare Beauty is listed as Grey Area – Brands with Unclear Policies.