This post may contain affiliate links that at no additional cost to you, I may earn a small commission.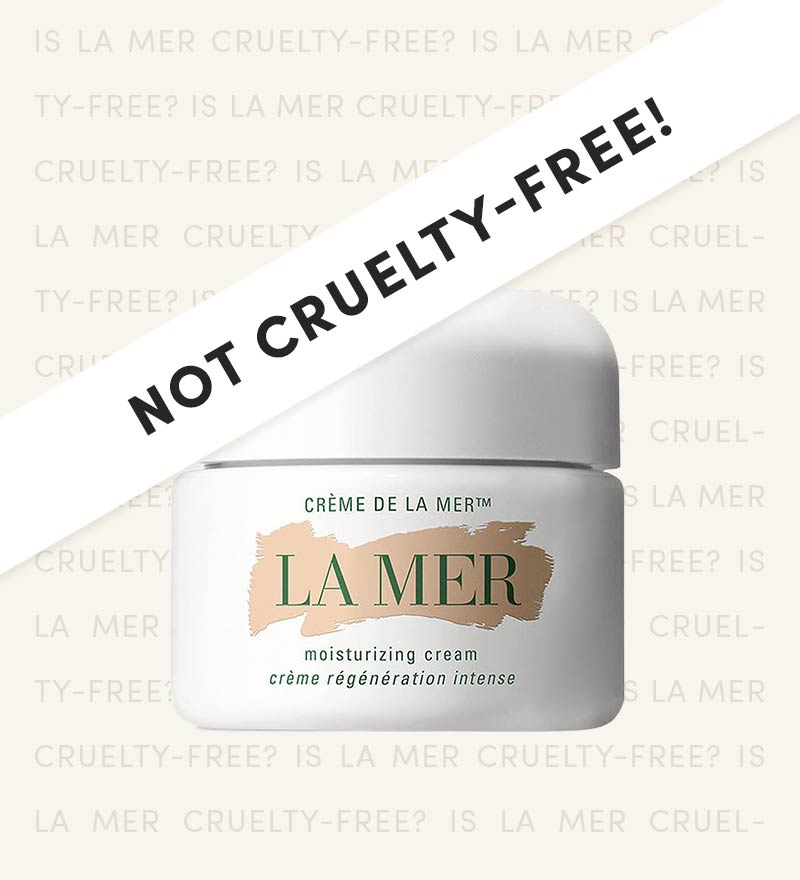 La Mer is one of the most popular luxury skincare brands but is La Mer cruelty-free?
Is La Mer Cruelty-Free?
La Mer is NOT Cruelty-free. La Mer pays and allows their products to be tested on animals when required by law. La Mer also sells its products in stores in mainland China where animal testing is mandatory for most imported cosmetics.

In addition, La Mer is owned by Estee Lauder, a parent company that is also not cruelty-free.
La Mer's Animal Testing Policy
Upon researching La Mer's cruelty-free status, I couldn't find any mention of the company's official animal testing policy anywhere on their website, which is never a good sign.
So I emailed the brand asking if any of their products, ingredients, or formulations are tested on animals by the company itself or commissioned to a third party to test on their behalf, or by any of their suppliers. They responded saying,
"La Mer does not test on animals and we never ask others to do so on our behalf. If a regulatory body demands it for its safety or regulatory assessment, an exception can be made. Our consumers can be certain that we are committed to producing only the highest quality beauty products which meet our exacting efficacy, safety and ethical standards.

OUR COMMITMENT

We have a deep commitment to the abolishment of animal testing. Decades ago we were one of the first beauty companies to prove that safety can be validated by means other than animal testing. We continue that commitment today with likeminded partners that share our goal to support the acceptance of alternatives.

We have a strong partnership with the Institute for In Vitro Sciences (IIVS), a non-profit research and testing consortium dedicated to the advancement of in vitro (non-animal) methods worldwide. IIVS develops and implements programs where in vitro testing is not accepted in order to educate scientists on the scientifically validated safety record of these methods.

We have consistently supported the research program coordinated by the European trade association, Cosmetics Europe, since its inception 20 years ago, for the replacement of animal tests. This broad program includes projects co-funded by the European Commission such as SEURAT (Safety Evaluation Ultimately Replacing Animal Testing).

We are members of the European Partnership for Alternatives to Animal Testing (EPAA), an initiative launched in 2005 by stakeholders from various industries, including the European Commission, to promote the sharing of knowledge across industries and facilitate the validation and acceptance of alternative test methods and strategies.

We are members of the Human Toxicology Project Consortium, spearheaded by the Humane Society of the United States, which serves as its coordinator.

We will continue to work in close partnership with industry, government and non-profit groups in countries that require animal testing to work together towards the elimination of this practice and the global acceptance of non-animal testing methods."
La Mer claims they don't test on animals. But if a regulatory body demands it, an exception can be made.
Policies stating, "exceptions are made if the law requires it", usually implies the company is selling its products in mainland China. Most imported cosmetics sold in stores in mainland China are required by law to be tested on animals.
La Mer Sold in China?
Using their website's store locator, I found several stores in mainland China selling La Mer products. This confirms that La Mer products are indeed sold in China and required to be tested on animals first.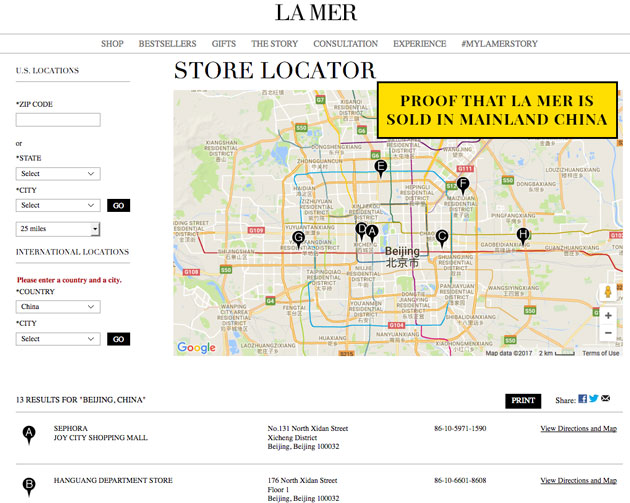 Because of La Mer's decision to sell in mainland China stores, they must consent and pay to have their products tested on animals. That's why most cosmetic brands selling in mainland China cannot be considered cruelty-free in 2022.
Although La Mer may not be conducting these animal tests themselves, they are knowingly allowing Chinese authorities to test their products on animals in order to sell in China.
Many truly cruelty-free brands have chosen not to sell their products in China because of the country's animal testing laws. Unfortunately, La Mer refuses to do the same and has decided to put profits before the welfare of animals.
Summary: La Mer is NOT Cruelty-Free!
To sum up, by choosing to sell in mainland China, La Mer must have their products tested on animals. Therefore I would not consider La Mer to be a cruelty-free brand.
Currently, La Mer is on our List of Brands to Avoid – Animal Tested.
Is La Mer Vegan?
Since we would not consider La Mer to be cruelty-free as their products are tested on animals when required by law, we also wouldn't consider anything sold or manufactured by La Mer to be vegan.
Cruelty-Free Alternatives to La Mer:
Looking for a cruelty-free option to La Mer, here are some of our recommendations:
or check out our list of luxury vegan skincare brands!
---