This post may contain affiliate links that at no additional cost to you, I may earn a small commission.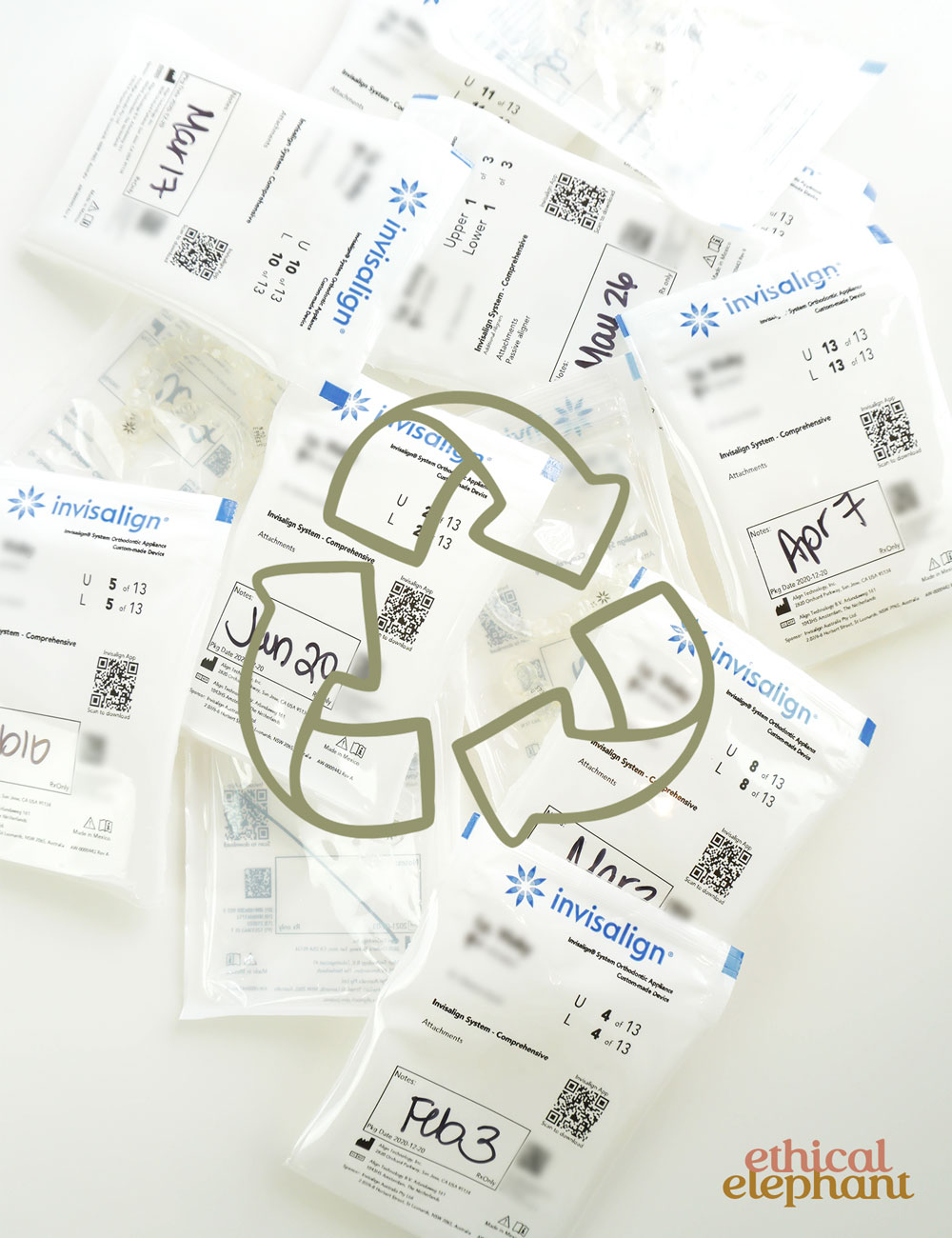 Earlier this year, I got Invisalign® treatment to help straighten my teeth. I got 13 trays and 3 more in refinements. However, as a result, I accumulated quite a bit of plastic waste.
I wanted to know whether any of Invisalign's packaging, from the trays themselves to the plastic bags that it comes in, can be recycled? And if not, how to properly and responsibly dispose of them.
So I asked the makers of Invisalign® and it took them over a month to get back to me. But here's what I found out.
Worn aligners cannot be recycled because they are considered medical waste, and the aligner bags are not readily recyclable. But Invisalign has recently invested and started a pilot program where they'll take back used aligners and incinerate them to produce energy, as they claim. However, this is not yet available to all patients and doctors, so check with your office.
Below is the full email I received from Align Technology:
"We appreciate you reaching out to us for information regarding aligner packaging and disposal. We share your concern regarding efforts to minimize the environmental footprint.

Our philosophy is to reduce the amount of single use plastics we use and to keep as much of our single use plastics out of landfills as possible. The plastic used in Invisalign clear aligners is medical grade plastic, and once the aligners have been worn by patients, they are considered medical waste—they can't be recycled like household plastic.

We are investing in a program to retrieve used aligners from our doctor customers and their patients. The aligners we get back are incinerated and used to produce energy. This is being piloted so please check with your office to see if this is offered with your doctor. We hope that this will be a program we can offer for all our patients and doctors in the near future.

If your office is not part of the pilot program at this time, please connect with your waste management department for recommendations regarding the disposal of this item in your area. According to our vendor, the aligner bags are not considered materials that can be placed within the standard consumer recycling stream so we recommend checking this with your county waste management department as well."
I was glad to hear back from the company that makes Invisalign. And to hear they are working to reduce single-use plastics and piloting a program to take back worn aligners. But if only there was a way for them to take back worn aligners and somehow turn them into reusable materials for future aligners instead of incinerating them.
If you're on your Invisalign journey, consider writing to Align Technology and ask about their environmental commitments. Hopefully, the more paying customers they hear from, the more initiatives they will take!