This post may contain affiliate links that at no additional cost to you, I may earn a small commission.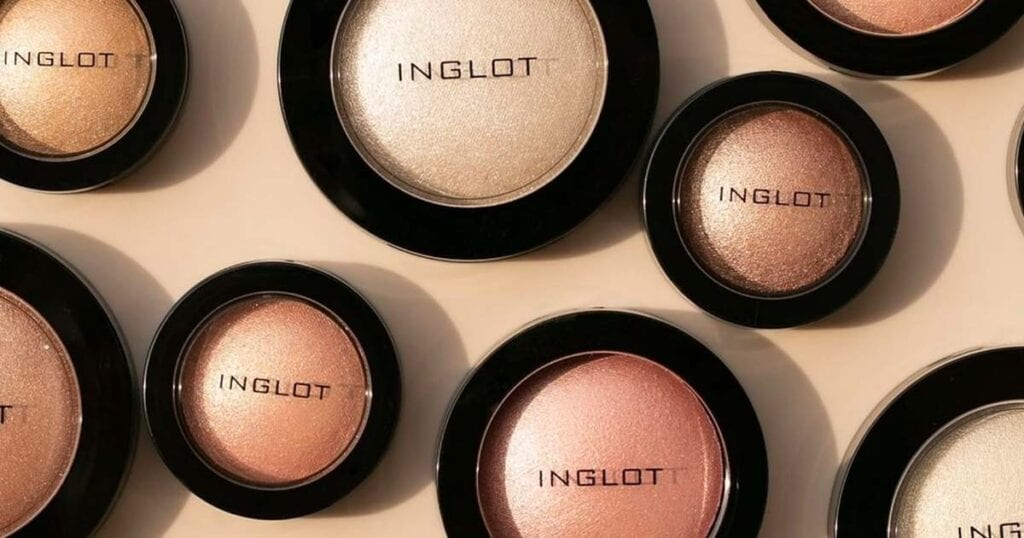 Inglot is a Polish cosmetics brand offering a wide range of makeup cosmetics and nail products, but is Inglot cruelty-free, vegan, or sustainable in 2022? I've got the answers here!
Is Inglot Cruelty-Free?
Inglot does not test any of its products, ingredients, for formulations on animals, anywhere in the world. However, Inglot sells makeup brushes made with natural animal hair like raccoon, goat, or pony.
Inglot's Animal Testing Policy
Inglot Cosmetics has confirmed they do not test their products or ingredients on animals, they do not allow others to test on their behalf, their suppliers also do not test on animals, they do not allow their products to be tested on animals when required by law, and their products are not sold in stores in mainland China or any other country that may require animal testing.
Below is a snippet of the response I received from Inglot confirming their animal testing policy:
"Our products are cruelty free – neither the products nor the ingredients used for production were tested on animals. None of the products or ingredients intended to be used in our cosmetic products are tested on animals by our suppliers. We appreciate your consciousness regarding the cruelty free status of INGLOT products. We are happy to confirm that INGLOT products are not being tested on animals in accordance with the Regulation (EC) No 1223/2009 of the European Parliament and of the Council of 30 November 2009 on cosmetic products*.

INGLOT is also GMP (Good Manufacture Practices) certified which ensures the best conditions of production as well as highest possible quality of ingredients and the final product. Please see attached a certificate by TÜV Rheinland Polska confirming that INGLOT products are not tested on animals. The Regulation prohibits the performance of animal testing in the European Union for:
finished products,ingredients or combinations of ingredients.

The Regulation also prohibits the placing on the European Union market of: products where the final formulation has been the subject of animal testing; products containing ingredients or combinations of ingredients which have been the subject of animal testing. Our policy is to check every single cosmetic ingredient whether it is tested on animals, prior to introducing it into our formulations. In case we came to know that such tests are being conducted or if the supplier refuses to confirm that he would not test these substances on animals, we would not purchase such ingredients.

Our cosmetics are neither manufactured nor sold in mainland China or anywhere else where animal testing on cosmetic products is mandatory."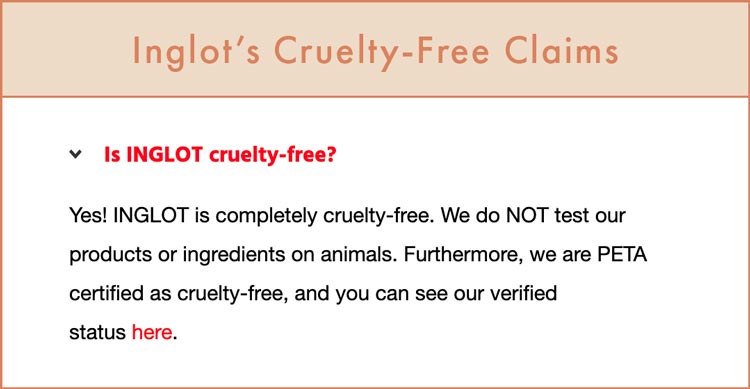 Is Inglot Sold in China?
Most imported cosmetics sold in mainland China are required by law to be tested on animals in 2022. However, Inglot Cosmetics has confirmed they do not sell their products in retail stores in mainland China and therefore they are not required to test on animals.
You can find Inglot cruelty-free products on Amazon, Beauty Bay, and Beautylish.
Is Inglot Vegan?
Not all of Inglot's products are vegan as some of their products contain animal-derived ingredients or by-products. Also, Inglot sells makeup brushes made with natural animal hair like raccoon, goat, or pony.
Inglot has a list of all their vegan products here.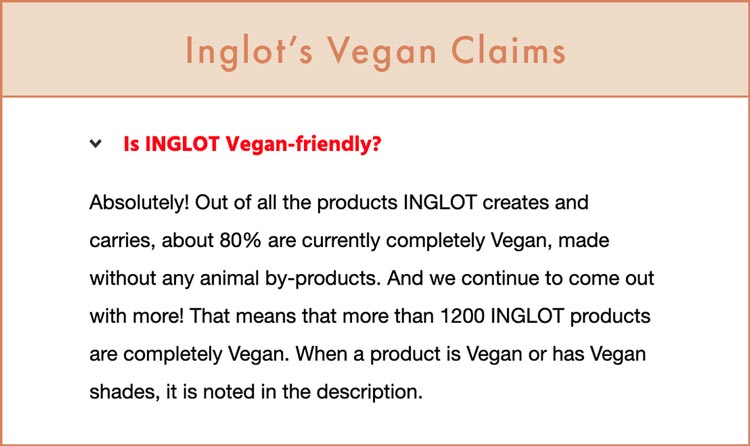 Below is a statement I found on Inglot's website stating that some of their products are V-Label certified:
"People who are looking for 100% vegan products may struggle with the analysis of the ingredients' list. Firstly, raw materials used are hidden under complicated names or semi-finished products. Secondly, the products may be tested on animals at different stages of the production. V-label Certification provides the analysis that regular consumers are unable to go through, therefore they are given the opportunity to consciously and safely choose vegan products.

V-Label controls the cosmetics taking into consideration both the origin of raw materials and testing on animals. In order to call a product vegan, it has to go through extremely precise analysis of full list of ingredients and the production processes. It means that all raw materials used are analyzed, including those not mentioned on the labels like excipients, semi-finished products, or the components like applicators and brushes. The raw materials are controlled at every stage, even directly at the producers and suppliers, who are obliged to provide the statement confirming not testing on animals of a certain product, not testing on animals in different countries or third parties.

It took over six months to run the detailed analysis of 450 raw materials.
INGLOT products labeled with V-Label certificate are 100% vegan and cruelty free."
You can also find out which of their products are vegan as they're all marked accordingly on their website under each product description. See below for an example.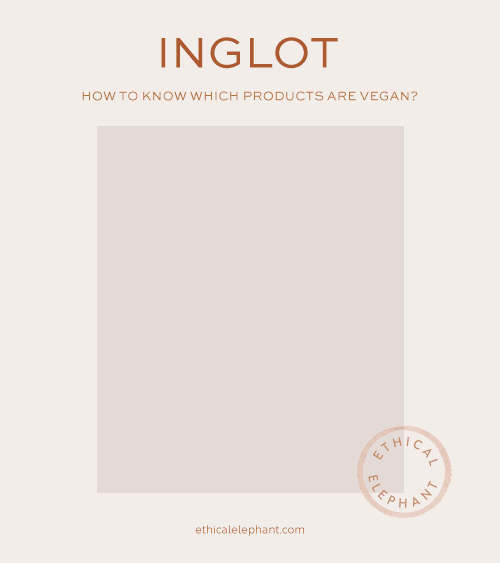 ---
Is Inglot Sustainable?
Inglot's headquarters is based in: Poland
Inglot's products are manufactured: mostly in Poland or within the European union
Unfortunately, I wasn't able to find any available information on Inglot's sustainability, environmental, and social initiatives.
Eco-Friendly Packaging Initiatives: Inglot offers refillable palettes and refills which they claim to be "environmentally-friendly". They have one palette made of "naturally colored bamboo" but does not state where it's made and if the bamboo was sustainably-sourced.
Is Inglot's Mica Ethically-Sourced? Inglot does "not have the knowledge" if their suppliers cooperate with uses of child labor while obtaining their materials.
"Thank you very much for the concern regarding child labour and ethical source of cosmetics and ingredients used for their production.
It is a very important issue for us in INGLOT. Due to that we are checking this matter with our suppliers. We do not have the knowledge that any of the suppliers we cooperate with uses child or slave labour while obtaining the materials."
---
I hope this article helped you to understand Inlgot's cruelty-free and vegan status and by choosing cruelty-free together, we can help end animal testing for cosmetics once and for all!