This post may contain affiliate links that at no additional cost to you, I may earn a small commission.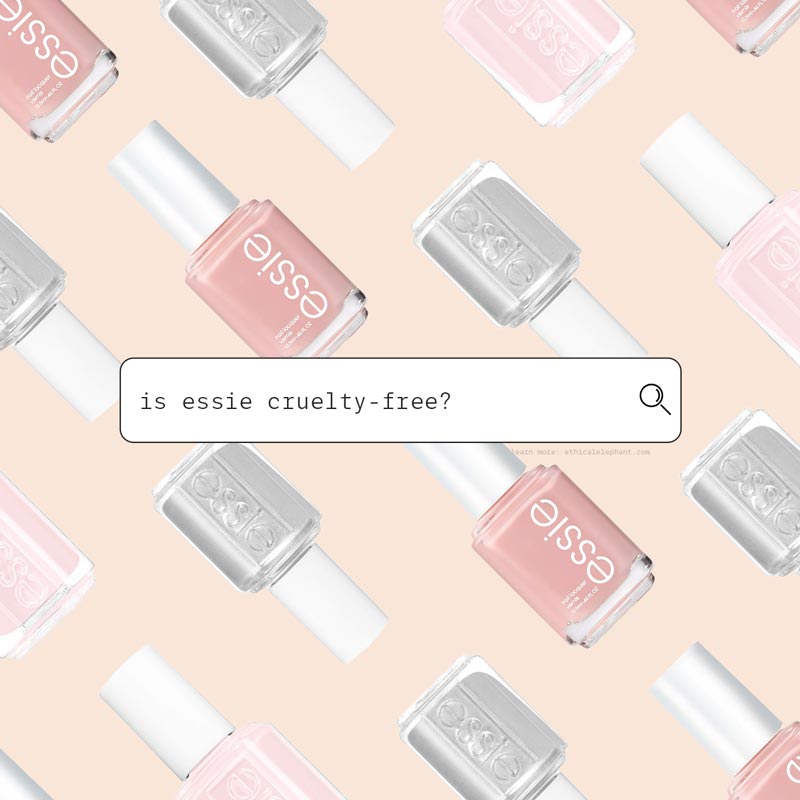 Essie is a major American nail polish brand sold at most drugstores but is essie cruelty-free in 2022? Here's everything we know so far!
Is Essie Cruelty-Free?
It is currently unclear whether Essie is cruelty-free or not in 2022. Essie is owned by L'Oreal, a parent company that is not cruelty-free. And essie follows the same animal testing policy as L'Oreal.
Essie Animal Testing Policy
On essie's website, they claim that essie and L'Oreal (its parent company) are committed to animal-free beauty. And then they provide a link to L'Oreal's Corporate website.
This is obviously not enough information for us to classify any brand as being cruelty-free to our standards.
Below is a screenshot of what's currently stated on essie's website: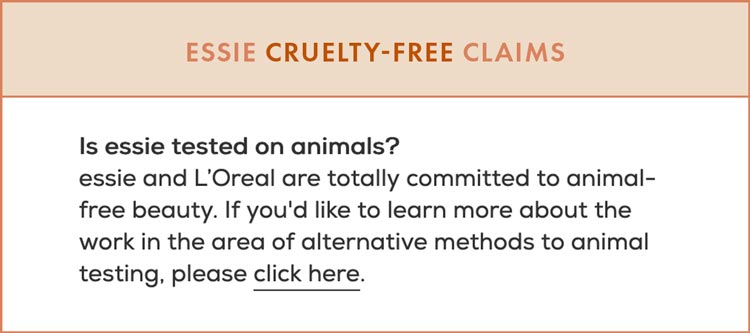 So I emailed the brand asking if any of its products or ingredients are tested on animals. Either by the company itself, commissioned to a third party to test on its behalf, or by any of its suppliers. They responded by saying,
"Thank you for your interest in Essie a brand of The L'Oréal Group.

Our consumers' health and safety have always been an absolute priority for L'Oréal.
As is the support of animal welfare.

L'Oréal has developed a very rigorous safety evaluation procedure of its products, backed by research. Well before the question of animal testing was raised by civil society or within a regulatory framework, L'Oréal has been committed to new methods of assessing safety that don't involve animals. A true pioneer, L'Oréal has been reconstructing human skin models in laboratories to elaborate in vitro safety tests since 1979, as an alternative to animals. In 1989, L'Oréal completely ceased testing its products on animals, thus 14 years before the regulation required so. Today, L'Oréal no longer tests its ingredients on animals and no longer tolerates any exception to this rule.

Certain health authorities may nevertheless decide to conduct animal tests themselves for certain cosmetic products, as it is still the case in China. L'Oréal has been the most active company working alongside the Chinese authorities and scientists for over 10 years to have alternative testing methods recognized, and permit the cosmetic regulation to evolve towards a total and definite elimination of animal testing. Thanks to this, since 2014, certain products manufactured and sold in China like shampoo, body wash or make-up are no longer tested on animals."
As mentioned earlier, L'Oreal owns essie so it's not a surprise that they responded back with L'Oreal's animal testing policy.
However, L'Oreal is not a cruelty-free corporation. The brand allows its products and some of its subsidiary brands (like Biotherm, Kiehl's, Lancome, Maybelline, and many more), to test its products on animals when required by law. They state this in their policy where I highlighted above.
Policies stating, "certain health authorities may decide to conduct animal tests themselves", usually implies the company is selling its products in mainland China. Because all imported cosmetics sold in stores in mainland China are required by law to be tested on animals.
So when looking into essie's cruelty-free status, we should be asking, is essie selling in China?
Is Essie Sold in China?
For as long as I could remember, essie used to sell some of its nail polish in China, however, they have recently informed me that their products are not sold in China anymore.
Below is a snippet of the response I received from Essie:
"Please be advised essie products are not sold nor manufactured in China."
I'm not exactly sure when essie stopped selling in China. I also don't know whether this was a strategic business decision or it was because of the country's animal testing laws. In addition, it's unclear if this is a temporary or permanent decision.
As you can tell, there's a lot of unknown and unclear changes to essie's cruelty-free status.
It is strange to me that if essie stopped selling in China and they were TRULY cruelty-free, then why aren't they marketing or advertising their products as such. They do label their new collection "vegan" but vegan and cruelty-free aren't the same thing.
It should also be noted that essie is not certified cruelty-free by a third-party organization like Leaping Bunny or PETA. This means that no one else is looking into or fact-checking essie's cruelty-free claims.
When I tried to ask for more information and clarification on essie's policy, the brand kept responding back with L'Oreal's policy.
Because of essie's lack of transparency about their cruelty-free status and animal testing policy, we are unable to conclude whether essie is a cruelty-free brand or one that tests on animals.
As a result, we are listing essie in our Grey Area – Brands with Unclear Policies until they can provide more information about its animal testing policy.
Is Essie Vegan?
Since Essie's cruelty-free status is unclear at this time, we wouldn't consider anything sold or manufactured by Essie to be vegan.
In order for products to be considered vegan by ethical elephant's standards, the products and their ingredients must not be tested on animals, anywhere in the world, and also must not contain any animal-derived ingredients or by-products.
Cruelty-Free Alternatives to
Looking to switch to cruelty-free brands? Here are some cruelty-free and vegan-friendly options that are similar to Essie:
---