This post may contain affiliate links.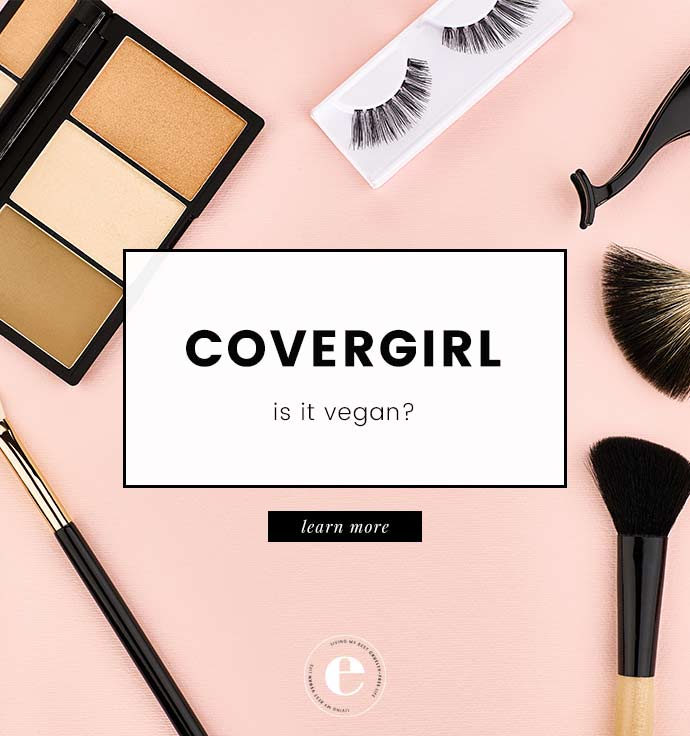 Earlier this week, CoverGirl officially announced their cruelty-free certification with Leaping Bunny and Cruelty-Free International.
This is a BIG win for the cruelty-free community! CoverGirl is the largest makeup brand to be Leaping Bunny certified and hopefully this will pressure other leading beauty brands like L'Oreal and Revlon to go cruelty-free as well.
It's important to note that CoverGirl is owned by Coty, a parent company that tests on animals, and Coty Inc. also owns several other makeup and fragrance brands that are sold in Mainland China and therefore those brands are required to be tested on animals as per China's animal testing laws.
It's great to see and hear CoverGirl has taken the right steps to become Leaping Bunny certified, but like most of you, we wanted to know whether CoverGirl is vegan or not?
Is CoverGirl Vegan?
Answer:
No. Unfortunately, at this time, CoverGirl is not making any claims to being vegan.
CoverGirl has been replying to comments on Instagram saying that they are working on producing and publishing a vegan product list but no word on when this will be released.
At this time, CoverGirl told me in an email response that they are not vegan and that some of their products contain animal-derived ingredients like lanolin, beeswax, and collagen.
When I emailed CoverGirl to inquire about their use of animal-derived ingredients in their makeup products and their vegan status, this is what they had to say:
"To be Cruelty-Free that means that we do not test our products on animals. However, we are not vegan. At Coty, we do not allow third parties to test on animals on our behalf. Our products do not contain or use in their manufacture any animal derived ingredients with the exception of lanolin, beeswax, sodium Chondroitin sulfate and atelocollagen. Lanolin is a natural by-product of processing sheep's wool after it has been shorn, beeswax a natural by-product of honeybees discarded in the hive, neither causing any harm to the animals, and the latter two ingredients are of marine origin. Our products do not contain any bovine, ovine or caprine tissues, nor fluids from the encephalon, the spinal cord or the eyes, or any other ingredient or material presenting risks of transmissible spongiform encephalopathies (TSEs).

While there is currently no legal definition of a vegan or vegetarian cosmetic product, and we do not specialize in products without animal-derived ingredients, we respect your desire for this type of information."
Although it's a HUGE step in the right direction for CoverGirl to become Leaping Bunny certified cruelty-free but I hope the next steps for CoverGirl is to remove all animal-derived ingredients from their products and to work on reformulating their cosmetics to being vegan as well! ??