This post may contain affiliate links that at no additional cost to you, I may earn a small commission.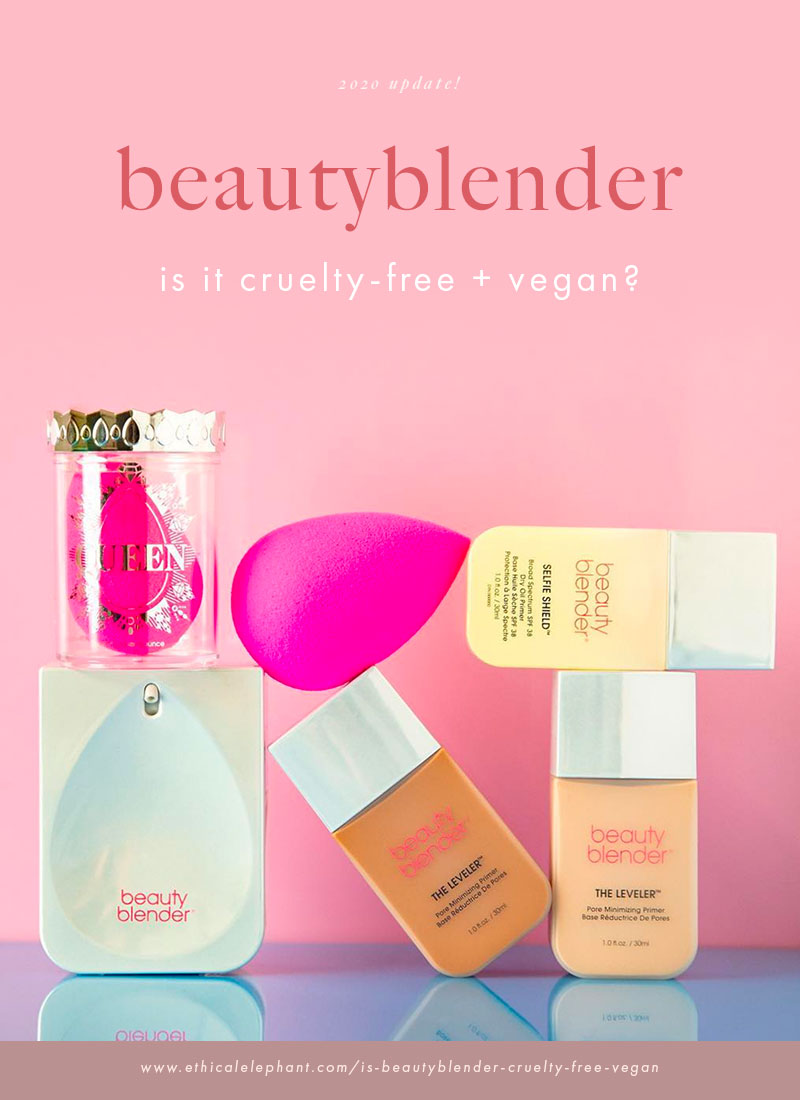 Beautyblender, known for their iconic and original makeup sponge, now has a collection of makeup products but is Beautyblender cruelty-free and vegan in 2021? We've got the answers here!
Is Beautyblender Cruelty-Free?
Beautyblender is Cruelty-free! None of beautyblender's ingredients, formulations, or finished products are tested on animals, anywhere in the world.
Beautyblender's Animal Testing Policy
Beautyblender has confirmed they do not test their products or ingredients on animals or ask others to test on their behalf. Their suppliers also do not test on animals nor do they allow their products to be tested on animals when required by law. And finally, their products are not sold in stores in mainland China or any other country that may require animal testing.
Is Beautyblender Sold in China?
Most imported cosmetics sold in mainland China are required by law to be tested on animals in 2021. However, beautyblender only sells their makeup sponges and makeup brush cleansers in China.
Chinese officials do not require makeup application tools to be animal-tested.
In addition, Beautyblender has confirmed they do not sell their other makeup products in retail stores in mainland China and therefore they are not required to test on animals.
As long as beautyblender does not sell any of their makeup complexion products in China, they are not required by law to test on animals.
Beautyblender has met all of our criteria in our Cruelty-Free Checklist and is included on our List of Cruelty-Free Brands.
You can find cruelty-free products on Amazon and at Sephora.
Is Beautyblender Vegan?
Not all of Beautyblender's products are vegan as they do use hydrolyzed silk and honey in some of their products. However, Beautyblender does have some vegan makeup products.
Below is a list of beautyblender vegan products.
You can also find out which of their products are vegan as they're marked accordingly on their website under each product description. See below for an example.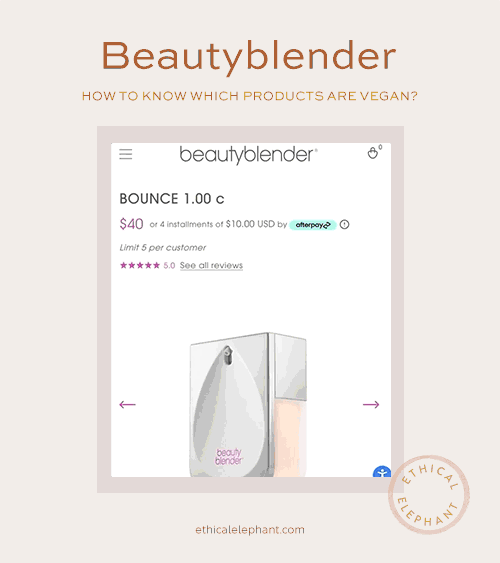 Beautyblender Vegan Product List
As of 2021, I will no longer be regularly updating this list of beautyblender's vegan products as all of their vegan products are now clearly marked. Check their website for the most up-to-date and accurate information on which products are vegan or not.
The following Beautyblender products are suitable for vegans and do not contain any animal-derived ingredients or by-products. This vegan product list was provided by Beautyblender.
All Makeup Sponges and Makeup Brushes
All Cleansers (liquid and solid)
---
Is Beautyblender Sustainable?
Beautyblender's headquarters is based in: USA
Beautyblender's products are manufactured in: All of their blenders are made in the US. And their foundation and highlighter are made in Italy.
Eco-Friendly Packaging Initiatives: Beautyblender claims their blender and the canister it comes in are 100% recyclable.
"We strive to minimize our packaging and make it possible so that you can recycle all of our product packagings in an effort to preserve mother earth. We know there's room for improvement, and we promise to continue our efforts. Wet, squeeze, bounce, then reduce, reuse, recycle!"
Sustainability & Environmental Initiatives: Beautyblender recently launched an eco-friendly version of their makeup sponge called Bio Pure. It claims to be formulated with a 60% plant base made from sugarcane. And the manufacturing process creates less water waste and offsets CO2 emissions.
"We are exploring using more bio-based ingredients and renewable materials to create a better impact on the environment and the sustainability of our business, long-term, but also because more and more consumers are seeking out sustainable choices in their products."
Is Beautyblender's Mica Ethically-Sourced? Beautyblender claims they ensure their mica is "ethically-sourced" but did not provide additional information on how they audit or "ensure" their mica suppliers prohibit the use of child labor.
"Our products are vegan and cruelty free! The mica we do source, we ensure is ethically sourced. "
---
I hope this article helped you to understand beautyblender's cruelty-free and vegan status and by choosing cruelty-free together, we can help end animal testing for cosmetics once and for all!