This post may contain affiliate links that at no additional cost to you, I may earn a small commission.
Avène is NOT Cruelty-Free!
Avène allows its products or ingredients to be tested on animals when required by law including when selling in stores in mainland China.
In addition, Avène is owned by Pierre Fabre, a pharmaceutical and cosmetics parent company that is NOT cruelty-free.
Avène's Animal Testing Statement
On their website, Avène claims their products and ingredients are not tested on animals, complying with the EU marketing and sale ban of animal-tested cosmetics. But what the EU animal testing ban doesn't cover is cosmetics tested on animals, outside of the EU or as part of foreign regulations.
So, Avène failed to mention one important thing on their website's animal testing policy: They sell their products in China. Under China's current laws, most imported cosmetics are required by law to be tested on animals.
Below is a screenshot of what's currently stated on Avene's company website: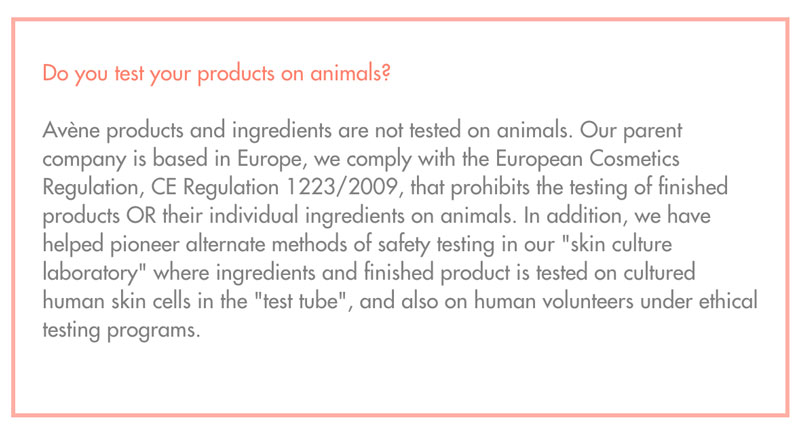 In a recent email response, Avene has stated and confirmed:
"At the moment, Avene does sell it's products in China. We know that China is updating and improving their laws in regards to testing so we look forward to the changes and implementations they will be making in the next couple of years." (July 2019)
Avene products are still being sold in mainland China where is it still required that most imported cosmetics be tested on animals.
In a previous email response in 2016, they confirmed that their products are indeed marketed in China and therefore must undergo animal testing as required by China's laws.
"we market our products in China and tests imposed by local regulations are performed by laboratories accredited by the Chinese authorities. Some of these tests are performed on animals. We do not agree to this practice; however we cannot oppose it." (Feb 2016)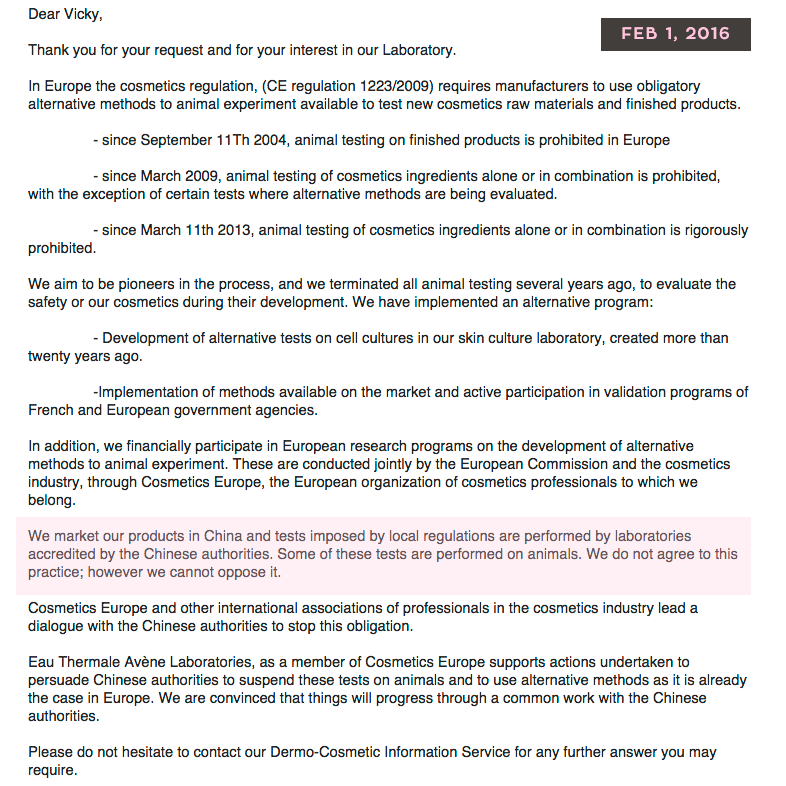 Because of Avene's decision to sell its products in-stores in mainland China, they must consent and pay the Chinese government to test their products on animals. That's why most cosmetics brands selling in mainland China retail stores cannot be considered cruelty-free.
Although Avene may not be conducting these animal tests themselves, they are knowingly allowing Chinese authorities to test their products on animals in order to sell in China.
Many truly cruelty-free brands have chosen not to sell their products in China because of the country's animal testing laws. Unfortunately, Avene refuses to do the same and has decided to put profits before the welfare of animals.
Summary: Avene is NOT Cruelty-Free!
By choosing to sell in mainland China, Avene must have their products tested on animals. Therefore I would not consider Avene to be a cruelty-free brand.
Avene is on our List of Brands to Avoid – Animal Tested.
If Avene does not agree with China's mandatory animal testing requirements as they claim, then they shouldn't be selling their products in China until those laws are changed.
Although Avène claims that they are working to "persuade Chinese authorities to suspend these tests on animals and to use alternative methods," I personally don't trust or feel comfortable supporting or buying from a company that claims to be against animal testing but at the same time, will pay others to test their own products on animals for them.
Is Avene Vegan?
Avene claims their Thermal Spring Water Spray is vegan, however, because we would not consider Avene to be cruelty-free as their products are tested on animals when required by law, we also wouldn't consider anything sold or manufactured by Avene to be vegan.
Below is what's currently stated on Avene's website about their vegan product claims: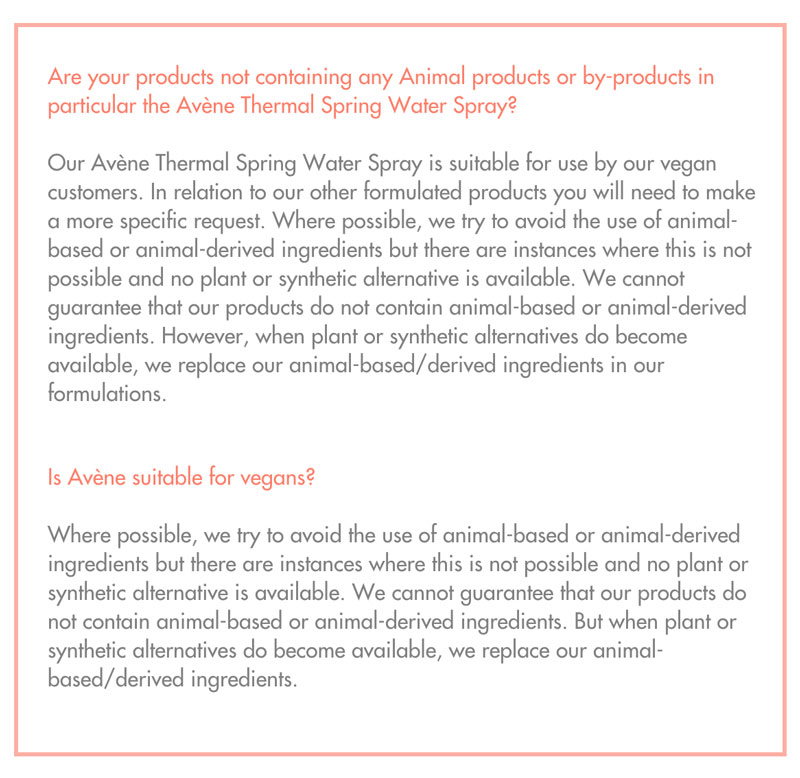 In order for products to be considered vegan by ethical elephant's standards, the products and their ingredients must not be tested on animals, anywhere in the world, and also must not contain any animal-derived ingredients or by-products.
Cruelty-Free Alternatives to Avene:
There are plenty of cruelty-free skincare alternatives to Avene, here are some of my personal cruelty-free recommendations: