This post may contain affiliate links.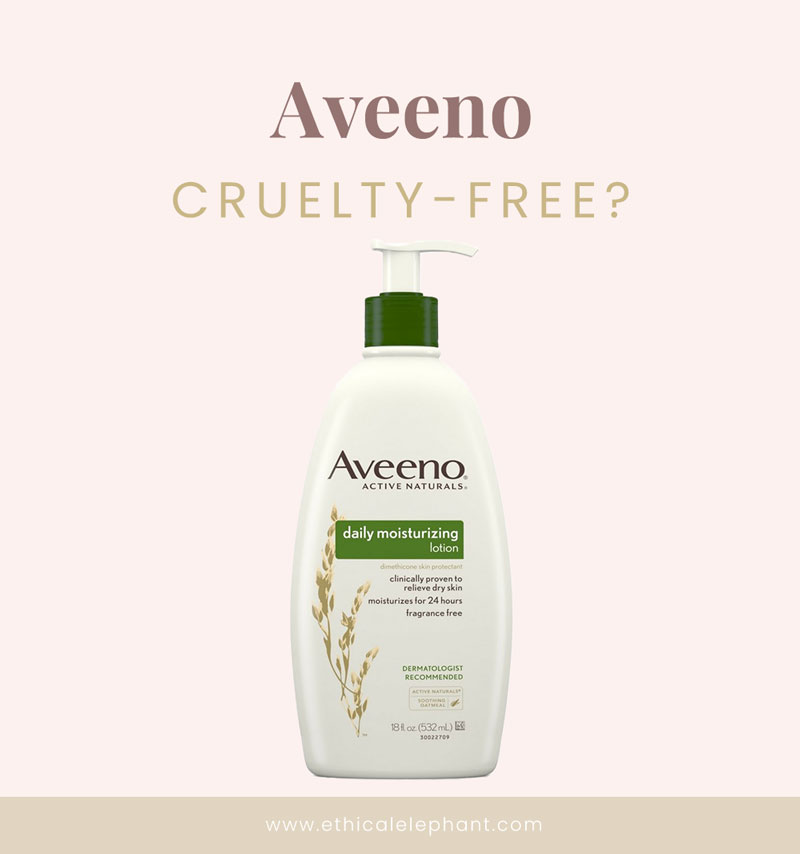 Aveeno is known for their natural and affordable skincare products but sadly, Aveeno is not cruelty-free; Aveeno products are tested on animals when required by law.
Is Aveeno Cruelty-Free?
No. Aveeno is not cruelty-free because they allow and pay officials to test their products on animals. Although Aveeno is not conducting the animal tests themselves, but they are having others do the testing for them.
Below is a screenshot of Aveeno's animal testing statement found on their website: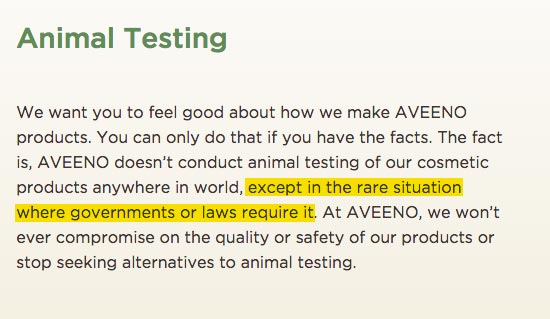 The part that I highlighted "except in the rare situation where governments or laws require it" suggest that Aveeno is selling in countries that require animal testing by law, most likely, Mainland China.
In the US & Canada, animal testing is not required by law to prove cosmetic products or ingredients are safe for consumers to use. Some parts of the world, like China, require companies that wish to sell their products in their country to test on animals.
It should also be noted that Aveeno is owned by Johnson & Johnson, a corporation that sadly continues to test on animals.
When I first reached out to Aveeno to inquire about their stance on animal testing, I received the following response which links Aveeno's stance on animal testing to that of their parent company, Johnson & Johnson.
"Thank you for your contacting us here Johnson & Johnson Inc., makers of Aveeno®.
The Johnson & Johnson Family of Consumer Companies does not conduct testing of our cosmetic or personal care products on animals and we do not ask others to test on our behalf, except when testing is required by law or specific government regulation. When it comes to the development of medicines, medical devices and other regulated health products, where animal use is often required, our policies reflect the highest animal welfare standards and meet or exceed all applicable local and national laws and regulations. To learn more about our policies, we invite you to see more information on our website: https://www.jnj.com/about-jnj/company-statements/guideline-on-the-humane-care-use-of-animals"
Aveeno is Not Cruelty-Free
Unfortunately, Aveeno is not cruelty-free as their products/ingredients are tested on animals when required by law.
Choose These Cruelty-Free Options Instead:
Looking for a cruelty-free alternative to Aveeno? Here are some affordable and drugstore cruelty-free skincare brands:
---