This post may contain affiliate links that at no additional cost to you, I may earn a small commission.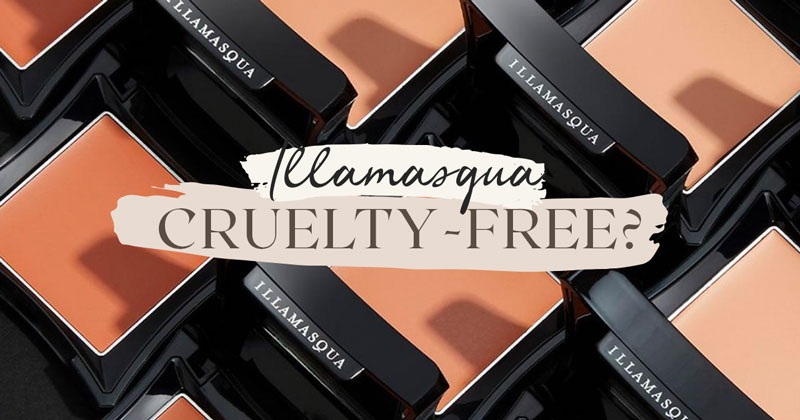 Illamasqua offers a range of highly-pigmented makeup products for everyday users and professional makeup artists, but is Illamasqua cruelty-free, vegan, or sustainable in 2021? I've got all the answers here!
Is Illamasqua Cruelty-Free?
Illamasqua is Cruelty-free! None of Illamasqua's ingredients, formulations, or finished products are tested on animals, anywhere in the world.
Illamasqua's Animal Testing Policy
Illamasqua has confirmed they do not test their products or ingredients on animals, they do not allow others to test on their behalf, their suppliers also do not test on animals, they do not allow their products to be tested on animals when required by law, and their products are not sold in stores in mainland China or any other country that may require animal testing.
Below is a screenshot of what's currently stated on Illamasqua's website: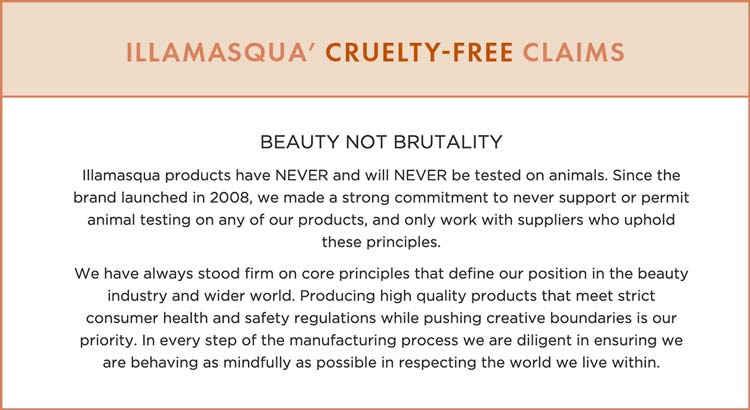 Is Illamasqua Sold in China?
Most imported cosmetics sold in mainland China are required by law to be tested on animals in 2021. However, Illamasqua has confirmed they do not sell their products in retail stores in mainland China and therefore they are not required to test on animals.
Illamasqua has met all of our criteria in our Cruelty-Free Checklist and is included on our List of Cruelty-Free Brands.
You can find Illamasqua cruelty-free products at illamasqua.com, Beauty Bay, Beautylish, and Net-a-Porter.
Is Illamasqua Vegan?
Not all of Illamasqua's products are vegan as some of their products contain animal-derived ingredients or by-products. However, Illamasqua does have some vegan options.
Below is a list of Illamasqua vegan products.
You can also find out which of their products are vegan as they're all marked accordingly on their website under each product description. Or, browse their Vegan Makeup page. See below for an example.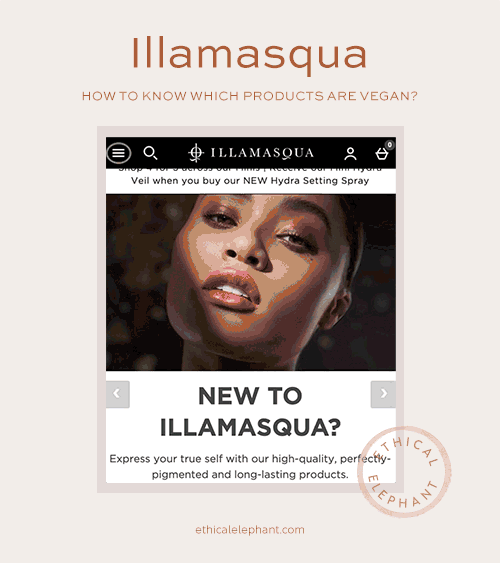 Illamasqua Vegan Product List
As of 2021, I will no longer be regularly updating this list of Illamasqua vegan products as all of their vegan products are now clearly marked. Check their website for the most up-to-date and accurate information on which products are vegan or not.
The following Illamasqua products are suitable for vegans and do not contain any animal-derived ingredients or by-products. This vegan product list was provided by Illamasqua.
Base
Highlight & Contour
Eyes
Eyeshadow Palettes
Lips

---
Is Illamasqua Sustainable?
Illamasqua's headquarters is based in: UK
Illamasqua's products are manufactured in: TBD
Illamasqua does not claim to be a sustainable company.
Additionally, I wasn't able to find any available information on Illamasqua's sustainability, environmental, and social initiatives.
Is Illamasqua's Mica Ethically-Sourced? Illamasqua has been non-responsive when I asked if their mica is ethically-sourced without the use of child labor.
---
I hope this article helped you to understand Illamasqua's cruelty-free and vegan status and by choosing cruelty-free together, we can help end animal testing for cosmetics once and for all!