This post may contain affiliate links that at no additional cost to you, I may earn a small commission.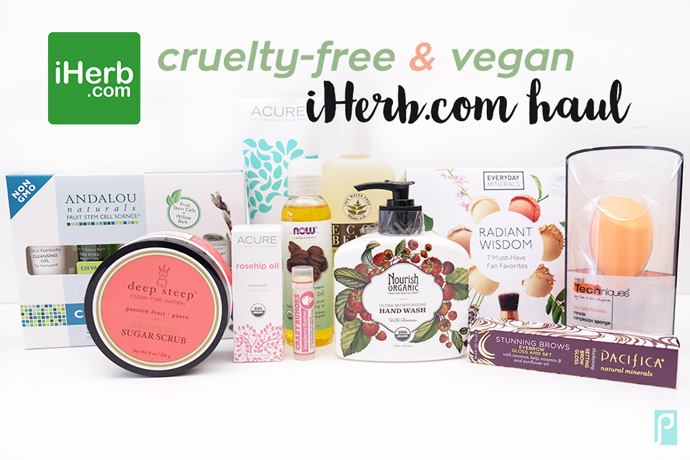 I've heard of iHerb.com before but had never ordered anything from their online shop because as a Canadian resident, I get anxious over having to pay higher shipping rates, extra custom duties and taxes, and waiting longer for my package to be cleared from the border.
But when I heard that iHerb carries over 2,400 cruelty-free and vegan beauty products and offers some amazing deals, I knew I had to get in on this and place my first order at iHerb.com! I wanted to let you guys in on my first experience shopping on iHerb.com and if you want to enter for a chance to win a $50 shopping spree, you can find the details of the giveaway at the end of this post!
My iHerb Vegan Shopping Review
Registration:
It takes seconds to set up an iHerb account, all that's required is your name, email address, and a password.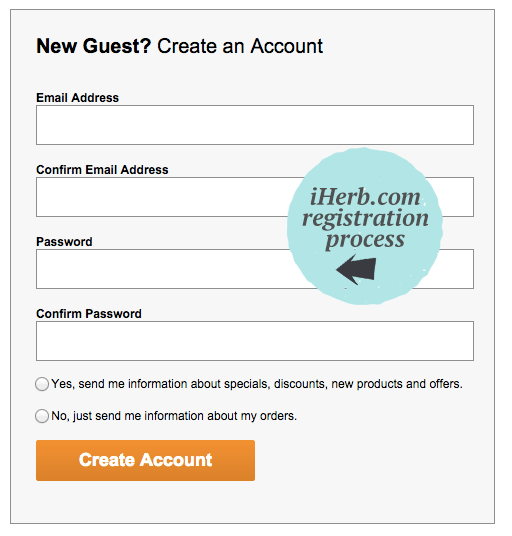 Product Offerings:
I was informed that iHerb carries over 2,400 cruelty-free and vegan bath & beauty products and over 700 vegan foods! This made my shopping experience incredibly fun giving me a fabulous selection of products to browse and choose from. But one thing I noticed is that I did find some products that contained honey and shellac under the cruelty-free and vegan product filter.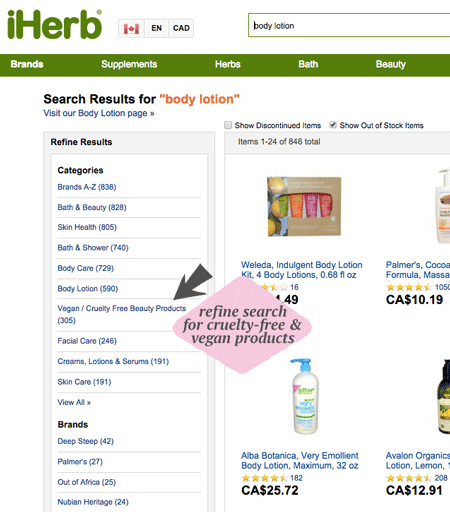 Again, I want to take the time to remind caring consumers to always read the ingredient list of products that claim to be 'vegan'. Not just on iHerb.com but anywhere for that matter because sometimes it's the product manufacturers who are mislabelling their products and the distributors just pass the information along to the customer.
The great thing about iHerb.com is that their product descriptions are pretty thorough and I had no troubles with finding additional product information, ingredient lists, and their customer reviews were also very helpful!
Vegan Products from iHerb.com!
I really can't stress enough the great selection of vegan and cruelty-free products that iHerb.com carries! For this review, I tried my best to include all sorts of products including face, hair, body, color cosmetics, and household products!
Prices:
It's no secret that I am a serious bargain shopper, I take pride in being able to save $0.20 on any given purchase =) First off, I want to note that iHerb.com allow shoppers to easily change currencies so that you can comfortably shop in your local dollas! This is especially important for me considering the Canadian loonie isn't stacking so well next to USD$.
The prices on iHerb.com are unbeatable! Seriously.
For example,
Organic Jojoba Oil is only

CA$13.90

on iHerb versus

CA$26.49

on Well.ca
Acure Organics body lotion is only

US$8.50

on iHerb versus

US$9.99

on Acure Organics' website
Real Techniques Beauty Sponge is only

US$4.79

on iHerb versus

US$6.99

at Ulta
Savings:
Not only are the prices on iHerb.com super attractive for a savvy shopper like myself, but they also offer some additional savings like an extra 10% discount for orders over $60 and a first-time customer savings of $5. If you're interested in saving $5 from your first purchase at iHerb.com with no minimum purchase, feel free to use this coupon code: FVH641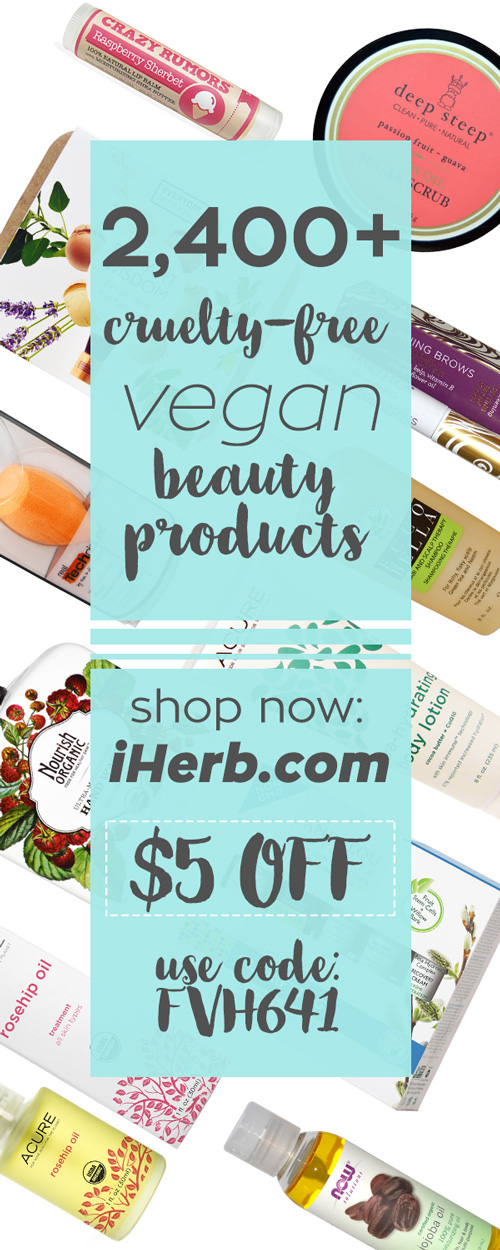 Shipping Process:
Monday – placed my order
Tuesday – received an email saying order has been shipped along with a tracking #
Wednesday – received package! no signature required.
This is impressive considering that it was cleared from customs within a day! I can only speak from this one iHerb order so far but I think that since I opted in to pay my custom duties and taxes at the time of checkout on iHerb's website actually helped with the speedy delivery!
This is an optional service on iHerb.com where you can pay the unforeseen custom taxes beforehand which was about $11 on a $100 order. This is the first time I opted in for this type of service and it definitely saved me the hassle and worry of having to pay later.
Overall iHerb.com Shopping Experience:
With unbeatable prices, quick & affordable shipping to Canada, and a fabulous selection of cruelty-free and vegan beauty products, I am very pleased with my first shopping experience on iHerb.com. The only feedback I have is for iHerb to refine their vegan product filter option to make sure all products under this category does not contain any animal ingredients including honey, beeswax, shellac, lanolin, etc.
---
$50 iHerb Shopping Spree Giveaway!
Two of you will have the chance to win a $50 shopping spree + free shipping at iHerb.com! The winners are required to register to iHerb to claim their prize. Winners will be notified by email.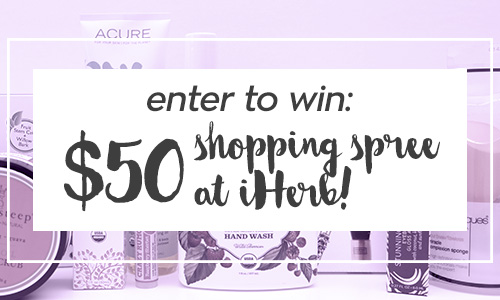 Giveaway is open to all international readers where iHerb ships to. IMPORTANT: check to see if iHerb ships to your country before entering giveaway. To see if iHerb ships to a specific country, go to iherb.com, add a product to the shopping cart and then click the 'country' drop-down menu to see if your country is listed.
Here are some countries that iHerb does ship to and eligible to enter the giveaway:
United States, Canada, Australia, Belgium, Brazil, China, Finland, France, Germany, Great Britain, Hong Kong, India, Ireland, Israel, Japan, Malaysia, Netherlands, New Zealand, Norway, Singapore, Spain, Sweden, Switzerland, Taiwan, Ukraine
---

Disclaimer: This is a sponsored giveaway post. I received samples in exchange for my honest review. I was not required to write a positive review nor was I compensated in any other way. All opinions expressed are always 100% my own. This post contains affiliate links which, while they don't change the cost for you, earn me a small commission.