This post may contain affiliate links.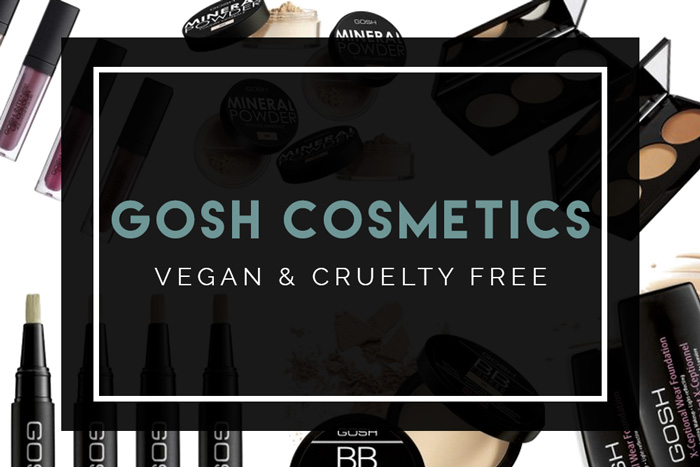 GOSH Cosmetics is certified cruelty-free by PETA. They also have a written no animal testing policy on their website saying, "GOSH Cosmetics does not use animals to test any of our products or ingredients. Neither do we commission others to perform animal tests. Moreover it is prohibited by European law to test cosmetic products or ingredients on animals."
For those of you who aren't familiar with GOSH Cosmetics, they are a cosmetic company from Denmark and their products can be found at various Shoppers Drug Mart (in Canada)  and at Superdrug (in the UK). In addition to being cruelty-free, GOSH Cosmetics also offers a wide selection of vegan-friendly makeup which you can find the complete list below provided by one of their reps via an email response.
Know the different between cruelty-free and vegan, here.
LIST UPDATED (MAY 18, 2016)
Face
PRIMER
Lumi Drops
Primer Plus
Prime'n Set
Velvet Touch Foundation Primer Anti-Wrinkle Eff.
Velvet Touch Foundation Primer Classic
CONCEALER
FOUNDATION
POWDER
BB Powder
Mineral Powder
Pressed Powder
BRONZER
BLUSH
---
Eyes
MASCARA
EYE SHADOW
Matt Duo Eye Shadow (Brown Base, Melting Pale, Green Zone & Dark'n Dusky)
Mineral Colour Pigments
Mono Eye Shadow
Quattro Eye Shadow (Q56)
Smokey Eyes Palette (01, 02)
EYE LINER
Eye Liner Pen (Liquid)
Long Lasting Eye Liner Pen
Smokey Eye Liner (01, 02, 05)
Velvet Touch Eye Liner Waterproof (Black Ink, Truly Brown, Hypnotic Grey, Metallic Brass, Pretty Petrol, Woody Green, Lemon Soda, Blue Moon, Alligator, Silver Screen, Sky High, Pure Natural, Classic Grey, Rebellious Brown, I Sea You & Renaissance Gold, Carbon Black)
EYE PRIMER
Prime'n Refresh Eye Roll-on
Velvet Touch Eye Primer
Lips
Kiss Me! Moisturizing Lip Balm: (02, 03, 04, 05, 06 ,07 & 08)
Light'N Shine
Long Lasting Lip Marker
Intense Lip Colour
Velvet Touch Lip Primer
Velvet Touch Lip Liner Waterproof
---
Nails
Mini Lacquers
Nail Lacquer – Special Ed
---
Disclaimer: This post contains affiliate links.