This post may contain affiliate links.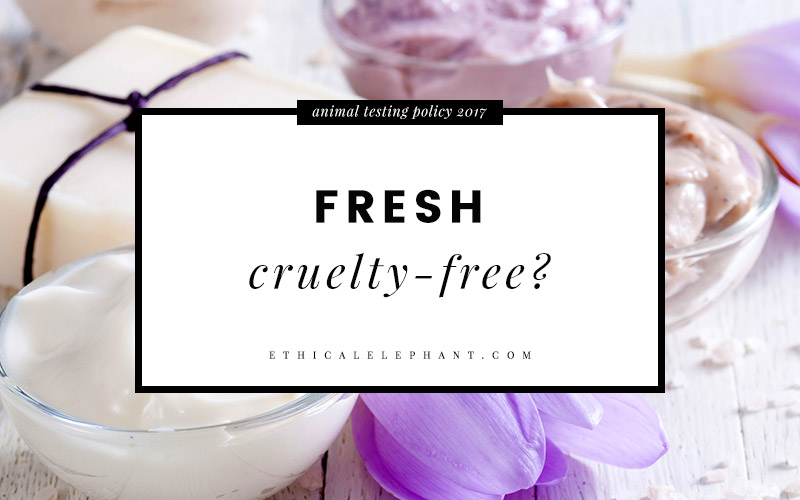 Fresh offers a complete product range of natural skin care, perfumes and fragrances, makeup, cosmetics, hair care, candles and soaps. But is Fresh considered a cruelty-free brand or does Fresh test on animals?
Unfortunately, it turns out that Fresh does test on animals when required by law and cannot be considered a cruelty-free brand.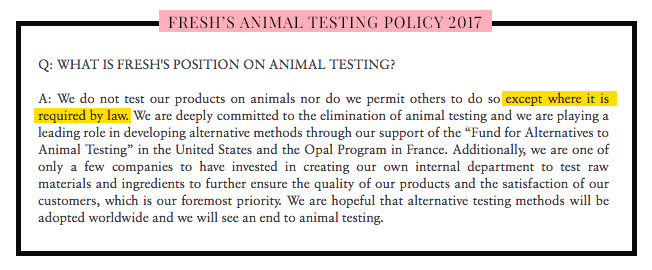 UPDATE (DEC 19, 2017): Since the original publication of this post on June 27, 2017, Fresh has changed and updated their animal testing statement on their website. In their previous statement, it stated: "We do not test our products on animals nor do we permit others to do so except when it is required by law."'
Fresh' updated animal testing statement now says, "Fresh does not test our products on animals" and have removed the disclaimer "except when required by law."

Is Fresh Selling in China?
I emailed Fresh after seeing this and they responded back:
"Our products are made in Europe and USA, and for imported cosmetics the Chinese health authorities require companies to make their products available to the authorities to be tested in state-certified laboratories for registration purposes only, as it is currently their only recognized method to demonstrate product safety. These tests are not carried out by us, but by the Chinese authorities." 
This has confirmed that despite the recent update to their animal testing statement found on their website, they are still choosing to sell their products in Mainland China where it is required by law that all imported cosmetics be tested on animals. And although Fresh is not carrying out these tests themselves, but they are well aware their products have to be tested on animals by the Chinese authorities in order to sell in Mainland China.
It didn't take me long to find Fresh's China website complete with a store locator page which shows a number of retail stores in Mainland China carrying or selling Fresh products.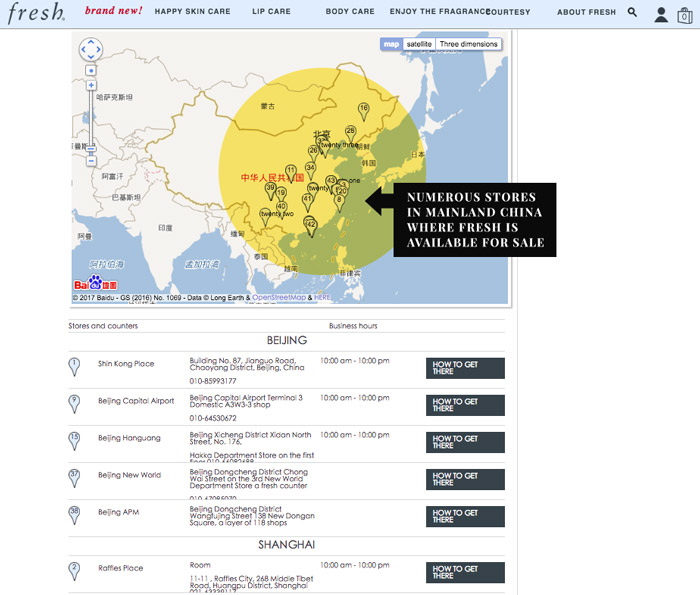 Fresh is NOT Cruelty-Free!
Sadly, this doesn't look good for Fresh considering all imported cosmetics into Mainland China are required by law to be tested on animals and by Fresh choosing to sell in these stores, they must consent and agree to have their products/ingredients subject to animal tests.
With all that being said, Fresh is not cruelty-free.
Cruelty-Free Alternatives to Fresh:
Try these cruelty-free brands instead!
Andalou Naturals
Juice Beauty
Tata Harper
Live Clean
Deep Steep
Pai Skincare