This post may contain affiliate links that at no additional cost to you, I may earn a small commission.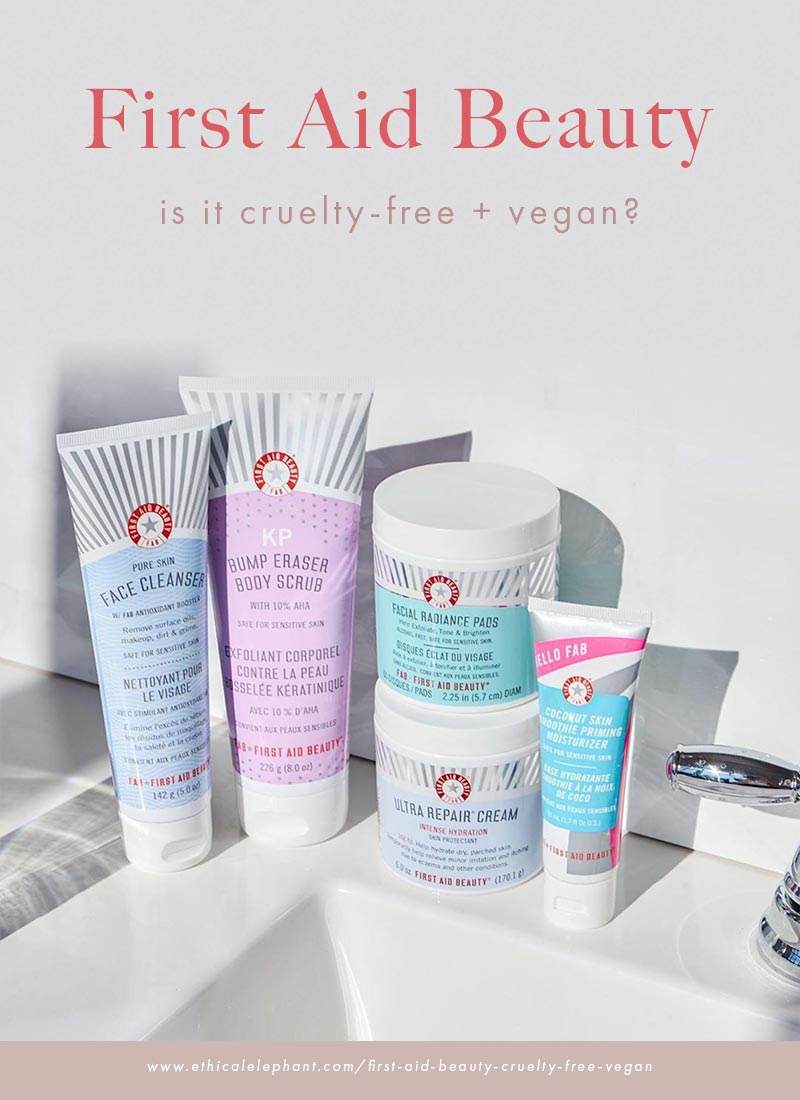 First Aid Beauty (FAB) offers a range of skincare products targeted for people with sensitive skin and specific skin issues like eczema, dry skin, and acne but is First Aid Beauty cruelty-free and vegan?
Is First Aid Beauty Cruelty-Free?
UPDATE: First Aid Beauty has been moved from our Cruelty-Free Brand List to our Brands with Unclear Policies List as the company has decided to start selling in stores in mainland China where post-market animal testing may be conducted on their products.

It should also be noted that First Aid Beauty is owned by P&G, a parent corporation that does test on animals when required by law.
First Aid Beauty Animal Testing Policy
On First Aid Beauty's website, they claim "At First Aid Beauty, we love animals. That's why we are committed to being a 100% cruelty free company. We have not, do not and will not conduct any testing of ingredients or finished products on animals. Furthermore, we only work with business partners who certify compliance with our policy."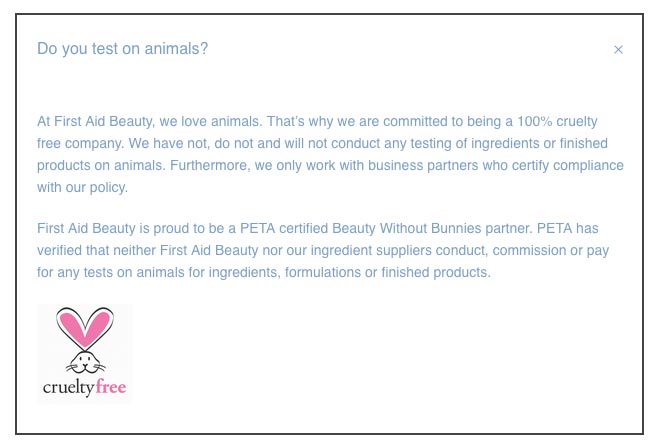 However, FAB recently announced that they will start selling in-stores in China.
Is First Aid Beauty Sold in China?
On July 16, 2020, I received an email from First Aid Beauty notifying me that they will begin to sell their products in mainland China.
"PETA is very pleased to have First Aid Beauty on our Cruelty-Free list, and we are happy to report that the brand will maintain its no animal test status as it expands to China. We've worked with the company to ensure that the products as manufactured and sold will not require tests on animals under Chinese government regulations."
According to China's current animal testing laws, ordinary cosmetics that are domestically-produced can be sold in stores in mainland China without animal testing. First Aid Beauty claims their products will be filled in a facility within China and that under this approach, the Chinese government does not require animal testing however this only bypasses China's pre-market animal testing requirements and not post-market testing.
All cosmetics that are sold in China, whether made in China or imported to China, are still at risk of post-market animal tests.
Post-market animal tests are often done without the company's knowledge or consent due to a consumer complaint or other non-routine safety tests.
Because of the potential risk of FAB's products that are sold in China could be tested on animals, we have decided to remove the brand from our Cruelty-Free Brand Directory.
First Aid Beauty has been moved from our List of Cruelty-Free Brands to our Unclear Policies List.
First Aid Beauty Acquired by P&G
In 2018, P&G acquired First Aid Beauty. P&G is not a cruelty-free corporation and admits to testing on animals when required by law.
See Also: Reasons to Support or Boycott Cruelty-Free Brands Owned by Parent Company
Is First Aid Beauty Vegan?
First Aid Beauty claims to offer some products that do not contain any animal-derived ingredients or by-products and are suitable for vegans. However, since First Aid Beauty's cruelty-free status is undetermined, we would not consider anything currently produced or marketed by FAB to be vegan.
---
Is First Aid Beauty Ethical?
Based in: the US
Products Manufactured: the US
Unfortunately, I wasn't able to find any public information on First Aid Beauty's sustainability and environmental initiatives.
Giving Back Initiatives: First Aid Beauty recently launched FAB AID, a student debt relief initiative where First Aid Beauty has committed $1Million to pay back loans. Applicants must fill out an application and submit a video sharing their student loan story.
Ingredients and Formulations Claims: First Aid Beauty claims, "there are over 1,300 ingredients on FAB's no-no list, including Artificial Colorants and Artificial Fragrances, Parabens, Ethanol, Ethyl Alcohol, Denatured Alcohol, Methanol, N-Butyl Alcohol, Isopropyl Alcohol, SD Alcohol, Lanolin, Propylene Glycol, Phthalates, Mineral Oil, Petrolatum, Formaldehydes, Oxybenzone, Coal Tar, Hydroquinone, Triclosan, Triclocarban, Talc and Sulfates."
---
I hope this article helped you to understand First Aid Beauty's cruelty-free and vegan status and by choosing cruelty-free together, we can help end animal testing for cosmetics once and for all!