This post may contain affiliate links.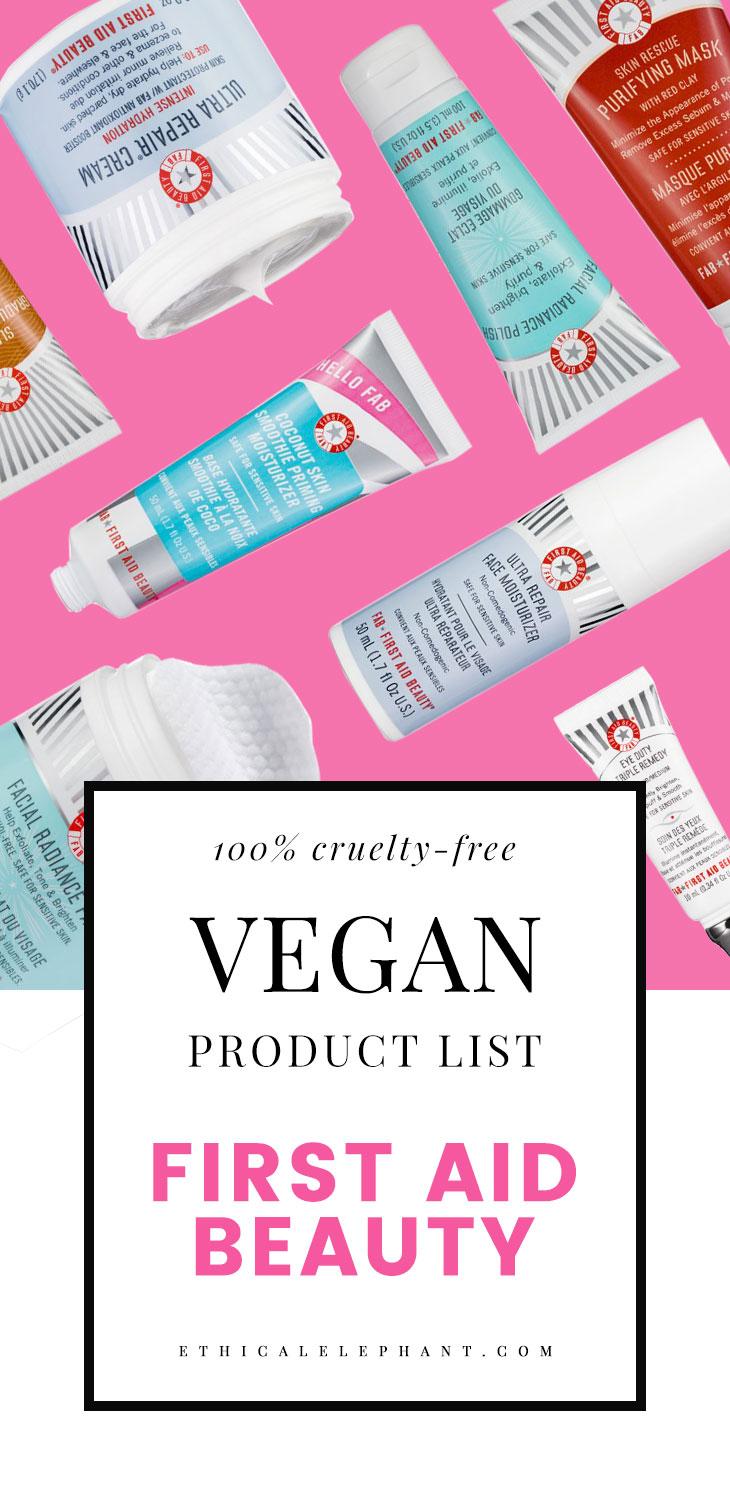 First Aid Beauty (FAB) offers a range of skincare products targeted for people with sensitive skin or specific skin issues like eczema, dry skin, and acne. You can find First Aid Beauty skin care products available at Sephora.
But does First Aid Beauty test on animals or is First Aid Beauty a cruelty-free brand?
I reached out to them and I'm glad to conclude that First Aid Beauty is cruelty-free with some vegan options!
Below you will find the responses I received from a First Aid Beauty rep.
Does First Aid Beauty Test on Animals?
First Aid Beauty does not test our products on animals, nor do we test the raw ingredients on animals. We do not have a third party testing on our products and ingredients. FAB does not sell our products in China.
In order for a brand to be considered cruelty-free, they must ensure none of their products or ingredients are tested on animals and they also must not sell their products in countries that require animal testing by law, such as China. I was very pleased by the response I received from First Aid Beauty however I wanted to also ensure their raw material suppliers were not testing on animals as well.
So a follow-up email was required where I received further clarifications about First Aid Beauty's process in verifying that their raw material suppliers do not test on animals.
First Aid Beauty's raw material suppliers do not test on animals. First Aid Beauty went through a rigorous certification process with our suppliers in order to ensure that the ingredients bought and used by our suppliers were not tested on animals.  Each supplier signed a certificate which states that the ingredients used by our suppliers are cruelty free.
First Aid Beauty Vegan Product List 2017
Although First Aid Beauty is not a 100% vegan brand, they do have a bunch of vegan products and they also label which of their products are considered vegan on their website. But if you're shopping elsewhere and need a quick list to reference, I've got you covered! Below you'll find a list of First Aid Beauty products that are vegan!
Moisturizers
Cleaners & Exfoliators
Eye & Lip
Serums & Treatments
Masks
Mists
TL; DR
First Aid Beauty does not test on animals and currently has 30+ products that are considered vegan.