This post may contain affiliate links that at no additional cost to you, I may earn a small commission.
Is anyone else freaking out about how there are less than 2 weeks left till Christmas?! I'm such a last-minute shopper so it's no surprise that I haven't even started my Christmas shopping yet.

Thankfully, there's FAIR/SQUARE! They are a relatively new online vegan shop exclusively selling cruelty-free, 100% vegan, and fair products that are all made in Canada!
Yes!! That's everything we all should be supporting if we want to work towards a more sustainable, kind, and eco-planet.
FAIR/SQUARE sells just about anything and everything from vegan snacks, cruelty-free skincare and wellness products, to some awesome vegan awareness apparel.
What I was really interested in, and may interest some of you who are still looking for vegan gift ideas, are FAIR/SQUARE Vegan Gift Boxes.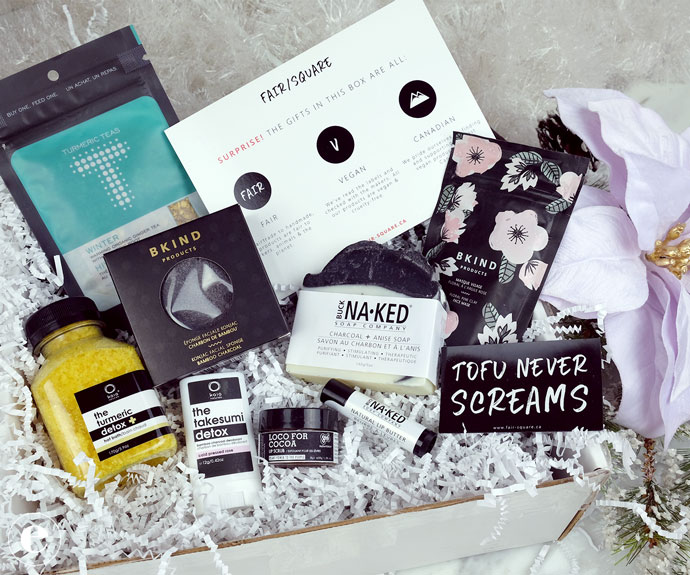 FAIR/SQUARE vegan gift boxes are hand-picked to feature some of the amazing products they feature in their online vegan shop.
They have an assortment of vegan gift boxes to choose from like a box of vegan chocolates for the one that likes to indulge, a box for new vegan moms and babies, and a box of relaxing skincare and personal care products for the wellness vegan queen.
FAIR/SQUARE Vegan Gift Boxes

For my first time trying out FAIR/SQUARE, I received their Detox & Renew Vegan Gift Box.
It came in a white parcel box with some white shredded paper filler to keep all the products nicely secured while in transit.
The Detox & Renew gift box cost $90, without a card or $95 with a greeting card that you can customize with a handwritten message.
Inside the box contained 9 items in total: 7 personal care products, 1 magnet, and 1 bag of loose leaf tea blend.
As stated earlier, all the products in each of FAIR/SQUARE gift boxes are cruelty-free (not tested on animals), vegan (no animal ingredients), fair (responsibly made), and all made in Canada!
There's also an option to swap out certain products by request.
Let's get into what was included in FAIR/SQUARE's Detox & Renew Vegan Gift Box!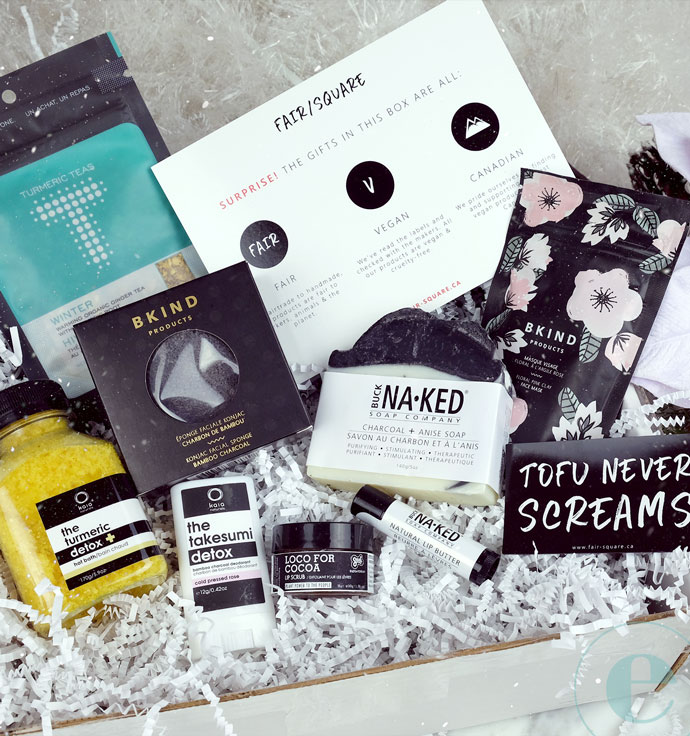 FAIR/SQUARE Detox & Renew Vegan Gift Box

I didn't get the chance to try out every single product in this box (there was a lot!), so this post isn't going to be a review of each individual product or their performance but rather, I wanted to focus on the overall FAIR/SQUARE gift box instead and their selection of items.

This Vegan Gift Box is described to be for "all the essentials to help your body detox and renew", which is why it's called the Detox & Renew box. It claims to contain a selection of their best-selling beauty and wellness products.

So.. What's inside??

Fizzy Bath Salt, The Turmeric Detox | Kaia Naturals ($15)

Mini Deodorant, The Takesumi Detox | Kaia Naturals ($10)

Lip Scrub, Loco for Cocoa | Sudsatorium ($10)

Charcoal Soap Bar | Buck Naked ($4)

Lip Butter | Buck Naked ($4)

Konjac Facial Sponge, Bamboo Charcoal | BKIND ($10)

Face Mask, Pink Clay | BKIND ($16)
Organic Ginger Tea, Winter | Turmeric Teas ($8)

Tofu Never Screams Magnet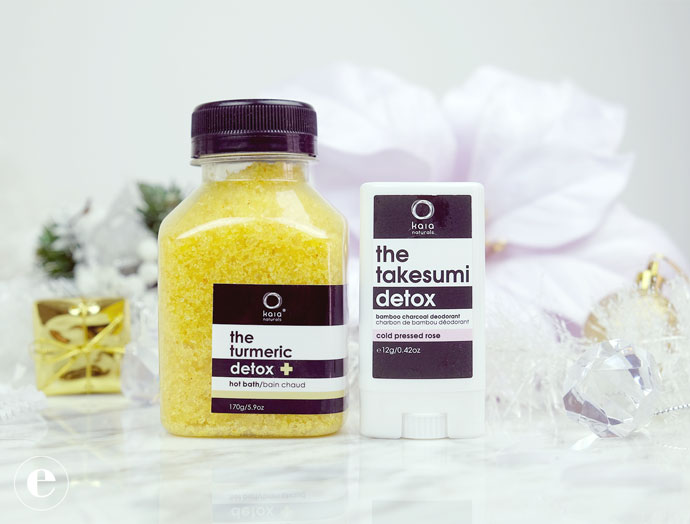 Kaia Naturals is a Toronto-based natural and cruelty-free beauty brand. I've heard great things about their detox, natural, and vegan formula deodorants! The one included in the FAIR/SQUARE box is a mini size deodorant, perfect for traveling.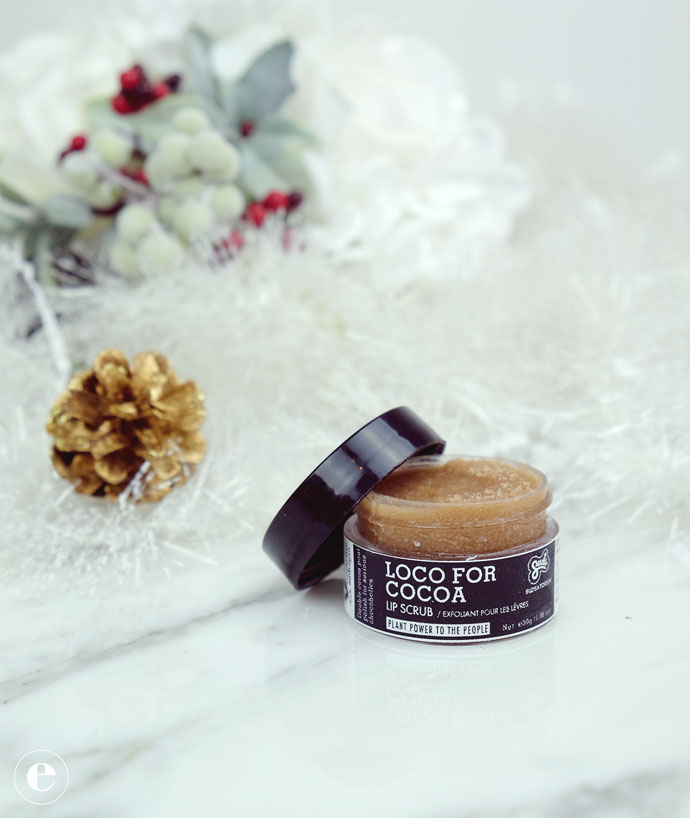 Sudsatorium is a Toronto-based organic, vegan, and fair-trade beauty brand. I've seen their products on Etsy before and have been meaning to try some of their vegan shampoo and body washes! But I'm excited to get my first taste of this brand with their vegan lip scrub that I got from this FAIR/SQUARE gift box!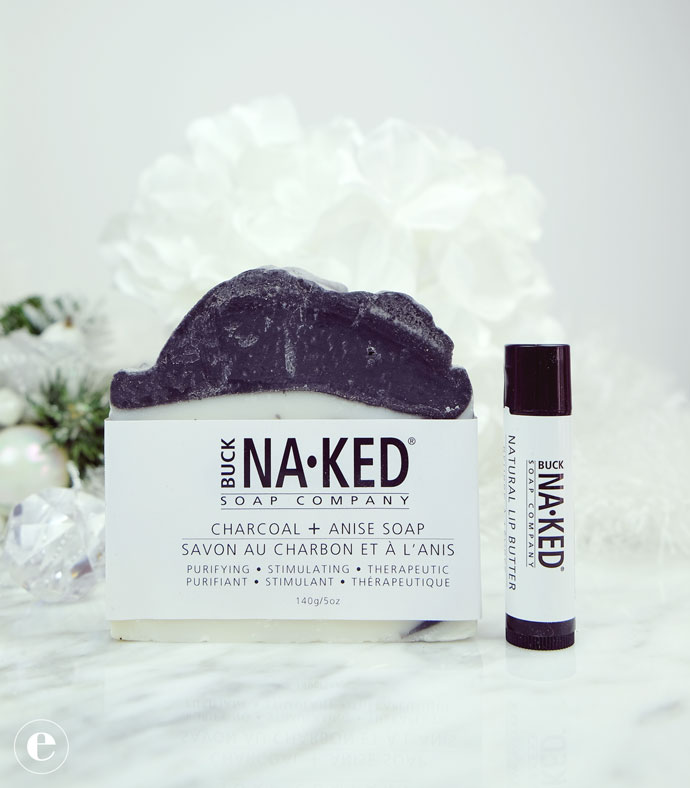 Buck Naked is based in Cambridge, Ontario and all their bath and body care products are cruelty-free, vegan, and chemical-free. A charcoal soap bar is a great pick and very appropriate for a detox box!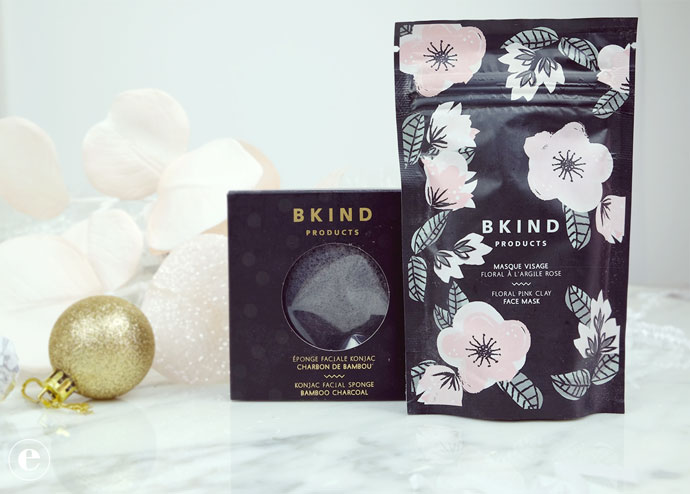 BKIND is based in Montreal, Canada, and all their skincare products are cruelty-free, plant-based, vegan, and natural. I've been following BKIND on Instagram for a while now, they have the prettiest packaging. I'm excited to finally try out their vegan products, like their charcoal konjac sponge and floral pink clay mask, that were included inside FAIR/SQUARE's gift box.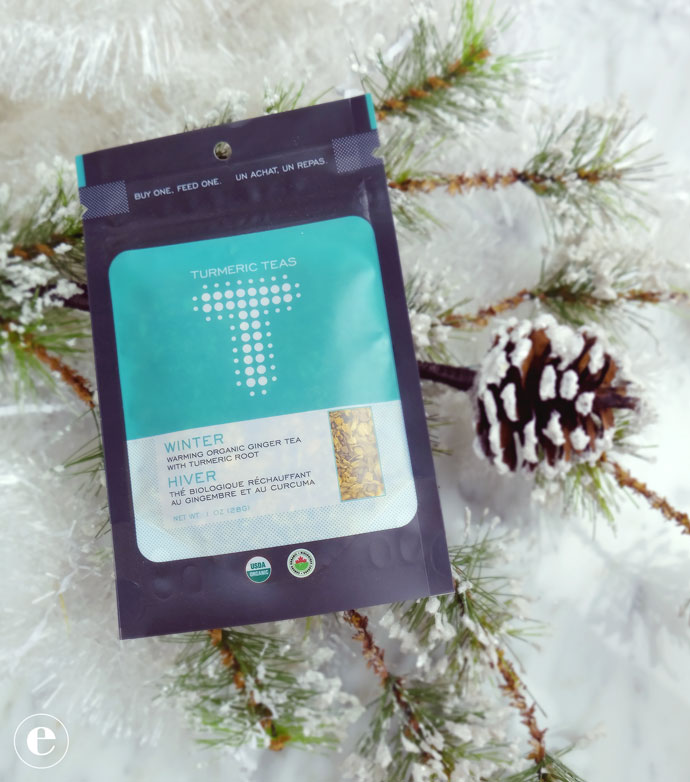 All of Turmeric Teas are certified organic and designed to help you enjoy the healing benefits of turmeric without tasting like medicine. Turmeric Teas are blended and packed by hand in Toronto.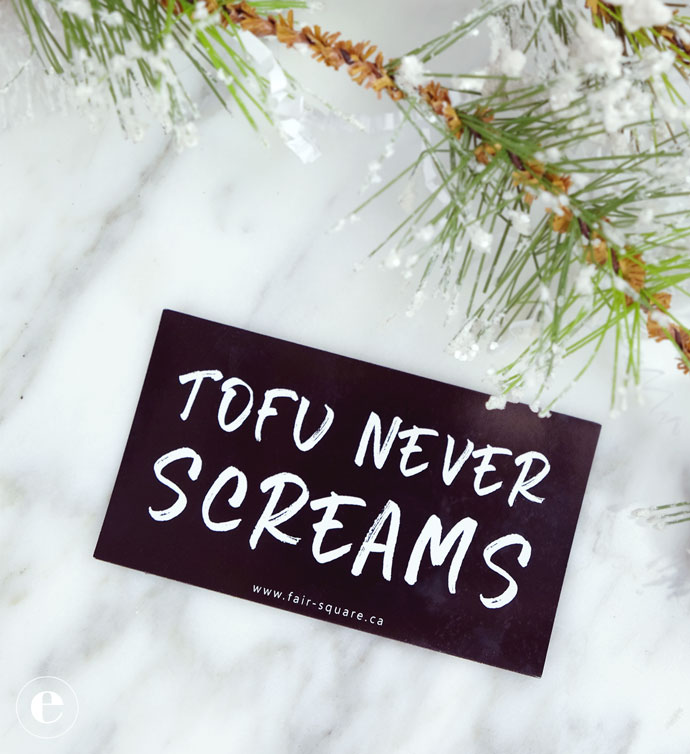 FAIR/SQUARE also sells vegan apparel on their website and one of their designs is this clever catchphrase, Tofu Never Screams. This is that same design but printed on a magnet, that is now proudly displayed on my fridge!

If you've gotten this far, you can see for yourself just how much awesome vegan goodies were included in this gift box!
This would definitely make for a perfect gift this holiday season. I can think of so many family and friends that would absolutely love receiving this box.
I know so many of us that want to make the switch to more natural, organic, and vegan products but just don't know where to start and would truly appreciate this gift to help them start the new year with a detoxed and renewed perspective!