This post may contain affiliate links that at no additional cost to you, I may earn a small commission.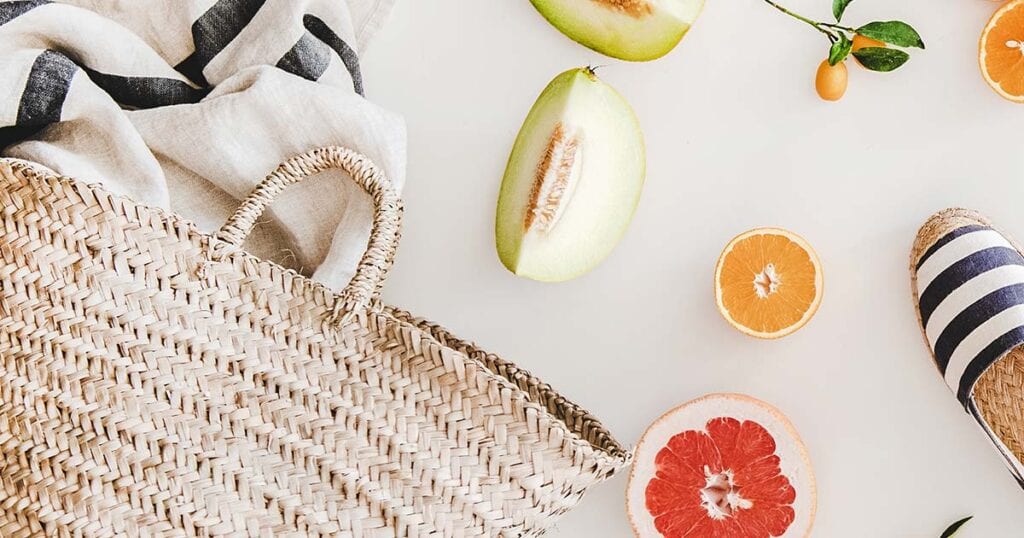 I hope you're all safely enjoying the sunshine this Summer! Whether you're relaxing on the beach (while keeping 6 feet apart, of course) or going for an evening stroll or catching the sunset, you'll need a handbag to carry all of your summer time essentials like your hand sanitizer, masks, cruelty-free sunscreens, and reusable water bottle.
So I've rounded up a few of my favorite eco-chic and stylish vegan summer and beach bags to accompany you while we get through this summer together safely.
I'm a huge fan of straw and rattan bags for the summer but noticed most of them contain leather straps or accents, sadly, making them not vegan.
All of the vegan summer bags mentioned in this list are made from animal-free and 100% vegan materials, meaning no animal leather or any other animal materials are used in the making of these gorgeous handbags.
I've also included a bunch of vegan bags made from environmentally-conscious materials like bamboo and recycled materials.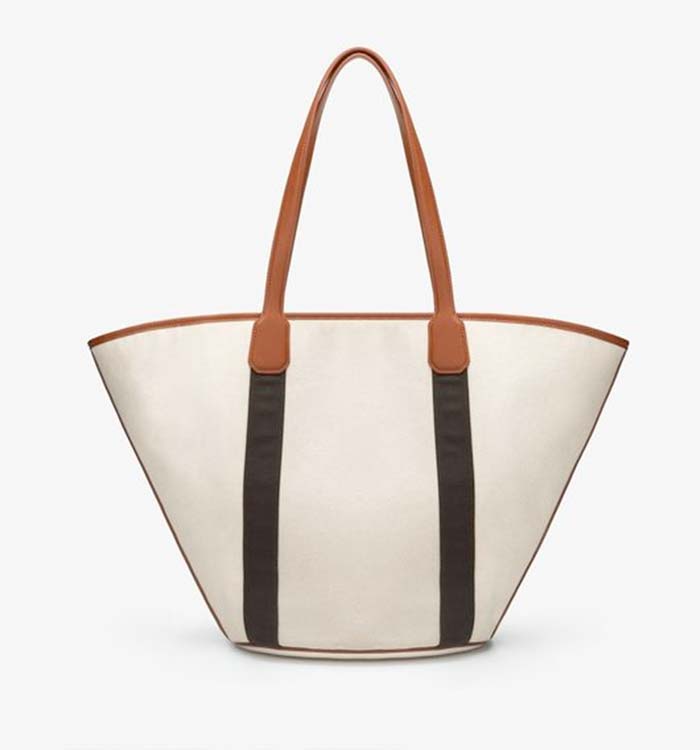 Large Vegan Beach Tote Bag by JW PEI ($70, On Sale $60!) – This is the perfect large but lightweight tote bag to pack and carry all of your beach or pool essentials. Made with canvas and premium ultra-microfiber Vegan leather.
---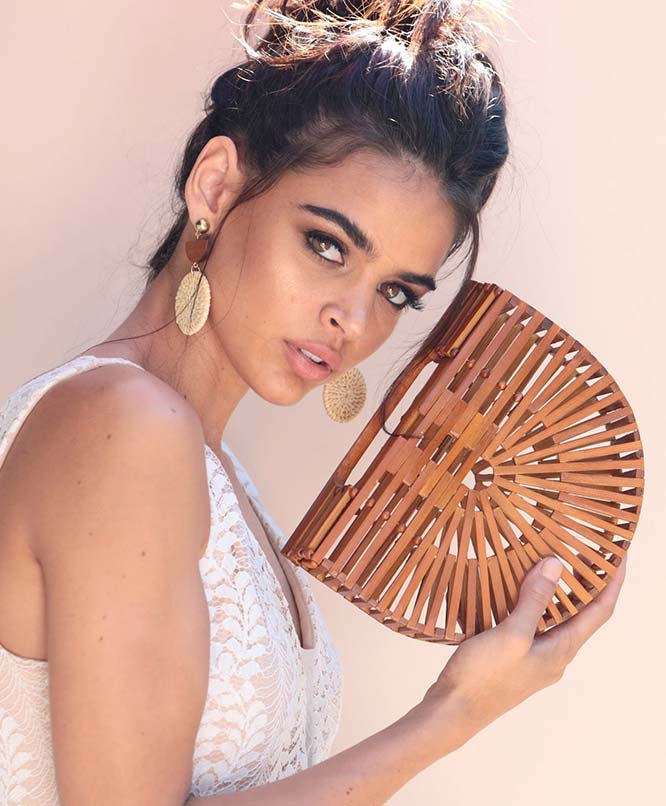 Bamboo Clutch by Amerii ($75, On Sale $55!) – "Showcasing classic Balinese style, this carefully handcrafted piece supports artisans in Bali and is made of nothing but eco-friendly bamboo."
---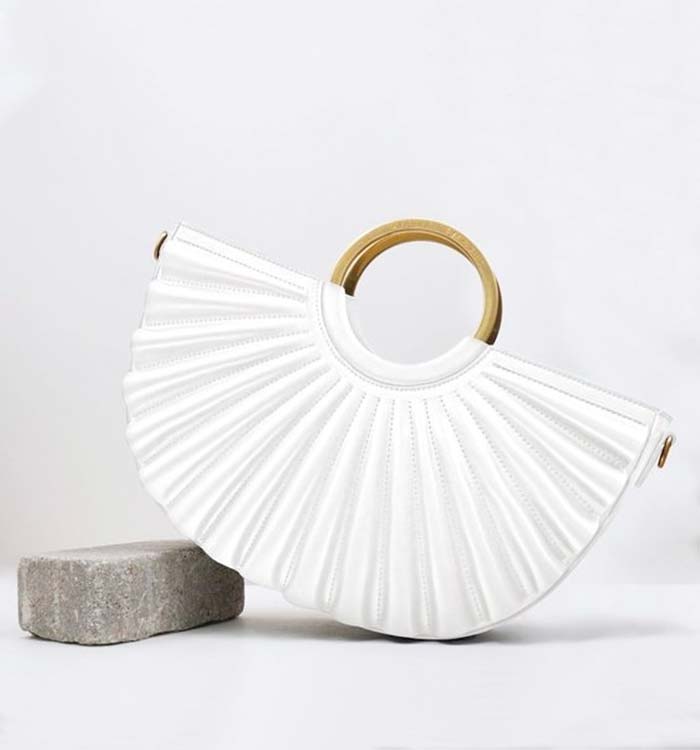 Water Moon Vegan Satchel by Alkeme Atelier ($198) – This bag reminds me of a modern-day mermaid seashell bag! "Made in an innovative Vegan Leather, exclusive to ALKEME ATELIER. The material is lightweight, scratch resistant and high in strength. We produce this bag in a factory that is ISO 9001 certified." Lining made from 100% recycled plastic bottles.
---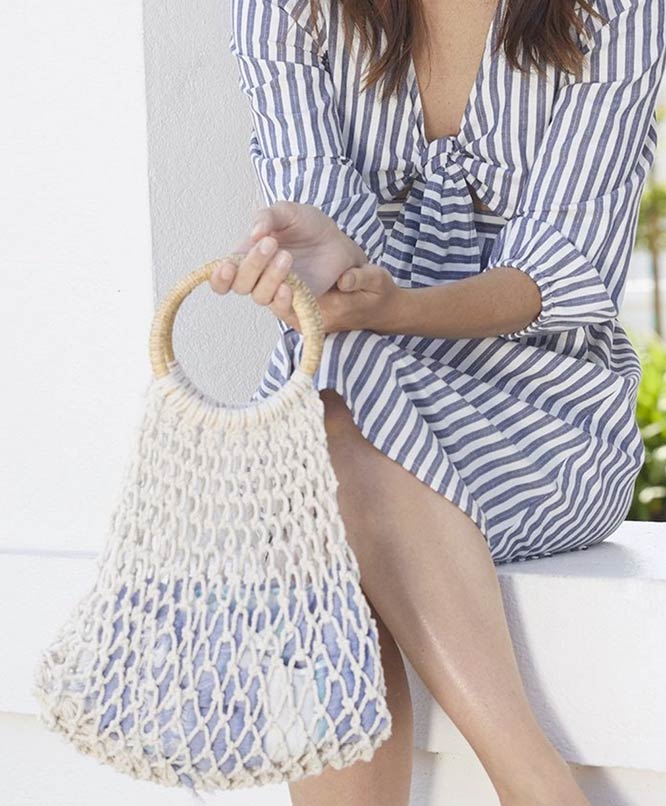 Chic Cotton Bag by Kayu ($145, On Sale $40!) – "The Amara is made of cotton rope and has round rattan handles. Pairs perfectly with all of your summer outfits."
---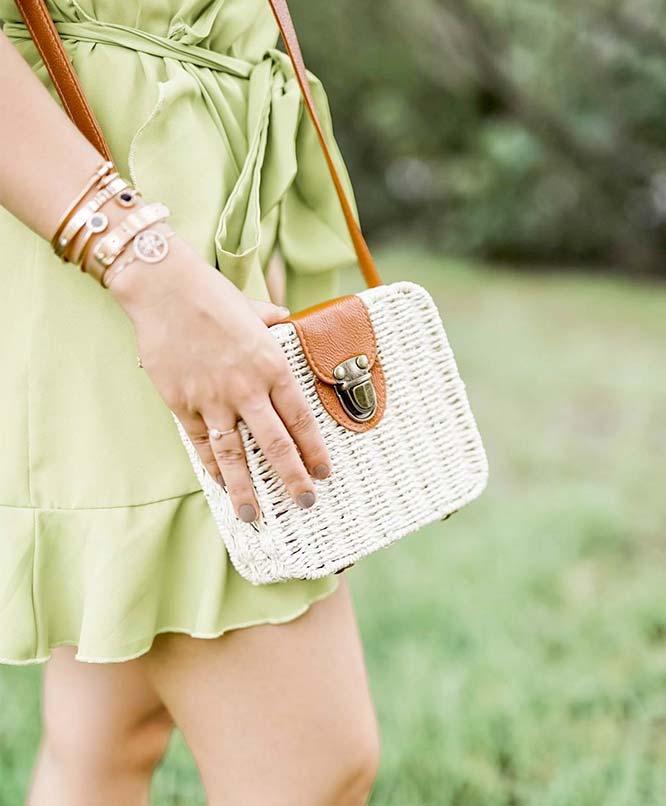 Square Rattan Vegan Leather Bag by MadebyKARMAS ($25) – Available in more colors. An eco-chic mini square rattan bag to fit your summer essentials, handmade with rattan, straw, bamboo, and vegan leather.
---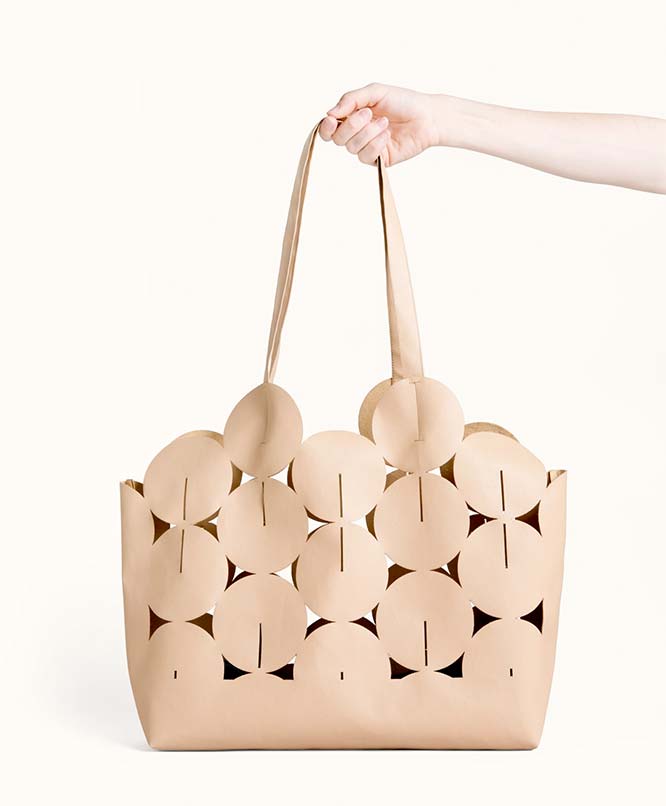 Vegan Leather Tote Bag by Lee Coren ($110) – "The Ciclo tote invites you to embrace flimsiness; featuring our original Italy-inspired Ciclo print in the form of cutouts, it's our modern take on basket bags. The Ciclo bag is a spacious tote, unlined, ultra light yet durable. Arrives with a detachable wristlet pouch for all your smaller essentials. The result: the most fun you can squeeze into a sun-loving tote!"
---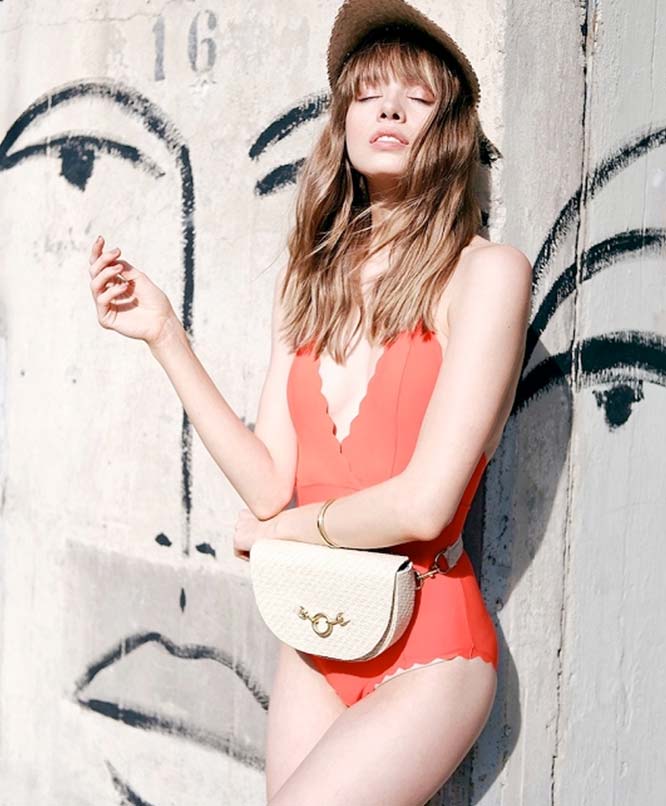 Convertible Belt and Crossbody Bag by HFS Collective ($198) – "With glimmering gold accents and top flap magnetic closure, our half-moon bag opens to reveal an interior of soft, luxurious eco-suede (made from recycled plastic bottles) and organic cotton complete with a zippered pocket for your cards and cash. Comes with cross body strap made from premium eco-suede (made from recycled plastic bottles) which can be removed to wear as a clutch. Also converts to belt bag by slipping belt through the back. Matching belt is not included and must be purchased separately as an add on. Handcrafted locally and sustainably in Los Angeles."
---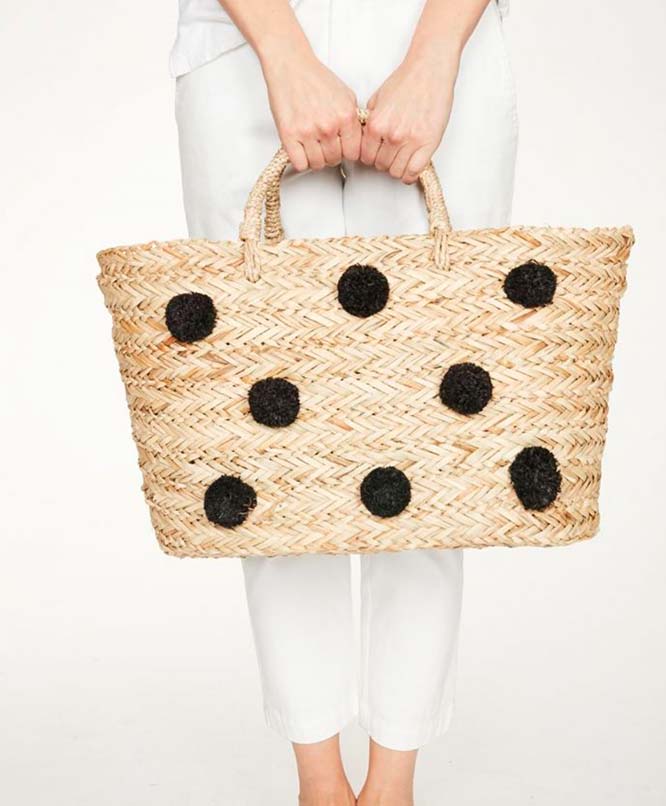 Eco Straw Beach Bag by Thought (£50) – "Introducing a new and exclusive summer accessory, our oversized straw basket bag, large enough for packing all the essentials. Features fun straw pom poms, bring it with you to the beach or even use it as a laundry basket."
---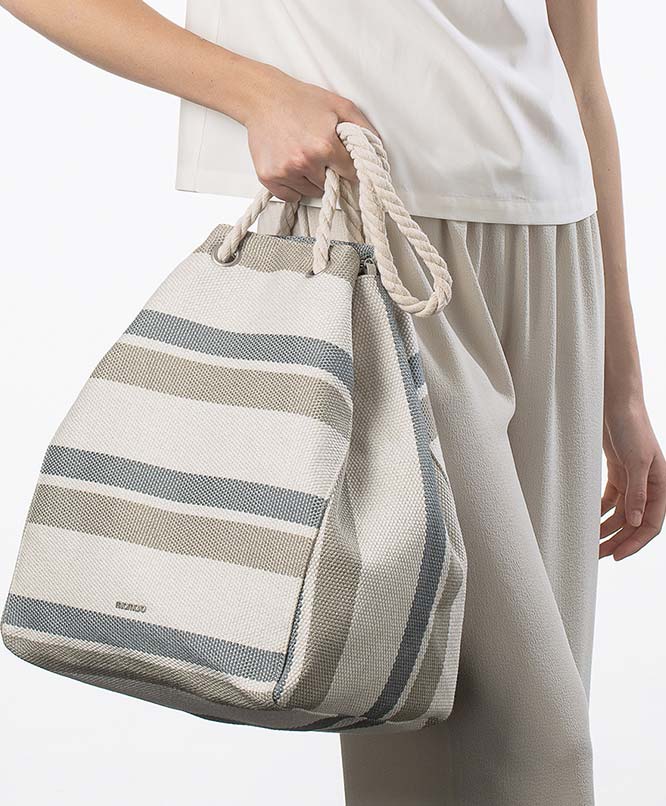 Large Vegan Beach Bag by Miomojo (€50) – "The Essential summer bag in this effortlessly chic cream stripes is perfect for your beach days or your summer in the city. Fully lined with our signature coated R-PET Fabric, made 100% from recycled bottles, it easily fits all your belongings and your beach essentials."
---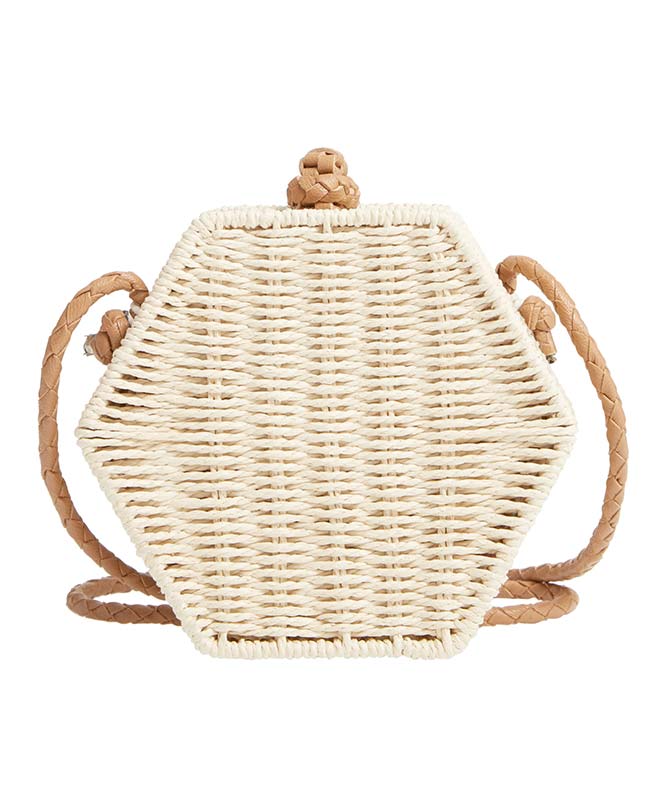 Woven Vegan Crossbody Bag by Mali + Lili ($58) – "A compact hexagonal bag made from paper straw features a braided strap, a woven vegan-leather closure and a pretty flower-lined interior."
---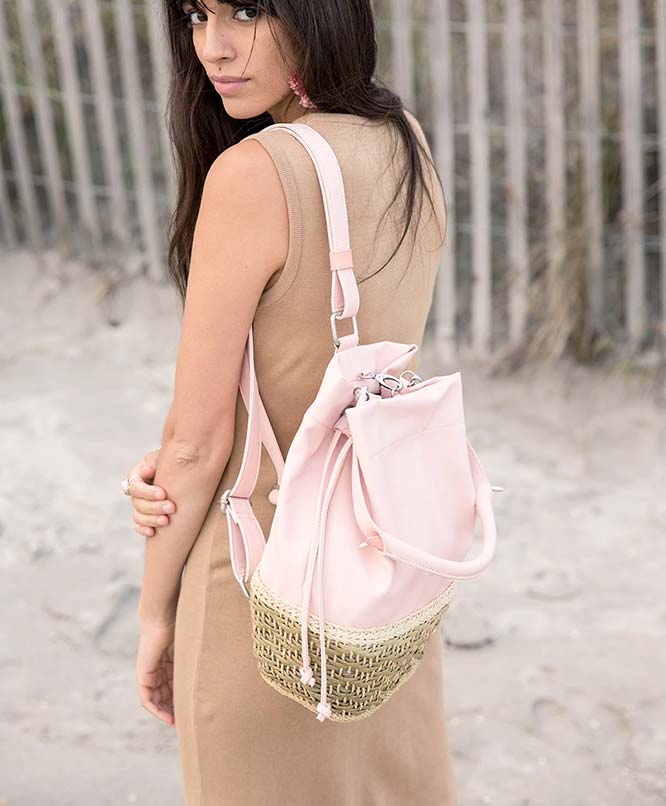 Convertible Straw Vegan Shoulder Bag & Backpack by Veggani ($155, On Sale $77.50!) – Made with premium vegan leather with hand-weaved palm straw. Fully lined with Artist Illustrated fabric made from 100% recycled materials including plastic bottles. 10% of profits donated to help repair a school in Northern Laos.
---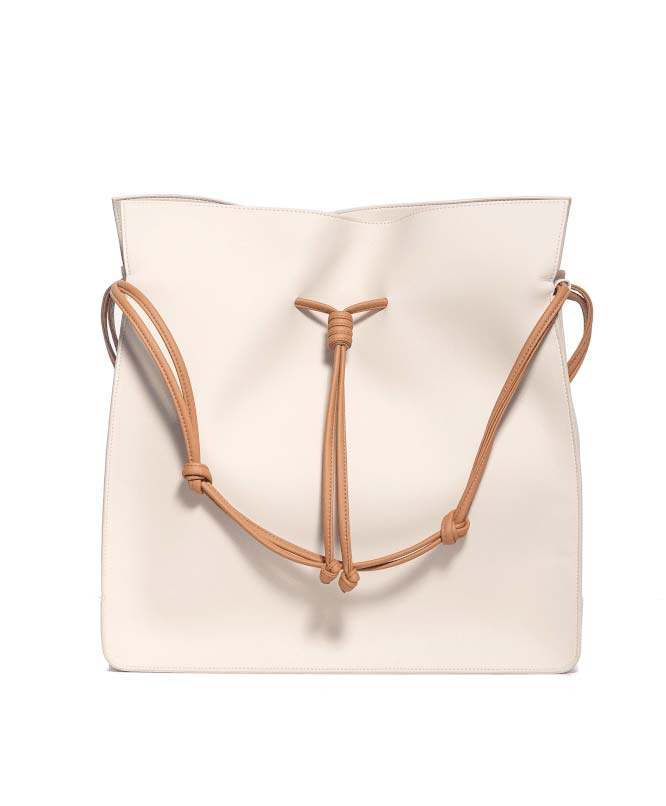 The Large Shopper Bag by von Holzhausen ($450) – "The Shopper is made with Technik-Leather, a 100% vegan and sustainable performance fabric that's durable and easy to clean. The Shopper can be worn as a shoulder bag or as a crossbody by pulling the straps to elongate them. It has ultra light-weight construction. The closure is an invisible magnet. The interior is lined with soft microfiber made from 100% recycled plastic water bottles. The interior has two open pockets and one zipper pocket."
---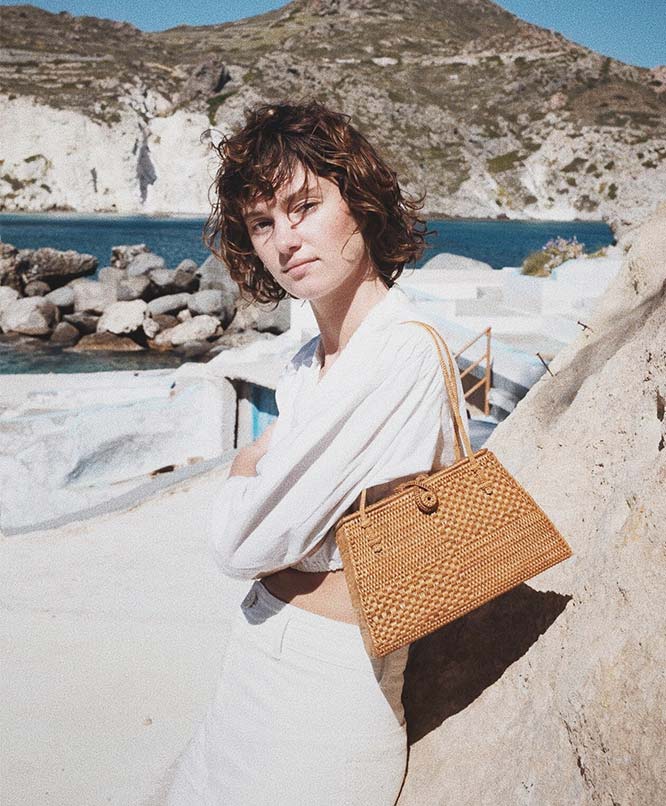 Rattan Shoulder Bag by Bembien ($195) – Made with handwoven rattan. "A modern, trapezoidal shape meets nostalgic rattan in the Perla. The architectural shape adds interest to the simplest of outfits. Pair it with bohemian ruffles for a chic contrast."
---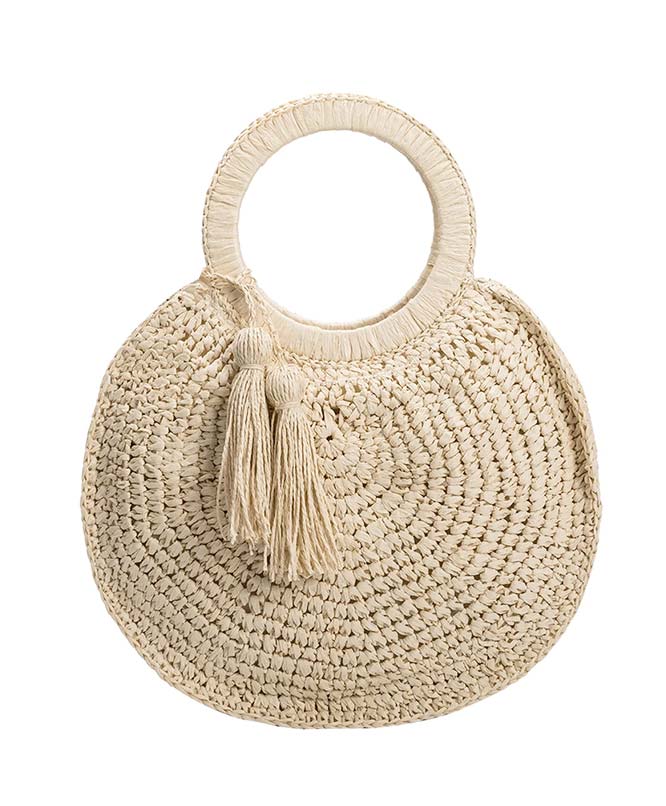 Straw Tote Bag by Melie Bianco ($125, On Sale $97!) – "The Cannes straw tote is a bag that is ready for those warm sunny days we dream of year-round. Adorned with two straw tassels, this beachy inspired tote is large enough to fit a wallet, sunglasses, a tablet, and a reusable water bottle. Handwoven by skilled artisans. Fully lined with an interior slip pocket."
---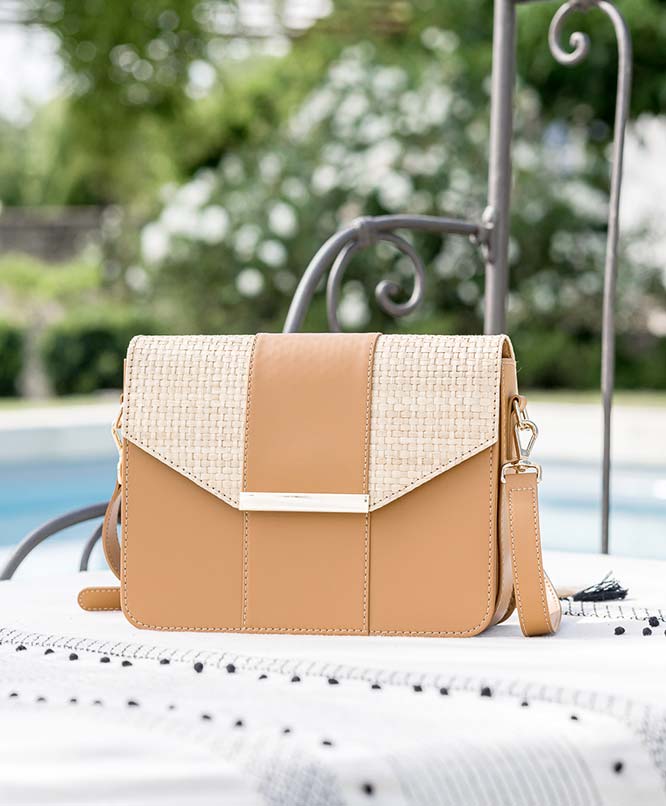 Straw & Vegan Leather Crossbody Bag by Minuit Sur Terre (€150) – "Interplay of materials, golden rectangular clasp: you probably recognized it! Our signature bag comes back this year in an improved version, even more qualitative. The construction has been modified so that it is more rigid while keeping a flexible central compartment to adjust to its contents. Still hand-made in ecofriendly materials in our traditional Portuguese workshops."