This post may contain affiliate links.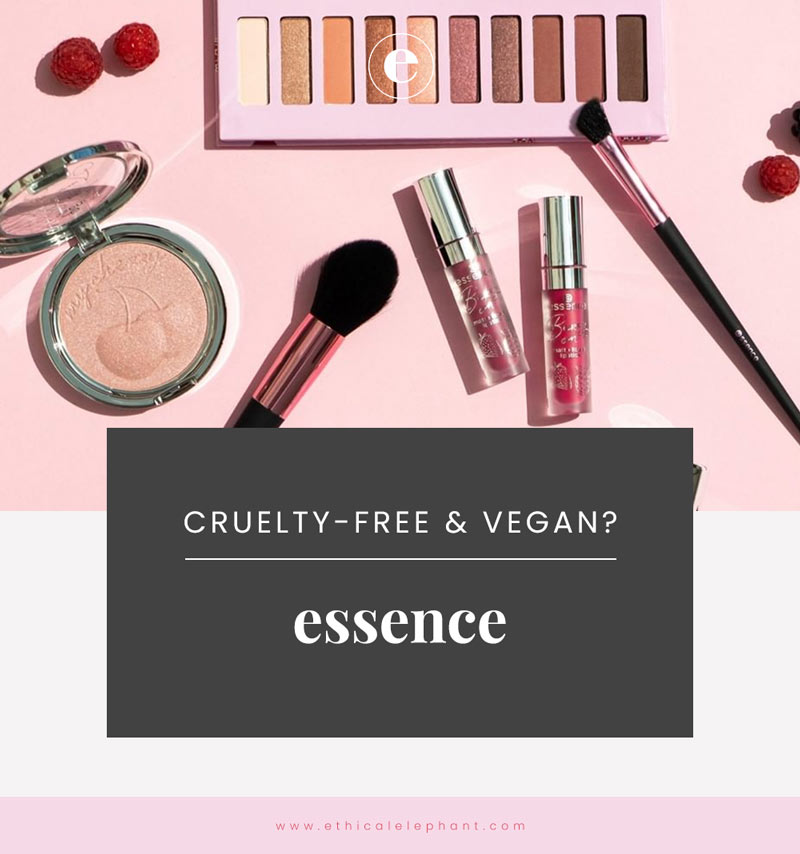 Essence is Europe's #1 cosmetic brand offering fun, high-quality makeup products at an affordable price. But first I wanted to know, is Essence cruelty-free?
Is Essence Cruelty-Free?
Essence is cruelty-free! Essence does not test any of their products or ingredients on animals, anywhere in the world.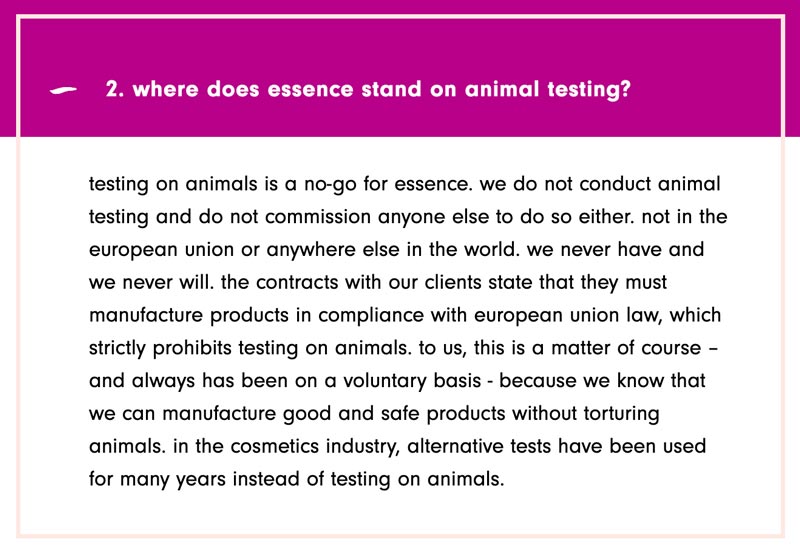 On essence's website, they have a very impressive and thorough statement of their animal testing policy that also includes a comprehensive list of FAQs regarding their cruelty-free status.
I love it when a cruelty-free brand is so open and transparent about their animal testing policy like essence has done with their informative website!
We are happy to add essence to our list of cruelty-free brands!
Is Essence Vegan?
Not all of Essence makeup products are suitable for vegans as some contain beeswax, carmine, and/or other animal products however Essence does offer some vegan products that do not contain animal-derived ingredients or by-products.

Please reference below for a list of Essence vegan products.
Essence Vegan Product List (2019)
Below is a list of essence makeup that are considered vegan and do not contain any animal-derived ingredients:
Face – Essence Vegan
Eyes – Essence Vegan
brow marker
Hello New York eyeshadow palette
holo wow! prisma jumbo eye pencil
Lips – Essence Vegan
Nails – Essence Vegan
strong & clean nail polish remover
the gel nail polish, the following colors are vegan:

01 clear
05 sweet as candy
16 fame fatal
40 play with my mint
47 va-va-voom
53 rock my world!
72 plump power
75 perfect match
80 jeans on
81 so what?
82 my hula hoop
89 hi, pink panther!

90 hot red chili
95 vibrant purple
100 miracle stone
103 midnight sky
105 lagoona beach
112 flamingold
This vegan product list is updated as frequently as possible, please be aware that formulations may have changed since the publication of this post. If you have new information to suggest one of the above products isn't vegan, please email me at info@ethicalelephant.com to let me know.
Not Vegan – Essence
The following Essence products contain animal-derived ingredients or by-products and therefore are not suitable for vegans:
#lashes of the day super volume mascara (contains beeswax) – not vegan
camouflage + healthy glow concealer (contains beeswax) – not vegan
camouflage + matt concealer (contains beeswax) – not vegan
colour boost mad about matte liquid lipstick (contains beeswax) – not vegan
extreme lasting eye pencil – not vegan
eye flirt party look eyeshadow palette (contains carmine) – not vegan
eye got this rock look eyeshadow palette (contains carmine) – not vegan
eyebrow designer – not vegan
eyeliner pen waterproof – not vegan
fresh & fit awake make up (contains beeswax) – not vegan
fresh & fit awake primer (contains beeswax) – not vegan
get BIG! lashes volume boost mascara (contains beeswax) – not vegan
get BIG! lashes volume waterproof mascara (contains beeswax) – not vegan
i love extreme crazy volume mascara (contains beeswax) – not vegan
i love extreme volume mascara waterproof (contains beeswax) – not vegan
i love stage eyeshadow base (contains beeswax) – not vegan
kajal pencil – not vegan
lash princess false lash effect mascara waterproof (contains beeswax) – not vegan
lash princess false lash mascara (contains beeswax) – not vegan
lash princess sculpted volume mascara (contains beeswax) – not vegan
lash princess volume mascara (contains beeswax) – not vegan
mosaic blush (contains carmine) – not vegan
volume stylist 18h curl & hold mascara (contains beeswax) – not vegan
Salut Paris eyeshadow palette (contains carmine) – not vegan
spice up your life eyeshadow palette (contains carmine) – not vegan
super precise eyeliner – not vegan
superlast eyeliner deep black – not vegan
superlast eyeliner matte black – not vegan
superlast eyeliner waterproof – not vegan
you better work! length definition mascara (contains beeswax) – not vegan
you better work! volume & curl mascara (contains beeswax) – not vegan