This post may contain affiliate links that at no additional cost to you, I may earn a small commission.
Erborian is a Korean skincare, makeup, and cosmetics brand but is Erborian cruelty-free & vegan in 2022? We've got the answers here!
Is Erborian Cruelty-Free?
Erborian is Cruelty-free! None of Erborian's ingredients, formulations, or finished products are tested on animals, anywhere in the world.

However, it should be noted that Erborian is owned by L'Occitane, a parent corporation that does test on animals when required by law.
Erborian Animal Testing Policy
Erborian has confirmed they do not test their products or ingredients on animals, they do not allow others to test on their behalf, their suppliers also do not test on animals, they do not allow their products to be tested on animals when required by law, and their products are not sold in stores in mainland China or any other country that may require animal testing.
Below is a screenshot of Erborian's official animal testing statement: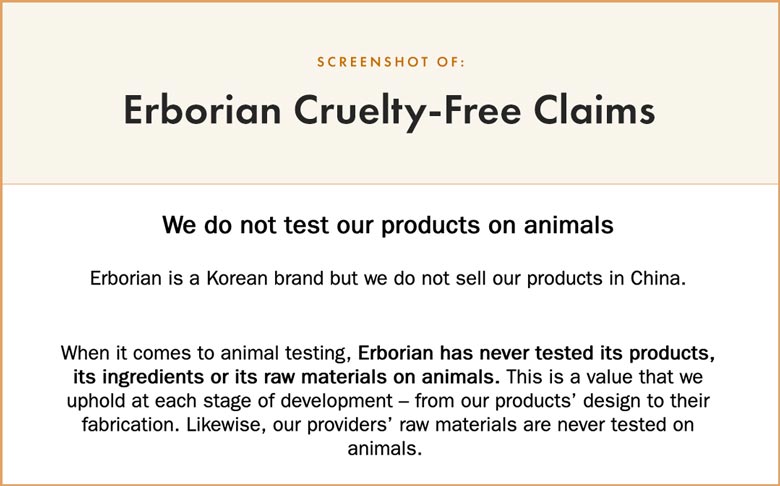 Is Erborian Sold in China?
All imported cosmetics sold in mainland China are required by law to be tested on animals. However, Erborian has confirmed they do not sell their products in retail stores in mainland China and therefore they are not required to test on animals.
Erborian Acquired by L'Occitane
In 2012, Erborian was acquired by, L'Occitane a corporation that does test on animals when required by law.
Although Erborian is owned by L'Occitane, the brand has remained committed to being a cruelty-free brand.
Erborian has met all of our criteria in our Cruelty-Free Checklist.
Is Erborian Vegan?
Not all of Erborian's products are vegan as some of their products contain honey and bee by-products.
The following is a screenshot of what's currently stated on 's official website about its vegan products: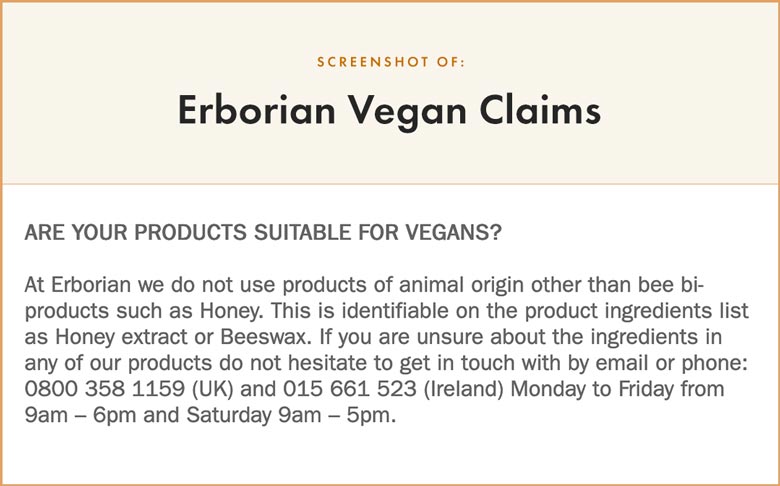 Erborian claims bee by-products is the only non-vegan ingredient they use in their products, but when I asked if they had a list of their vegan product options, they were unable to provide me with one.
I also don't see any their products with a vegan label or description. So, at this time, I don't believe Erborian has any vegan options.
Erborian is considered cruelty-free and doesn't test on animals, however, since Erborian does not claim to currently offer any vegan cosmetics, Erborian is not included on our List of Cruelty-Free & Vegan Brands.
In order for brands to be included in our Cruelty-Free List, they must be cruelty-free and offer some vegan products.
---
I hope this article helped you to understand Erborian's cruelty-free and vegan status and by choosing cruelty-free together, we can help end animal testing for cosmetics once and for all!