This post may contain affiliate links that at no additional cost to you, I may earn a small commission.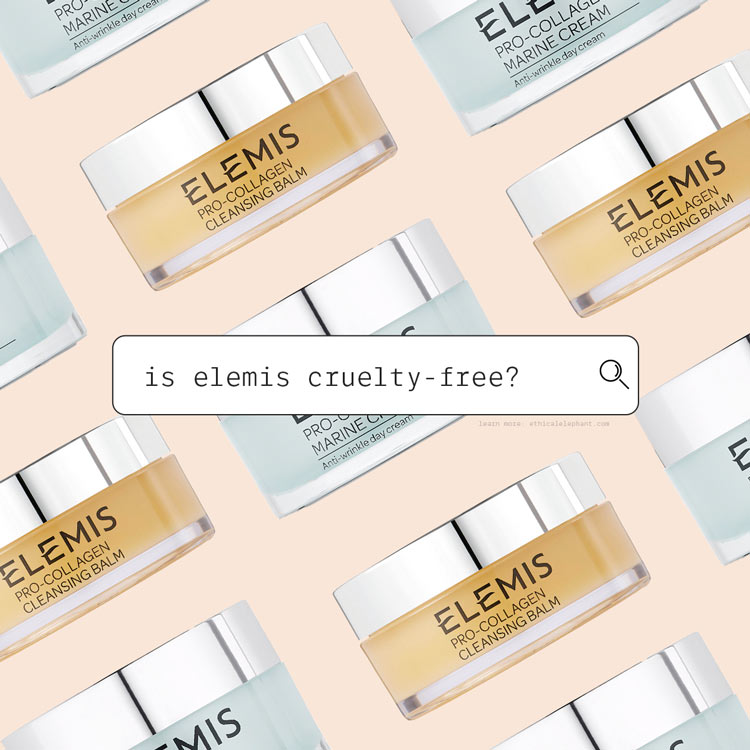 ELEMIS is a British luxury spa and skincare brand specializing in anti-aging products but is ELEMIS cruelty-free or vegan?
Is ELEMIS Cruelty-Free?
ELEMIS is NOT Cruelty-free. ELEMIS is now selling its products in stores in mainland China where animal testing is mandatory for most imported cosmetics. As a result, the brand pays and allows its products to be tested on animals when required by law.

In addition, ELEMIS is owned by L'Occitane, a parent company that is also not cruelty-free.
Changes to ELEMIS' Cruelty-Free Policy
In 2019, ELEMIS stated on their website that "ELEMIS do not test on animals and does not use animal bi-products apart from honey, beeswax, and milk proteins." Below is a screenshot I took from ELEMIS' website on February 20, 2019.

Additionally, in an email response back in 2019, ELEMIS confirmed to me that they do not test their products or ingredients on animals, they do not allow others to test on their behalf, their suppliers also do not test on animals, and their products are not sold in stores in mainland China or any other country that may require animal testing by law.
Below is part of the response I received from ELEMIS in 2019:
"Elemis Ltd has always been against animal testing. Elemis has never and will never test on animals. Nor has Elemis ordered such tests by any third parties.

Elemis specializes in natural caring ingredients of the highest quality and safety. All finished products have been extensively tested over time, on our own staff, human volunteers and or by non-animal laboratory trials.

The European Cosmetic Directive banned all animal testing of finished products from September 2004 and ingredients used within products from March 2009. They enforce this directive and dictate what is safe and what's not. Elemis strongly supports this position and will do everything possible to keep driving non-animal testing alternatives and always approach development in an ethical manner.

We do not use slaughterhouse waste in any of our products. None of our perfumes contain animal extracts and we do not use whale or blubber oils. We do make use of honey, beeswax, milk, milk whey and eggs.

We continue to work alongside partners and suppliers who share our beliefs and who approach their day-to-day operations in an ethical manner, purchasing accordingly.

Elemis wishes to contribute to your well-being by promoting safe, high-quality spa and skincare products, with ease of mind and conscience."
ELEMIS Acquired by L'Occitane
In 2019, ELEMIS was also acquired by L'Occitane, a corporation that does test on animals when required by law.
During some time in 2020, ELEMIS had changed and added a comprehensive statement regarding their stance on animal testing and selling in China.
Below is a screenshot I recently took from ELEMIS' website: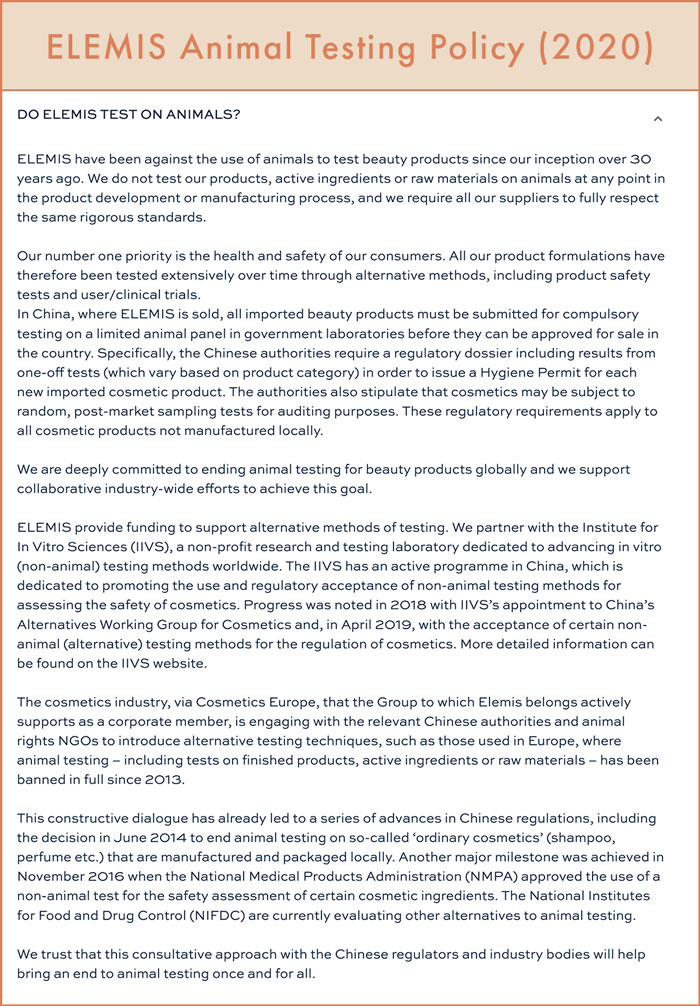 The part of ELEMIS' new animal testing statement that caught my attention was, "In China, where ELEMIS is sold, all imported beauty products must be submitted for compulsory testing on a limited animal panel in government laboratories before they can be approved for sale in the country."
This is news to me that ELEMIS has decided to start selling in China since I last spoke with them in 2019. So, I emailed the brand to ask for an explanation and was told by a representative:
"I can confirm that whilst ELEMIS have been bought by L'Occitane and I completely appreciate your concern, I am delighted to confirm that ELEMIS remain cruelty-free and against animal testing. With this in mind, we do not and will not test any products on animals however, we do make use of ingredients such as honey, beeswax and milk proteins in some of our products.

With regards to shipping to China, this is not something we offer nor do we have a legitimate ELEMIS stockists there."
An ELEMIS representative confirmed that they don't ship to China and they don't have legitimate stockists in China but on their website, it clearly says ELEMIS products are sold in China.
So, Is ELEMIS Sold in China?
Unfortunately, I found new evidence that ELEMIS products are in fact, sold in China now. On Sephora's Chinese website, they are now selling and carrying ELEMIS skincare products.
Below is a screenshot I took from Sephora's Chinese website, clearly showing they sell ELEMIS products: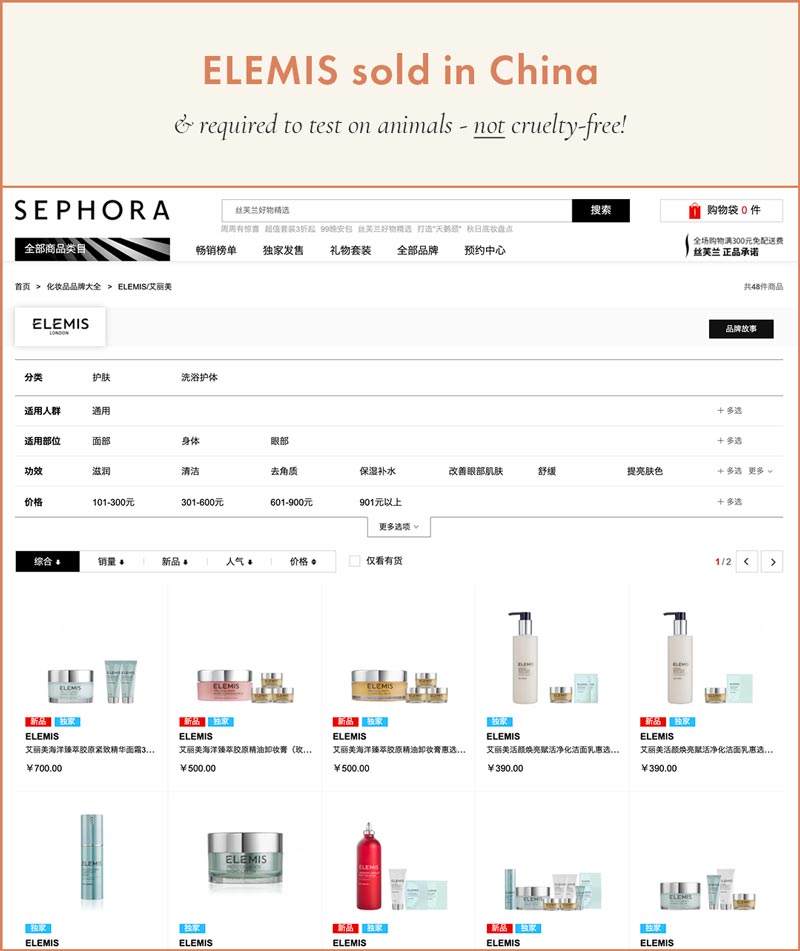 Summary: ELEMIS is NOT Cruelty-Free!
To sum up, by choosing to sell in mainland China, ELEMIS must have their products tested on animals. Therefore I would not consider ELEMIS to be a cruelty-free brand.
Currently, ELEMIS is on our List of Brands to Avoid – Animal Tested.
Is ELEMIS Vegan?
ELEMIS claims most of their products are "Vegan" and don't contain animal-derived ingredients. However we would not consider ELEMIS to be cruelty-free as their products are tested on animals when required by law, so we also wouldn't consider anything sold or manufactured by ELEMIS to be vegan.
In order for products to be considered vegan by ethical elephant's standards, the products and their ingredients must not be tested on animals, anywhere in the world, and also must not contain any animal-derived ingredients or by-products.
Cruelty-Free & Vegan Alternatives to ELEMIS
I recommend trying out the following cruelty-free and vegan-friendly skincare brands alternatives to ELEMIS:
---