This post may contain affiliate links that at no additional cost to you, I may earn a small commission.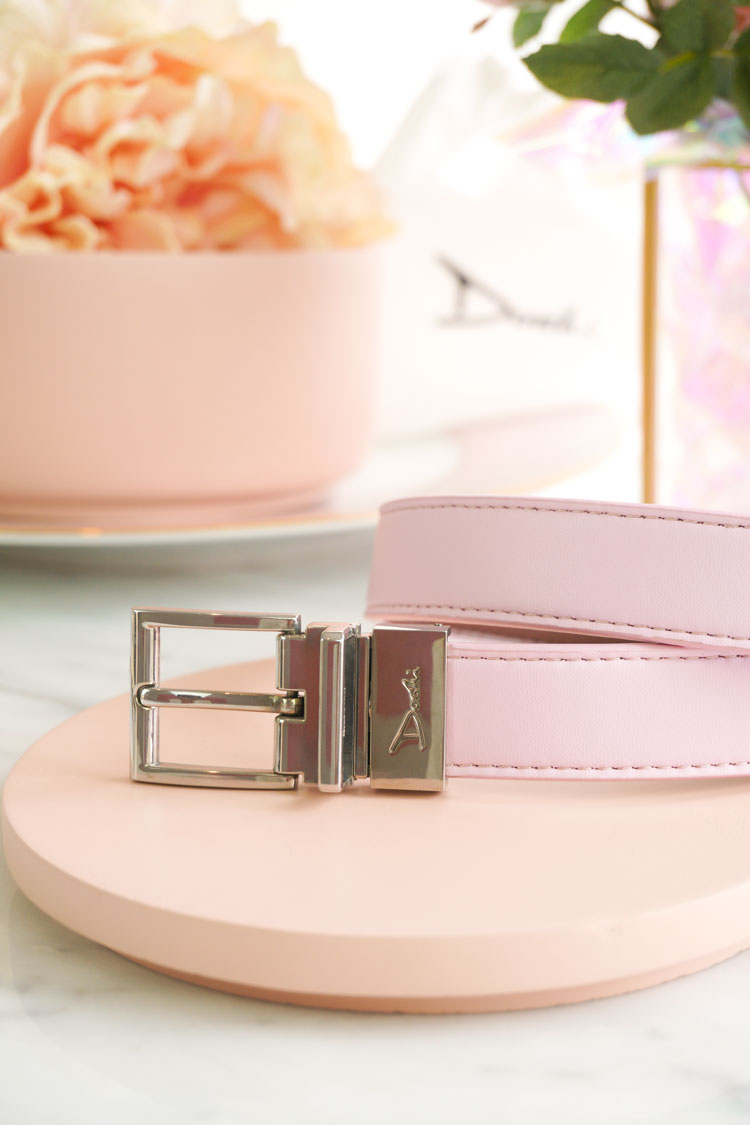 I recently got my hands on a women's vegan belt by Doshi and in this post, I'm sharing more about this vegan fashion brand and a review of the vegan belt they sent me.
About Doshi
Doshi is a US-based vegan fashion brand offering a range of vegan leather handbags, briefcases, backpacks, belts, and accessories for men and women.
All of Doshi's accessories are free of animal materials and ethically made using environmentally conscious processes.
Doshi was founded to provide smart, fashionable and quality vegan products to people who have ethical, religious or environmental beliefs that lead them to seek vegan products.

Doshi FCSA
All-Vegan
Every single product designed and made by Doshi are 100% vegan, meaning no animals had to die or suffer to create a functional and beautiful bag, belt, or accessory. Doshi's handbags and accessories are made using non-leather and synthetic materials, they make an effort to work with factories that purchase recycled-based materials and use minimal chemicals and solvents.
Thoughtfully Produced
Doshi considers every step of the manufacturing process of their vegan products including regularly visiting factories where they manufacture goods to ensure suppliers and factories comply with Doshi's strict environmental, social, and quality standards.
Made-To-Last
Unlike fast fashion brands, Doshi's products are intentionally designed and made with durable materials to last more than a handful of uses. Doshi encourages its customers to use their products often so that what we take from the environment is used to its fullest.
We design our products to be practical and useful, we choose materials and construction methods that are meant to hold up to frequent use, we pay our suppliers for the more difficult work we demand, and we stand behind our goods.

Doshi FCSA
Giving Back
Doshi donates the first 5% of net sales to responsible non-profit organizations benefiting animals, people, and the environment, as part of their program and initiative, First Five For The World.
Doshi Square Reversible Vegan Belts for Women
Currently, Doshi carries two different styles of vegan belts for women. They have a gold ring wide belt and a square reversible belt, both available in multiple colors.
I received Doshi's square reversible vegan belt in pink and brown to try, which is the one photographed and shown in this post.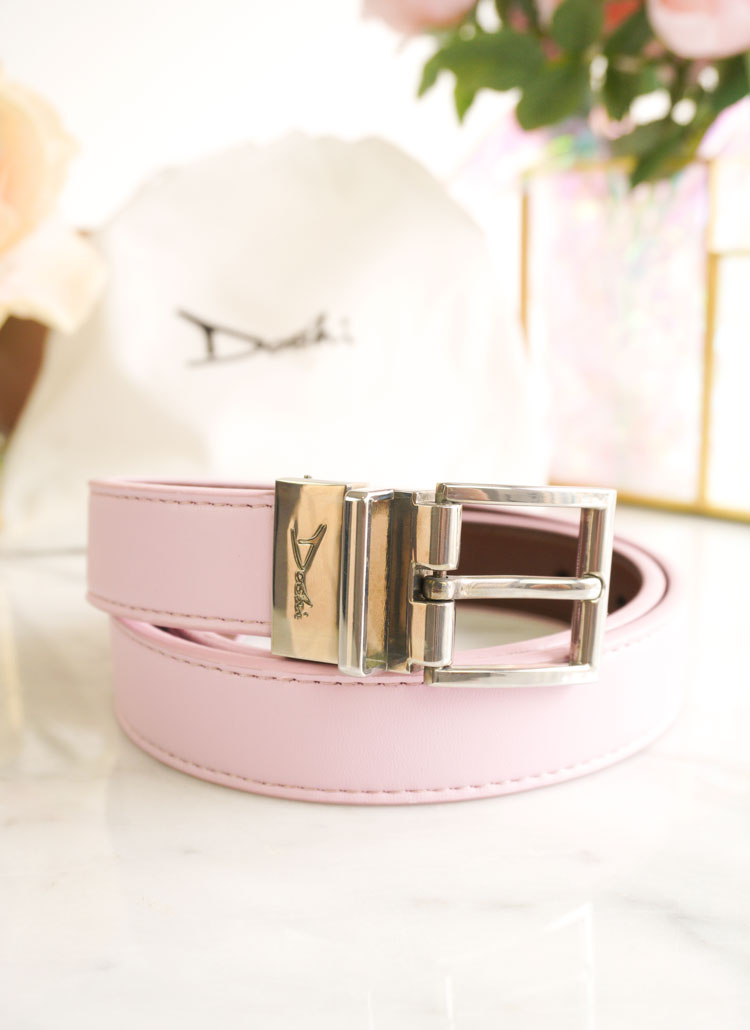 Price: $35 (use coupon code: ETHICALELEPHANT10 to receive 10% off orders $50+)
Color: This is a reversible belt, so one side is light pink and the other side is maroon brown. Attached is a silver buckle. This belt is also available in multiple colors and gold buckle option.
Materials: Made with non-leather and vegan materials. Synthetic. Microfiber PU leather.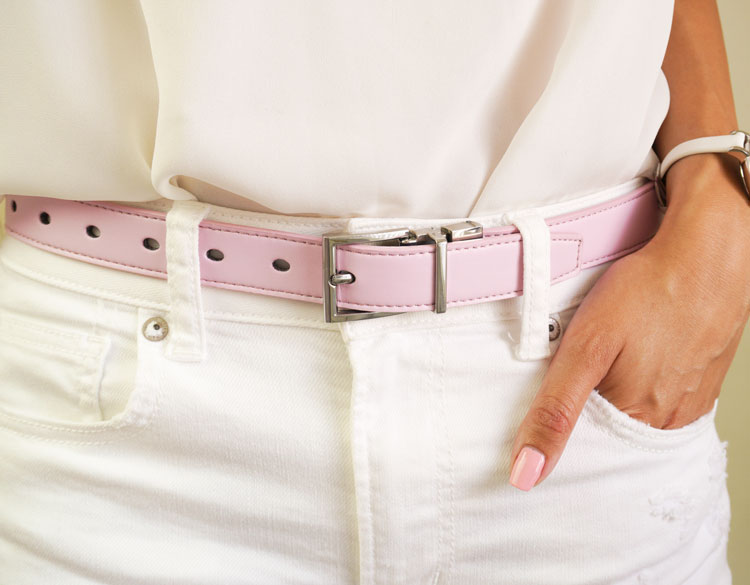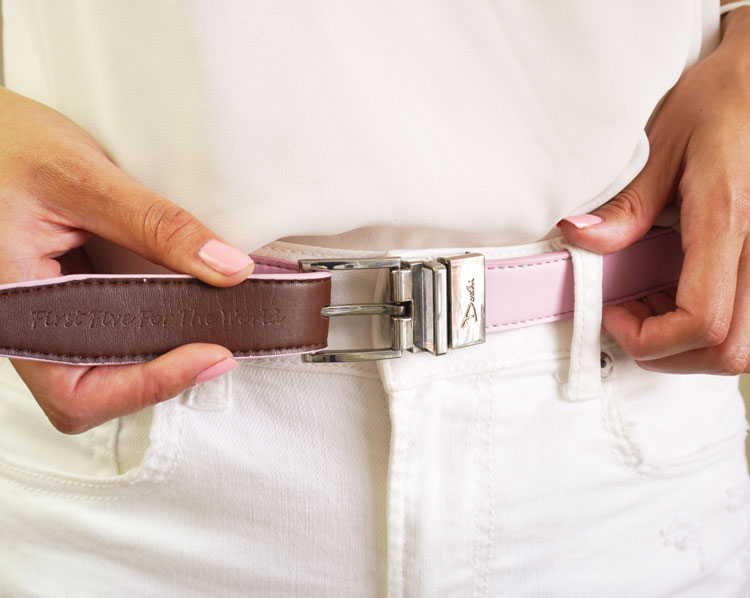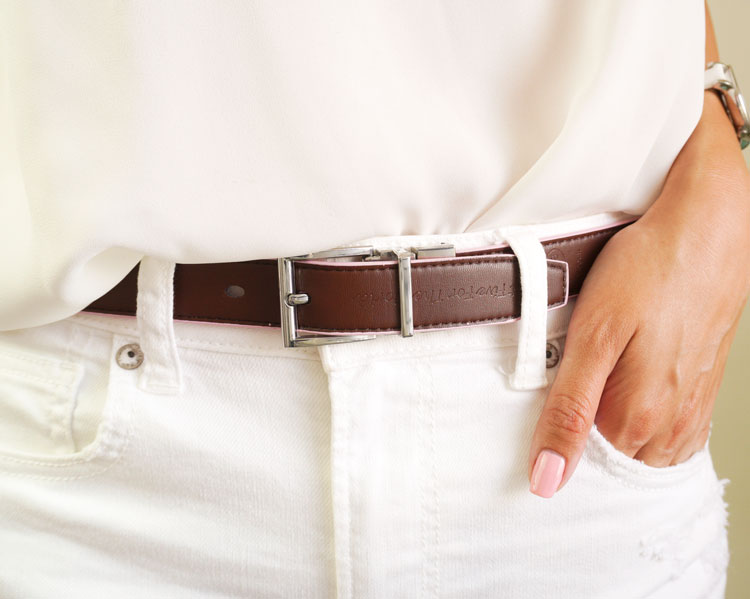 Size: The belt is 1″ wide. I got size 28. I usually wear size 26 jeans and Doshi recommends getting one or two sizes above your jeans size. Available belt sizes: 28, 31, 34, 37, 40.
Fit: I'm seen photographed wearing Doshi Square Reversible Belt with one of my lower-rise jean shorts, the belt fits perfectly in the last hole. I've also tried the belt with a pair of high-rise and it fits neatly in the second-to-last hole with not too much overhang.
The belt is quite sturdy and durable, I will say though, it doesn't have much of a stretch to it. That's good for keeping my pants up but not so much when I overindulge on some vegan pasta.
Reversible Belt: It's super easy to switch the belt strap around to use either sides. No tools needed. There's a clamp on the buckle that you can release with your fingers. I love the idea of getting two belts in one!
However, I noticed that when I switched the strap around, the stamp on the brown side that reads "First Five For The World" is upside down. If I had put on the belt on my right side first, then the words would've read right-side-up. The words aren't that noticeable so this is a non-issue for me but thought I should mention it.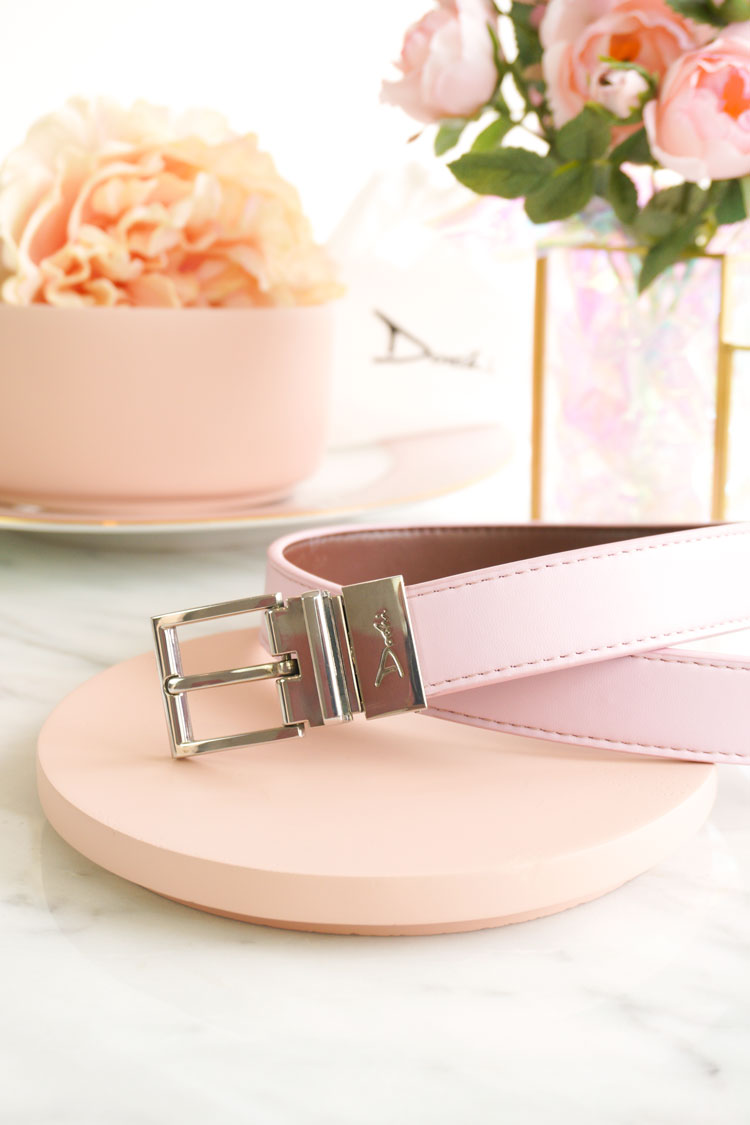 Quality: I am pleasantly surprised by the quality of the belt and its materials. I've worn it a handful of times already and there are no peeling, cracking or any signs of wear and tear, except for some minor scuff marks around the bottom trim. I think this is common for white or light-colored belts and the pink is fairly light but I was able to remove the marks with a damp cloth. I don't see this being an issue if you get Doshi's black vegan belt.
Packaging: The belt comes in a cardboard box made with 95% recycled content and a white dust bag.
I'm overall impressed with the quality and durability of Doshi's vegan belts! Most of my other non-leather and vegan belts will start to wear down after just a couple of uses but this one is holding up well so far! The style of this belt can be worn casually or for work/professional attire. It's both functional and practical.
Where to buy? doshi.shop (use coupon code: ETHICALELEPHANT10 to receive 10% off order $50+)
PR or Purchased? In full disclosure, Doshi FCSA sent me their vegan belt to try. I was not required to write a positive review nor was I compensated in any other way. All opinions expressed are always 100% my own.