This post may contain affiliate links that at no additional cost to you, I may earn a small commission.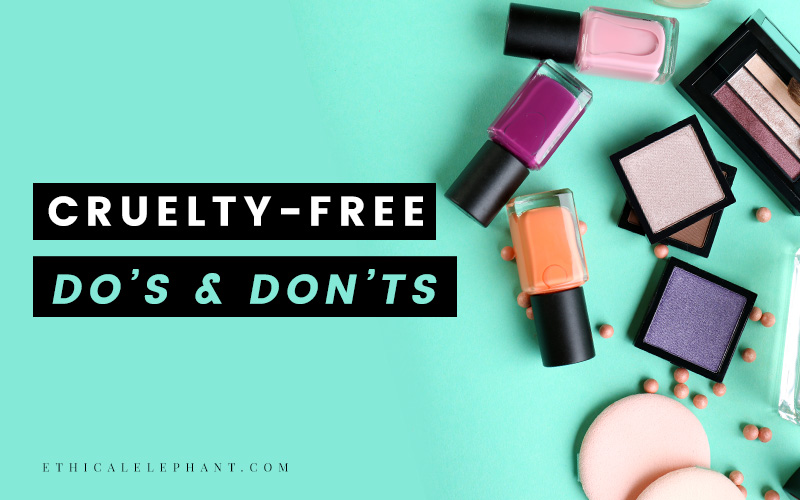 I've mentioned before that there are no hard-and-fast rules to going and being cruelty-free. I encourage you all to go at your own pace and do what you feel is right.
However I will say that there are some general guidelines that one should consider when trying to make conscious consumer choices. The reason being is that companies will never come out saying that they do test on animals and so it's important to make sure all the general bases are covered when researching a brand's animal testing policy.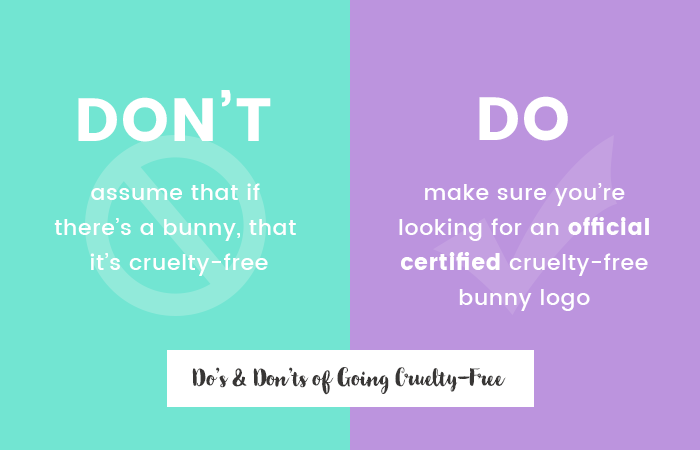 Don't assume if there's a bunny logo, that it's cruelty-free.
There are no restrictions preventing companies from displaying a cute bunny logo on their products claiming that they don't test on animals when in fact they do. This is all very misleading but it's totally legal. Don't get duped!
Do make sure you're looking for an official certified cruelty-free bunny logo
Certified cruelty-free bunny logos, like the Leaping Bunny, are different because there is a third party approving and regulating who gets to use them. This ensures companies who are approved are following a set of cruelty-free standards that have been verified.
---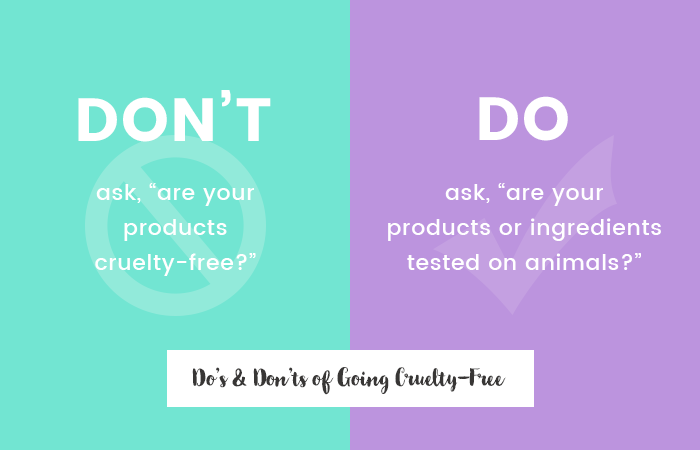 Don't ask, "are your products cruelty-free?"
Sadly there isn't a standard definition for the term "cruelty-free" and in fact, companies that do test on animals can still label their products as being "cruelty-free".
It's like asking, "are you a good company?" The term "good" and "cruelty-free" are subjective where we all have very different meanings to these terms.
Do ask companies if they test their products or ingredients on animals.
Avoid using ambiguous terms like "cruelty-free" and instead ask more straight forward questions to avoid any misinterpretations.
The same goes with the term "vegan", instead you should ask if a product contains any animal derived ingredients or by-products like honey, beeswax, lanolin, etc.
---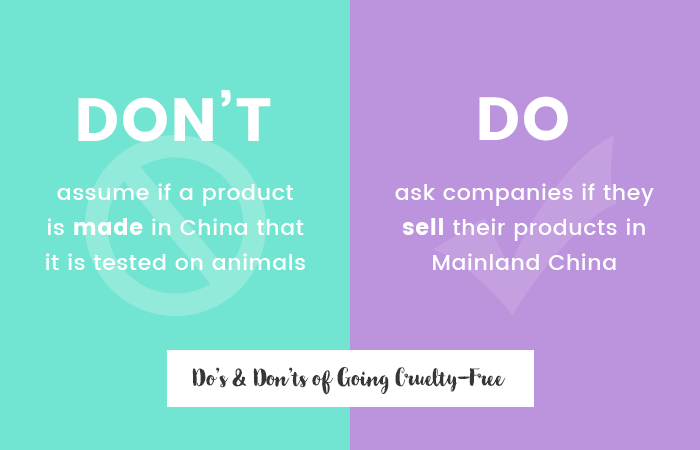 Don't assume that if a company manufactures their products in China, that they automatically test on animals.
China's animal testing laws can be a little confusing but all you really need to know is that companies are only required by law to test on animals if they sell their products in mainland China.
So that means a company can make their products in China and just as long as they are not selling in China, then those products are not required by law to be tested on animals.
Do ask companies if they retail their products in mainland China.
Often times, companies won't disclose whether or not their products are sold in China on their website, product packaging, or marketing literature so we never usually know unless we ask!
Also, some companies may not be aware of China's animal testing requirements and will tell you that their products are not tested on animals when indeed they are.
---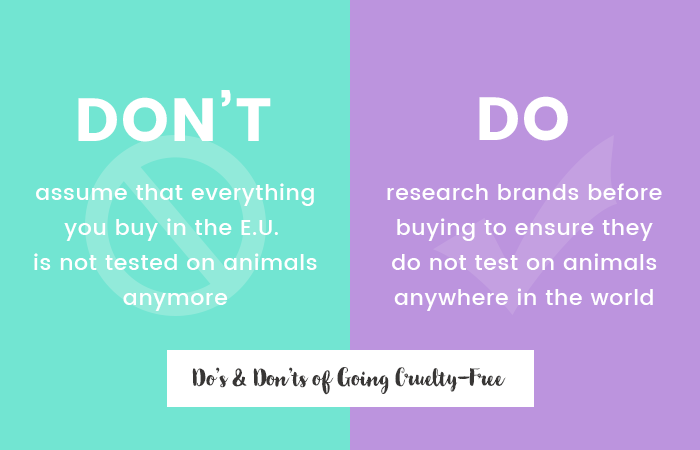 Don't assume that just because you buy something in the EU, that it's not tested on animals.
It's true that the EU has an outright ban on the sale and marketing of cosmetics and ingredients that are tested on animals. However one of the biggest loopholes in this "ban" is that it doesn't cover international brands that sell elsewhere in the world where animal testing may take place.
So they may not be testing the products they sell in the EU but those products can be sold elsewhere like in mainland China, where it's required by law to test all imported cosmetics on animals.
Do research brands before buying to ensure they are not testing on animals elsewhere in the world.
This rule especially goes for brands that have an international presence. If an international brand is telling you that they don't test on animals as per the EU ban.. it's important you ask for further clarifications on whether if they test their products/ingredients on animals outside of the EU.
---
Most importantly, do have fun going and being cruelty-free! and don't get discouraged if you feel that it's a little overwhelming or challenging at first! It may take a little more practice to get into the groove of things but always keep trying to do the best you can and the animals will thank you!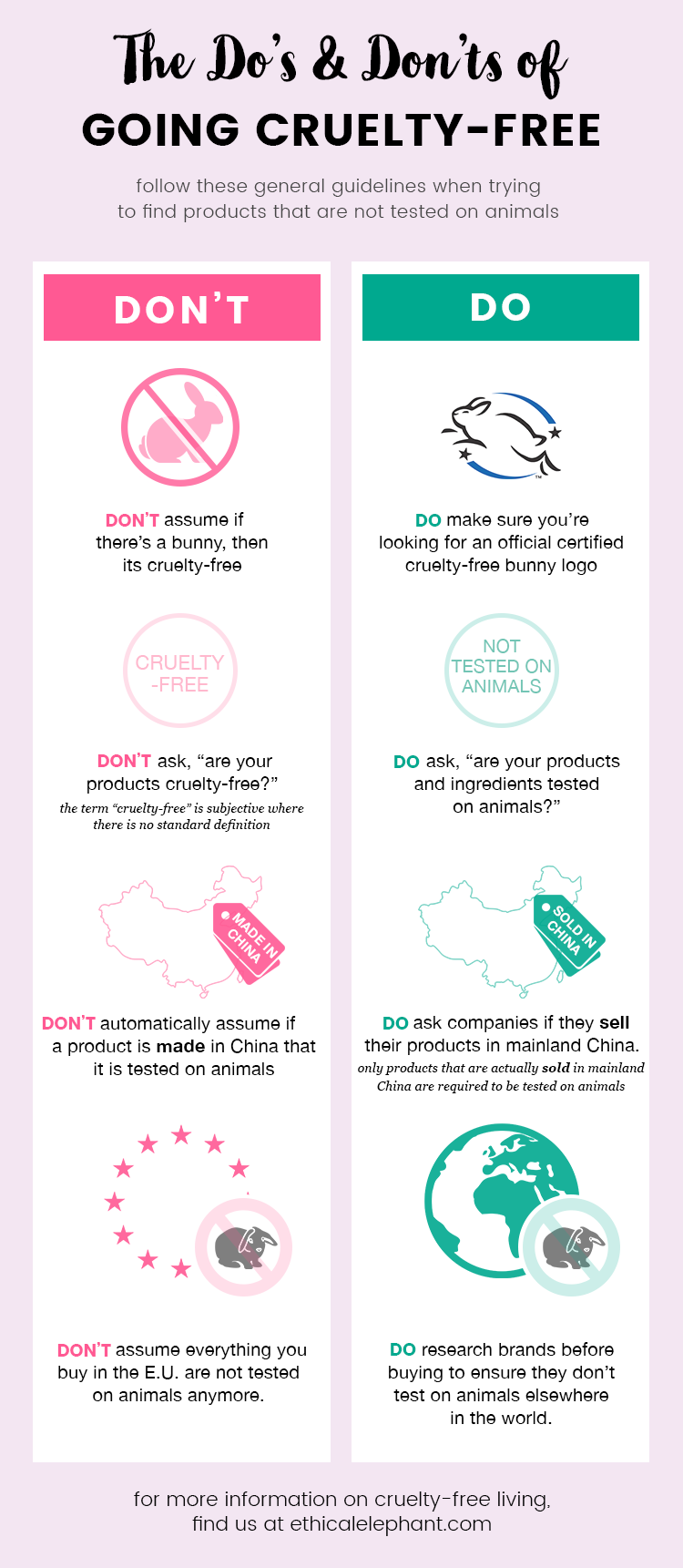 What are some general guidelines you follow for going and being cruelty-free?