This post may contain affiliate links.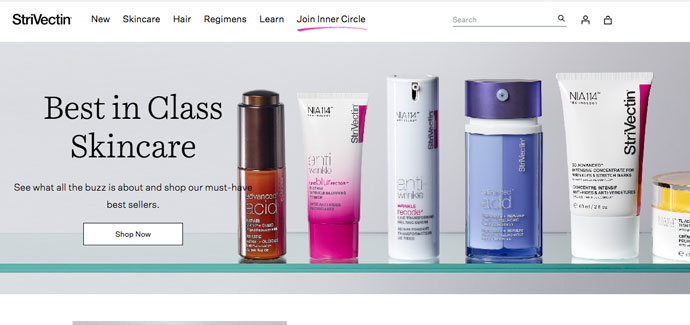 Is StriVectin Cruelty-Free?
Answer:
No. StriVectin is not a cruelty-free brand; their products are tested on animals.
StriVectin's Animal Testing Policy
StriVectin states on their website's FAQ that "StriVectin does not and will not test on animals." But in an email response from StriVectin, I learned that StriVectin's products are actually tested on animals when required by law.
It's so frustrating when companies don't disclose the full details of their animal testing policy on their website and ultimately misleading consumers.
Below is a screenshot of the email response I received from StriVectin.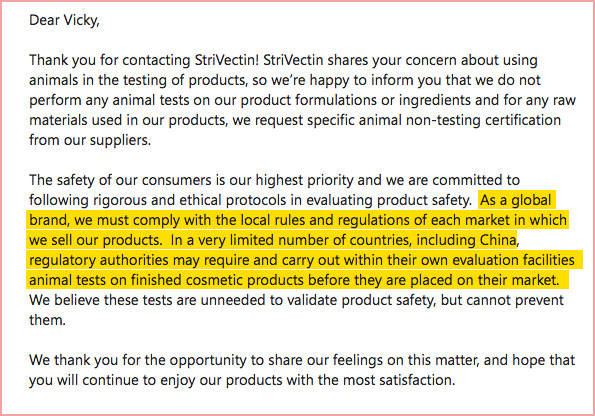 StriVectin says:
"As a global brand, we must comply with the local rules and regulations of each market in which we sell our products.  In a very limited number of countries, including China, regulatory authorities may require and carry out within their own evaluation facilities animal tests on finished cosmetic products before they are placed on their market.  We believe these tests are unneeded to validate product safety, but cannot prevent them."
Although StriVectin is not doing the animal testing themselves, but they are allowing and paying the Chinese authorities to test their products on animals for them, in order to sell in their country.
StriVectin can prevent these animal tests from happening by simply choosing not to do business in China!
Therefore I would not consider StriVectin to be a cruelty-free brand.
Cruelty-Free Alternatives to StriVectin:
Looking to switch to cruelty-free products? Here are some cruelty-free alternatives similar to StriVectin
First Aid Beauty
Tata Harper
Dr. Hauschka
Juice Beauty
Sunday Riley