This post may contain affiliate links.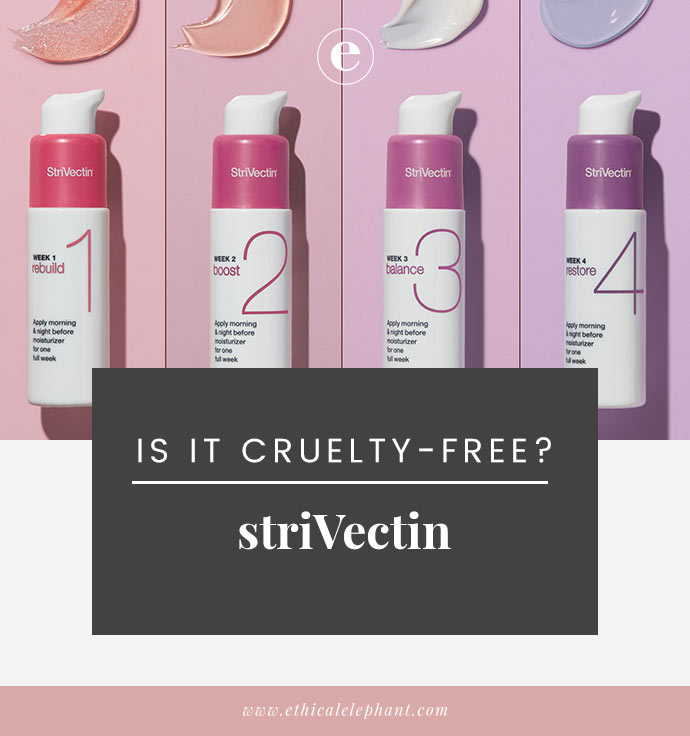 Is StriVectin Cruelty-Free?
Yes! StriVectin is now cruelty-free. In 2019, StriVectin confirmed their products are no longer for sale in-stores in Mainland China.
StriVectin's Animal Testing Policy
StriVectin states on their website's FAQ that "StriVectin does not and will not test on animals." But in an email response from StriVectin, I learned that StriVectin's products are actually tested on animals when required by law.
*2019 UPDATE: StriVectin is no longer sold in Mainland China and therefore their products are not required to be tested on animals as required by law in China.

StriVectin Not Sold in Mainland China
Shortly after my publication of this post "exposing" StriVectin's decision to sell in Mainland China and allowing the Chinese government to test their products on animals, I received an email from StriVectin's Senior Manager of Consumer Engagement informing me that they have chosen to stop selling in Mainland China stores.
Below is a snippet of the email I received:


This is AMAZING news. Not only has StriVectin regained their cruelty-free status but they consciously made the decision to STOP selling their products in-stores in Mainland China due to the fact that China still requires all imported cosmetics to be tested on animals by law and they didn't agree with that.
I hope to see more cosmetic brands to follow suit in 2019. Thank you StriVectin for leading by example!
Is StriVectin Vegan?
Almost all of StriVectin's products are considered vegan and don't contain any animal-derived ingredients or by-products with the exception of a couple of products that contain honey: Tri-Phase Daily Glow Toner and Volumizing Hand Cream which are both not suitable for vegans.
StriVectin's (Old) Policy
In case you were curious, below is a screenshot of the original email response I received from StriVectin in 2018.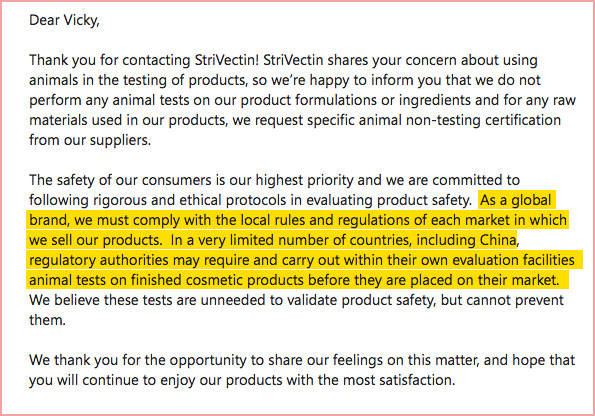 Any cosmetic brand that is importing and selling their products in-stores in Mainland China cannot be considered cruelty-free. Although these companies may not be doing the animal tests themselves, they are allowing and paying the Chinese authorities to test their products on animals for them, in order to sell in their country.
These companies can prevent these animal tests from happening by simply choosing not to do business in China! and StriVectin has done just that!