This post may contain affiliate links.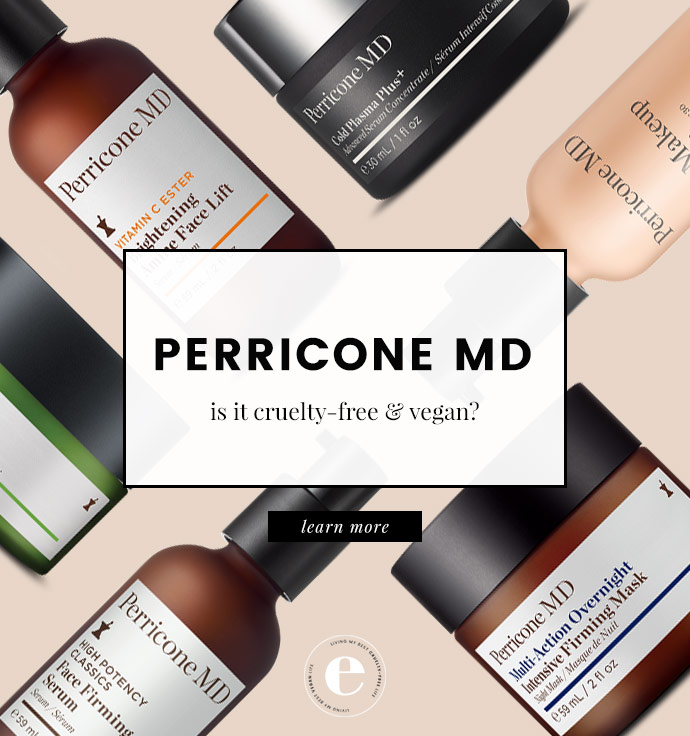 Is Perricone MD Cruelty-Free?
Answer:
Yes. Perricone MD is cruelty-free and does not test on animals.
Perricone MD's Animal Testing Policy (2018)
I have verified the following about Perricone MD's animal testing policy:
Perricone MD does not test their products on animals
Perricone MD does not test their ingrdients on animals
Perricone MD does not ask or hire any third parties to test their products or ingredients on animals on their behalf
Perricone MD's raw material suppliers do not test on animals
and Perricone MD does not sell their products in-stores in Mainland China and therefore they're not required to test on animals as per China's laws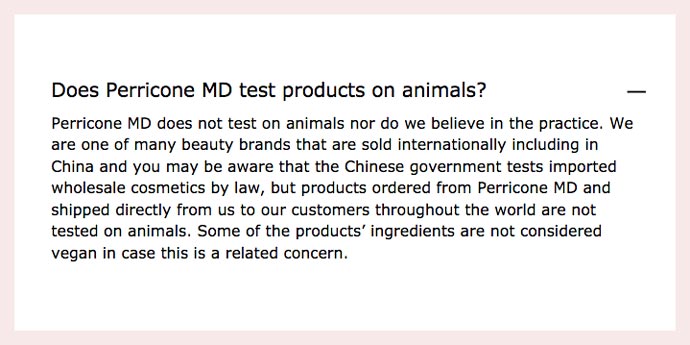 On Perricone MD's website, they have a clear explanation of their business in China. Perricone MD only sells directly to customers in China when they order online. In that case, Perricone MD is not required to test on animals.
With Perricone MD's cooperation in verifying their animal testing policy, I am happy to report that Perricone MD is cruelty-free!
---
Is Perricone MD Vegan?
Not all of Perricone MD products are vegan. I was told that the stearates and glycerin they use are vegetable-sourced but several of their products contain L-Tyrosine (derived from duck feathers) and eggshell membrane extract or salmon roe enzyme extract. Also, fish oil, probiotics, and gelatin are in their supplements.

Please reference below for a list of Perricone MD vegan products.

Perricone MD Vegan Product List (2019)
On Perricone MD's UK website, they have listed which of their products are considered vegan and don't contain any animal-derived ingredients or by-products. You can find Periccone MD's vegan list below:

CBx for Men Super Clean Face Wash
CBx for Men Soothing Post-Shave Treatment
CBx for Men Lightweight Moisturizer
Chlorophyll Detox Mask
Cold Plasma Eye
Cold Plasma Face
Cold Plasma Plus Eye
Cold Plasma Plus Face
Cold Plasma Sub-D
Essential Fx Acyl Glutathione : Moisturizer
Essential Fx Acyl Glutathione : Overnight Mask
High Potency Classics: Firming Evening Repair
High Potency Classics: Firming Eye Lift
Hypoallergenic Firming Eye Cream
Hypoallergenic Gentle Cleanser
Hypoallergenic Nourishing Moisturizer
Neuropeptide Facial Cream (Unfragranced)
Neuropeptide Facial Cream Fragranced
Neuropeptide Firming & Illuminating Under-Eye Cream
Neuropeptide Firming Moisturizer
Neuropeptide Night Cream
Neuropeptide Smoothing Facial Conformer
No Makeup Blush
No Makeup Highlighter
No Makeup Bronzer
No Makeup Instant Blur
No Rinse Exfoliating Peel
No:Rinse DMAE Firming Pads
No:Rinse Micellar Cleansing Treatment
Pre:Empt Series Brightening Eye Cream
PreEmpt Series Oil-Free Daily Foaming Cleanser
PreEmpt Series Oil-Free Hydrating Cream
PreEmpt Series Oil-Free Refreshing Shower Mask
PreEmpt Series Oil-Free Skin Perfecting Serum
PreEmpt Series The Fixer Solid Oil
Vitamin C Ester 15 Intensive Brightening Regimen
Vitamin C Ester Brightening Amine Face Lift
Vitamin C Ester Brightening Eye Serum
Vitamin C Ester Brightening Serum
This vegan product list is updated as frequently as possible, please be aware that formulations may have changed since the publication of this post. If you have new information to suggest one of the above products isn't vegan, please email me at info@ethicalelephant.com to let me know.