This post may contain affiliate links that at no additional cost to you, I may earn a small commission.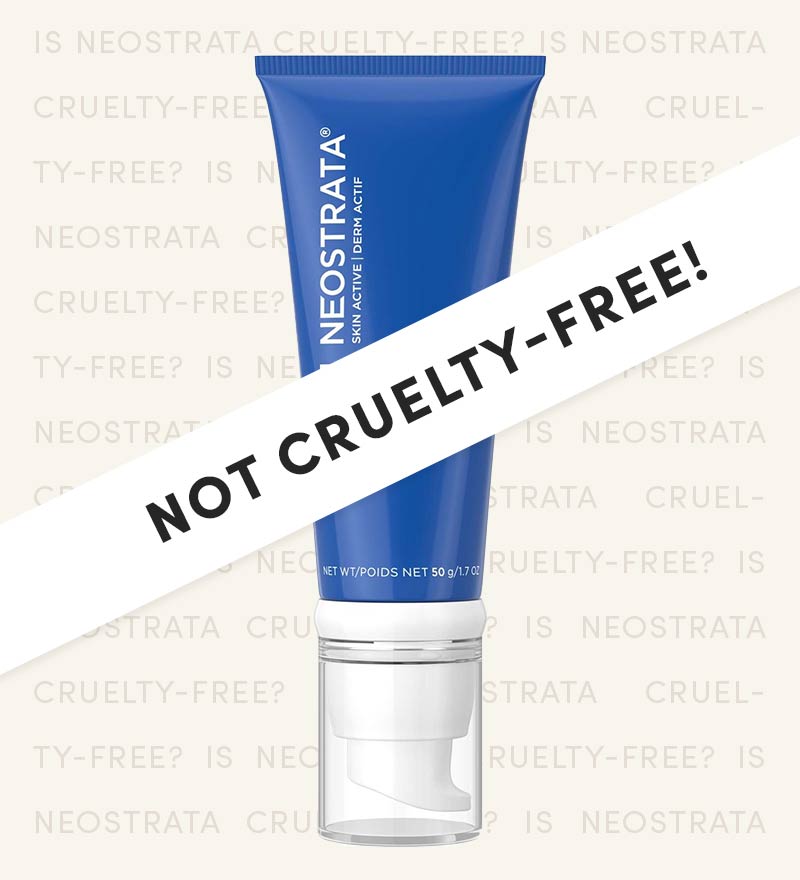 NeoStrata is a skincare company offering a range of 'clinically-proven, dermatologist developed skin care brands'. They have four different brands: NeoStrata, Exuviance, CoverBlend, and Psorent.
Is NeoStrata Cruelty-Free?
NeoStrata is NOT Cruelty-free. Unfortunately, NeoStrata and its subsidiary brands cannot guarantee that their ingredients were not tested on animals by their suppliers and therefore should not be considered cruelty-free.

In addition, NeoStrata is owned by Johnson & Johnson, a parent company that is also not cruelty-free.
NeoStrata Animal Testing Policy
On NeoStrata's website, they claim, they do not test on animals. However, an exception is made if a regulatory authority demands it.
Below is a screenshot of what's currently stated on NeoStrata's company website: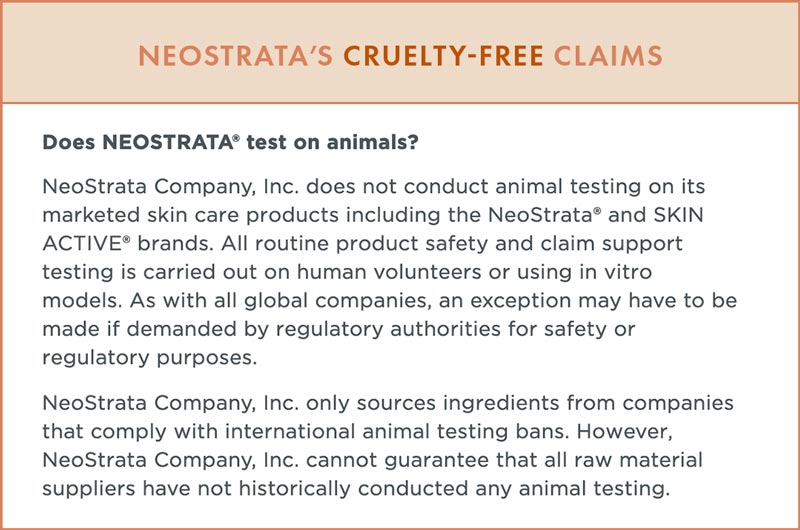 Policies stating, "exceptions are made if the law requires it", usually implies the company is selling its products in mainland China. Most imported cosmetics sold in stores in mainland China are required by law to be tested on animals.
Is NeoStrata Sold in China?
I later discovered that NeoStrata products are indeed sold in China.
Because of NeoStrata's decision to sell in mainland China stores, they must consent and pay to have their products tested on animals. That's why most cosmetic brands selling in mainland China cannot be considered cruelty-free in 2022.
Although NeoStrata may not be conducting these animal tests themselves, they are knowingly allowing Chinese authorities to test their products on animals in order to sell in China.
Many truly cruelty-free brands have chosen not to sell their products in China because of the country's animal testing laws. Unfortunately, NeoStrata refuses to do the same and has decided to put profits before the welfare of animals.
NeoStrata's Suppliers
In addition to testing when required by law, Neostrata is unable to guarantee all of their suppliers do not conduct animal testing. This is another reason why we wouldn't consider NeoStrata to be cruelty-free.
If you were curious, I have a screenshot of NeoStrata's old animal testing policy from 2015: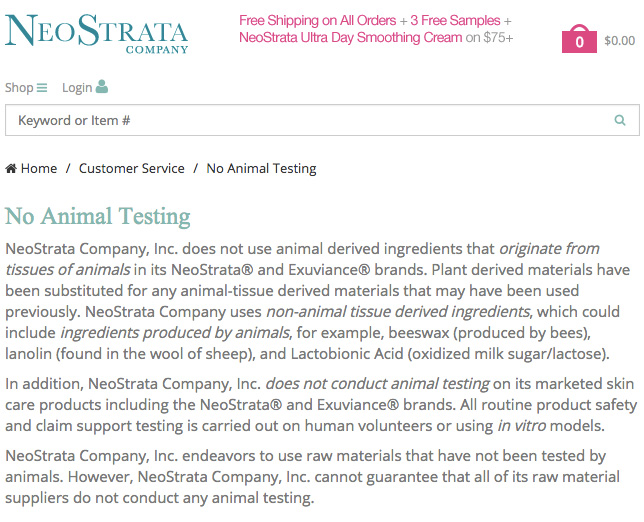 Summary: NeoStrata is NOT Cruelty-Free!
To sum up, NeoStrata cannot verify all of their suppliers are cruelty-free. Therefore I would not consider NeoStrata to be a cruelty-free brand.
Currently, NeoStrata is on our List of Brands to Avoid – Animal Tested.
Is NeoStrata Vegan?
Since we would not consider NeoStrata to be cruelty-free, we also wouldn't consider anything sold or manufactured by NeoStrata to be vegan.
Cruelty-Free Alternatives to NeoStrata:
Looking for a cruelty-free option to NeoStrata, here are some of our recommendations:
---